55% of consumers in Ukraine and 66% in Europe as a whole said they signed up for one or more retailer loyalty programs. More than half of them (68% in Ukraine and 69% in Europe) say they have a loyalty card, according to a study by the Nielsen Global Retail Loyalty Sentiment that encourages consumers to participate in retailer loyalty programs. Speaking of other types of programs, some consumers, for example, have downloaded the retailer's mobile application (18%) or have a personal account on its website (29%).
However, there is a big gap between how many loyalty programs consumers sign up for and how many they actually use. So how to win the consumer and his active loyalty?
"The key to the success of a loyalty program is to make it as personalized as possible. Today, only a few retailers make full use of tools to analyze individual transactions, shopping habits and preferences, says Tatiana Bezsmertna, CEO of Nielsen in Ukraine and Belarus. – Most retailers use simple mass segmentation strategies. Our experience in implementing such projects shows that working with purchasing data a particular consumer allows you to determine which buyer to attract and how. As a result, a personalized loyalty program is a purchase advice plus an individual discount or special offer from the retailer, which he has developed specifically for the consumer.
Loyalty program as a way to save
The financial component is the main incentive for the global and Ukrainian consumers to participate in the loyalty program regardless of the size of the wallet. To the question "Which of the rewards in the loyalty program is the most valuable for you?" the majority of Ukrainians (87%) mentioned a discount in the price, 41% – the product is free and 13% indicated free delivery. Despite the non-crisis time in 2013, the same number of respondents in Ukraine (83%) answered again – a discount or a free product.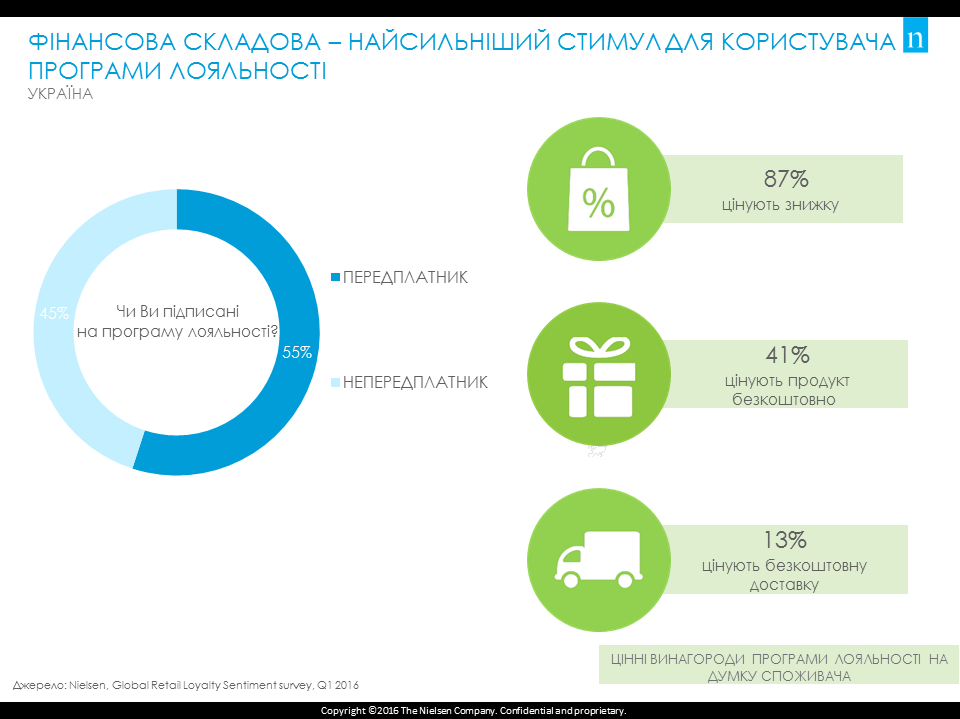 Flexibility and omnichannel are the future of retailer loyalty programs
Whether in America or Ukraine, the consumer wants loyalty programs to be flexible and personal. In Ukraine, the consumer would like to receive a reward regardless of where the purchase was made (online or offline, by phone or on the website) – (76%), as well as choose the type of reward (75%). For 79% of Ukrainian consumers, it is important that the retailer offers a personal discount or a personal product offer based on a previous purchase.
Is a loyalty program an incentive for the consumer?
Yes, whatever the loyalty program of the retailer, it encourages the consumer to buy. 70% of Ukrainians said they would buy from a retailer with a loyalty program as opposed to one that does not offer any program to the consumer. In Europe, 64% of respondents said so. Returning to the question of savings, it should be noted that every third consumer in Ukraine (32%) says that they are not willing to pay more for the product from the retailer, even with a loyalty program. In Europe, 44% of respondents declared their unpreparedness.
About Nielsen Global Retail Loyalty Sentiment
The survey was conducted from March 1 to 23, 2016, among more than 30,000 online consumers in 63 countries to understand consumer behavior toward retailer loyalty programs. As part of the study, we analyzed the number of consumers who have signed up for a particular loyalty program. We asked about the desired types of rewards and about the attitude to loyalty programs in general.