The world has never been more connected, and U.S. audiences have never had as many options to access content as they do these days. In short, consumers in the U.S. seem like they can't get enough content, and the possibilities for marketers to reach them, while fragmented, is an opportunity that is just too good to pass on.
American adults spend over 11 hours per day listening to, watching, reading or generally interacting with media
According to the first-quarter 2018 Nielsen Total Audience Report, nearly half an adults' day is dedicated to consuming this content. In fact, American adults spend over 11 hours per day listening to, watching, reading or generally interacting with media. Behind this surge are the growing use of new platforms, as well as the younger, multicultural generations who leverage them.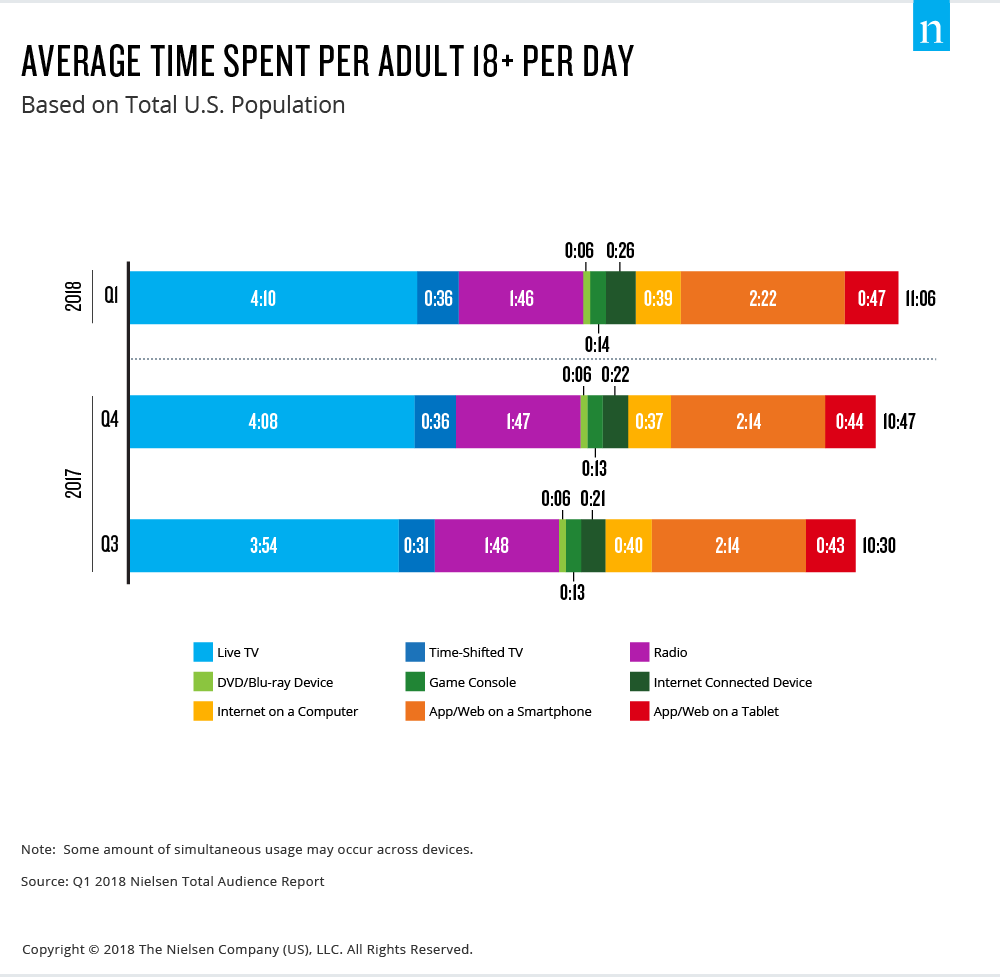 The amount of people using traditional platforms held relatively steady when looking deeper into the data. Live + time-shifted TV viewing and radio have remained consistent over the measured quarters—a testament to the relative stability to these cornerstone media platforms. Radio alone reaches 92% of adults on a weekly basis; live and time-shifted TV has a weekly reach of 88%.
Overall, live and time-shifted television, even when accounting for seasonal fluctuations in viewership, still accounts for a majority of an adult's media usage, with four hours and 46 minutes being spent with the platform daily in first-quarter 2018.
But newer platforms that have emerged as a result of internet accessibility and growing connectedness of consumers are ultimately behind the growth of media usage. For instance, TV-connected devices, such as video game consoles and internet-connected devices (Google Chromecast, Apple TV, Amazon Fire TV, Smart TV apps, etc.), allow audiences to use their internet connections and access a treasure trove of content to interact with at will. From fourth-quarter 2017 to first-quarter 2018, daily time spent on these devices by adults increased by five minutes to about 40 minutes. Specifically, 14 of those minutes are dedicated to game consoles, while 26 belong to internet-connected devices.
Digital usage also continues to play a growing role with the adult U.S. consumer. Digital platforms—think computers, smartphones and tablets—have become a major catalyst for this frequent content exposure. In first-quarter 2018, consumers spent three hours and 48 minutes a day on digital mediums. This is a 13-minute increase from the prior quarter, and 62% of that time is attributed to app/web usage on the ubiquitous smartphone.
THE DEMOS IN THE DRIVER'S SEAT
Historically, demographics have been a major factor in determining media usage. Older generations tend to lean more on traditional mediums, while younger generations are often early adopters of nascent technology. And as technology gained adoption and became universal, it would "trickle up" through the demos. Though older generations generally spend the most time with media (adults 35-49 spend over 11 hours a day on it, while adults 50-64 do so at a nearly 13-hour clip), younger generations are at the forefront of TV-connected device and digital usage. Radio is uniquely  immune to having age as a factor. It consistently accounts for between 14%-17% of daily media use.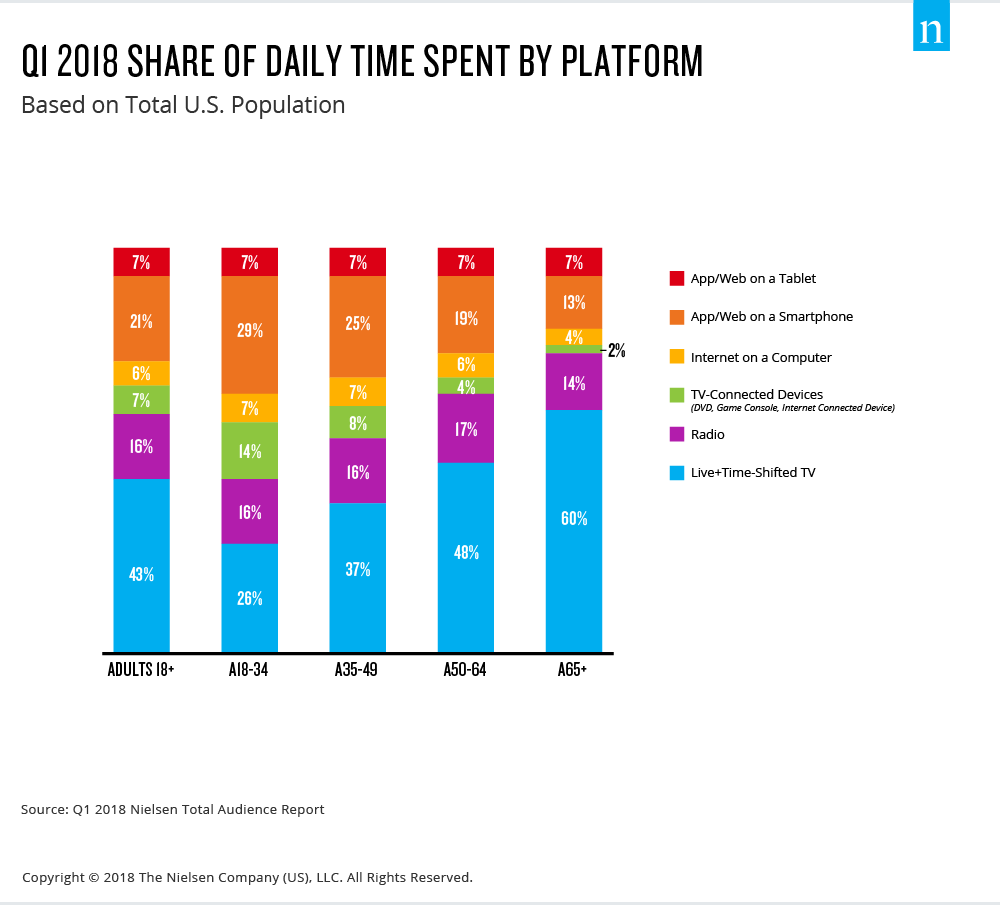 Young adults 18-34 spend 43% of their time consuming media on digital platforms. Almost a third of their time spent with media (29%) comes from apps/web on a smartphone—the most of any measured generation.
Their share of TV-connected device usage (14%) is double that of total adults 18+ and seven-times as much as adults over the age of 65. These young adults outpace other generations in terms of daily TV-connected device usage to the tune of one hour and 15 minutes—almost half an hour more than the average adult.
So how does race or ethnicity influence media behavior?
With the race/ethnic landscape of the U.S. rapidly changing, multicultural consumers are driving the changes in the media landscape as well, with younger generations being more diverse than those of their parents and grandparents.
Hispanic adults over index on TV-connected devices compared to total adults, spending almost 45 minutes on game consoles and internet connected devices. Asian Americans are helping to lead the charge on digital platforms, as they spend well over 4 hours daily using the internet on a computer and apps/web on smartphones and tablets.
In terms of overall usage, black adults 18+ on average consume nearly 13 and a half hours of media per day—almost two and a half hours more than the average U.S. adult. Black adults are the heaviest users of media across all types of platforms, especially live TV. When looking at app/web on a smartphone usage, they spend 2 hours and 46 minutes on the devices daily, the most of any group.

VIDEO (AND SOCIAL MEDIA) CONTENT IS KING
So consumers are interacting with media more and more– but what exactly are they doing?
The first-quarter 2018 Nielsen Total Audience Report also looked into how video content and social media usage have become increasingly pertinent in reaching today's audiences.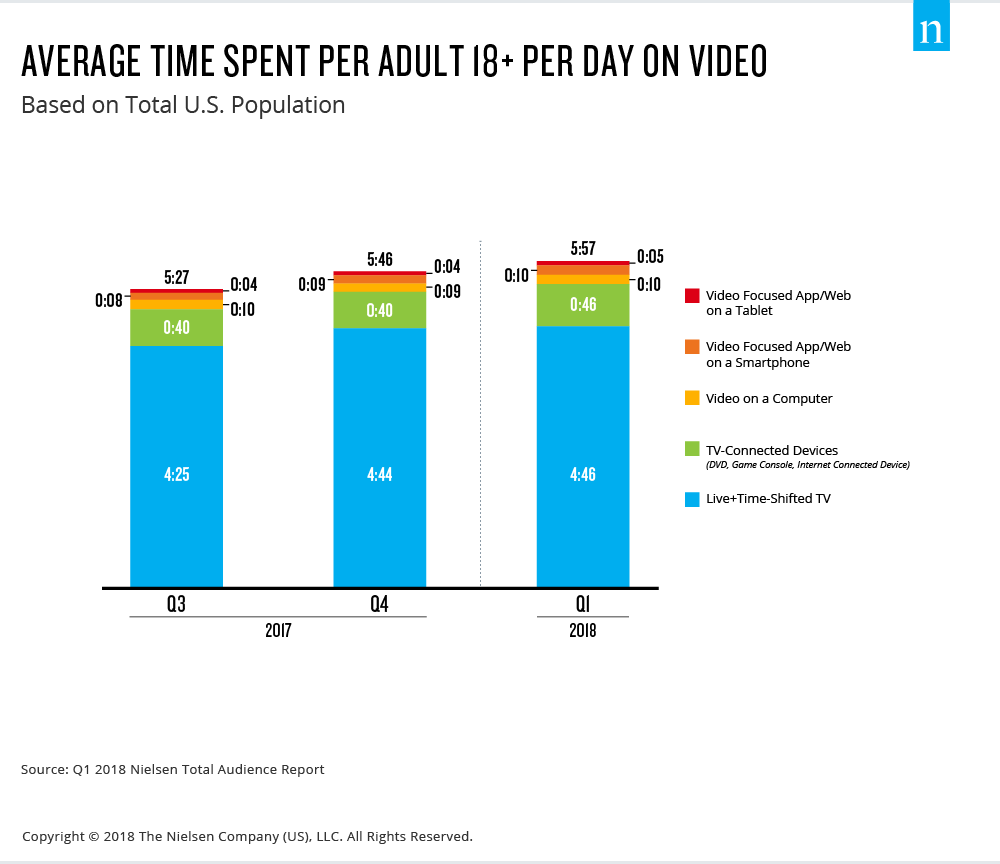 Platforms that utilize video content represent a substantial portion of time spent with media. Overall video use—time spent with a TV set, computer video and using video focused app/web on smartphones and tablets—netted out to nearly six hours per day for U.S. adults during first-quarter 2018. Compared with the previous quarter, this viewing time increased by 11 minutes, with six of those minutes stemming from TV-connected devices.
In addition to video, social networks are now beginning to affect the content landscape. While social media has already reshaped the way people connect with each other, it's effectively become a factor for major platforms in creating and monetizing premium content. Adults 18+ spent on average 45 minutes per day on social media during first-quarter 2018, with most of that time coming from smartphones.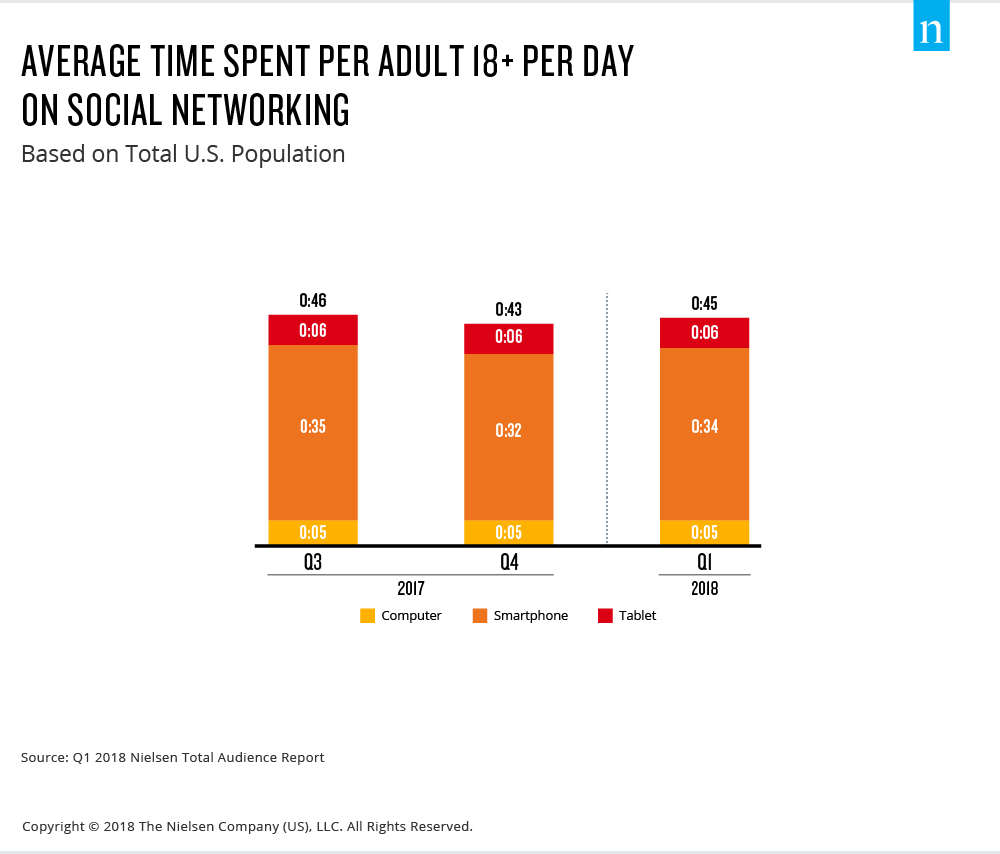 It's no secret that smartphones, with all their convenience and accessibility that literally fits in your pocket, are the engine that powers consumer usage of social media. According to the first-quarter 2018 Nielsen MediaTech Trender survey, 64% of adult smartphone users who view video content within social networking sites/apps do so at least once per day. That number jumps to 72% when looking at the enigmatic 18-34 demographic.
For additional insights, download the Q1 2018 Nielsen Total Audience report.