Mobile tends to be more accurate than desktop when targeting narrower groups
London – 15 December 2016. Only 53% of ad impressions served in the UK were viewed by people of the age and gender advertisers intended, according to a study of more than 44,000 campaigns across 17 countries by measurement company Nielsen.
The accuracy of ad targeting varies widely by sector, with travel marketers currently the most likely to reach their desired audience in the UK (doing so 66% of the time) followed by entertainment (64%). On the other hand, FMCG (40%) and retail (42%) marketers are most likely to struggle hitting their target audience.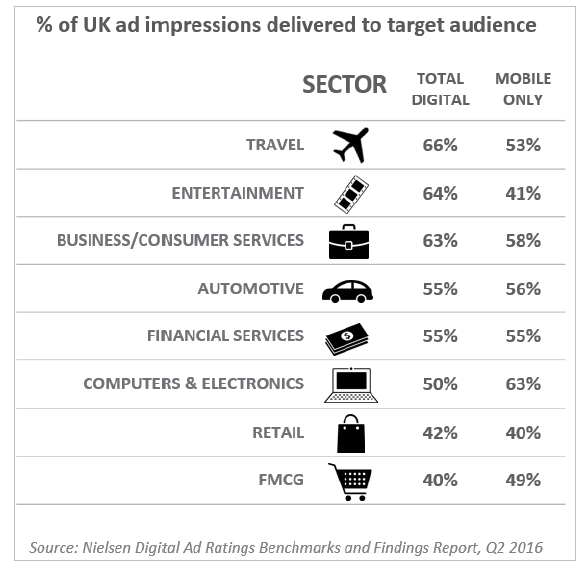 However, accuracy varies significantly depending on what demographic group's campaigns are aimed at. For example, campaigns focusing on 25-44 year olds reached the desired audience 38% of the time, compared to 44% in campaigns targeting 18-34s and 58% for 35-64s.
The data, collected by the company's Digital Ad Ratings service which measures websites, apps and online services, also reveals desktop (53%) and mobile (52%) campaigns perform equally well when it comes to reaching broad audiences. However, mobile campaigns are more accurate in targeting narrower ones.
For example, if targeting one gender only across a 'medium' age range (spanning 16-30 years), mobile is successful 33% of the time compared to 28% on desktop. For a 'narrow' range (less than 16 years), 22% of mobile impressions reach their target audience, outdoing desktop's 20%.
"Although 100% accuracy is likely to remain a pipe-dream, a school report on digital technology's ability to hit specific audiences might read 'could do better'," said Barney Farmer, Nielsen's marketing effectiveness director in the UK & Ireland. "However, in fairness it's more precise than traditional media and performance is improving all the time, particularly on mobile whose superiority in reaching narrower audiences reinforces its status as the most highly personal ad medium."
The study, involving nearly 3,400 UK campaigns run between April and June 2016, also showed that campaigns bought directly from a website publisher are slightly more accurate at hitting target audiences (doing so 55% of the time) than via a third-party ad platform/network (52%).
The overall UK success rate of 53% is lower than Germany (58%) and Italy (57%) but noticeably higher than in France (43%).
This represents the first time Nielsen has publicly released a benchmark study from Digital Ad Ratings, which Farmer notes provides a "strong baseline for buyers and sellers of media to better understand digital reach, evaluate campaign success and improve things going forward."
About the Nielsen Digital Ad Ratings Benchmarks and Findings Report
This report assessed data from more than 44,000 Nielsen Digital Ad Ratings campaigns across 17 markets (US, Canada, France, Germany, Italy, UK, Mexico, Brazil, China, India, Indonesia, Japan, Malaysia, Philippines, Singapore, Thailand and Australia) that ran during Q2, 2016, where the minimum number of site observations was at least 30. A site observation is defined as the performance of a campaign on one site (>5,000 impressions) with the specified demographic. With sample sizes exceeding 30, we can reasonably expect to see stable benchmarks. The average on-target percent is the number of impressions that reached the intended demographic divided by the number of total impressions in the campaign. The on-target percent is calculated by weighting each campaign by the number of impressions it contained within each category or demographic.
About Nielsen
Nielsen Holdings plc (NYSE: NLSN) is a global performance management company that provides a comprehensive understanding of what consumers Watch and Buy. Nielsen's Watch segment provides media and advertising clients with Total Audience measurement services across all devices where content — video, audio and text — is consumed. The Buy segment offers consumer packaged goods manufacturers and retailers the industry's only global view of retail performance measurement. By integrating information from its Watch and Buy segments and other data sources, Nielsen provides its clients with both world-class measurement as well as analytics that help improve performance. Nielsen, an S&P 500 company, has operations in over 100 countries that cover more than 90 percent of the world's population. www.nielsen.com.