Now in 56 percent of U.S. households, High Definition television is one of the most quickly adopted consumer entertainment technologies of the past 20 years, but true HD viewing is still far eclipsed by viewing of standard definition television.
Only 13 percent of total day viewing on cable and 19 percent of viewing on broadcast television is "true HD" viewing, which requires an HD television and HD tuner that are tuned to an HD channel.  In other words, despite the billions of dollars that Americans have spent buying high definition TVs, more than 80 percent of television viewing is still a standard definition experience.  The reasons for this are various:
44 percent of homes either do not have an HD set or an HD service.

Because most HD homes have at least one non-HD TV set, about one-third of programming is viewed on a standard set.

And even on HD sets, about 20 percent of viewing is through non-HD feeds.
Defining the High Def Viewer
Consumption of HD television varies by genre and age.  More people watch cable sports networks in high definition than watch any type of network, while children's programming is least likely to be watched in HD.  Yet among age groups, young adults are the most likely to seek out HD programming.
"True" HD Viewing on Cable Networks
(Percentage of Total Viewing in HD)
| | | | | |
| --- | --- | --- | --- | --- |
| | HHs | Age 2-11 | Age 18-34 | Age 35-64 |
| Entertainment Networks | 16 | 17 | 23 | 18 |
| News Networks | 15 | 22 | 18 | 20 |
| Kids Networks | 2 | 2 | 3 | 4 |
| Sports Networks | 21 | 25 | 28 | 23 |
The rate of adoption of high definition television also varies according to race and ethnicity.  About two-thirds of Asian households are set up to watch HD TV, compared to about half of African American homes.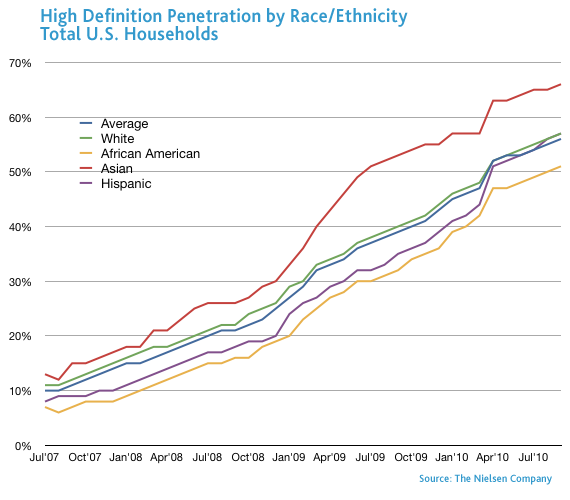 Looking ahead, programmers and marketers can expect HD viewing to increase as HD penetration continues to expand.  A number of additional factors should drive growth in true HD viewing:
A kids and teens get HD sets in their rooms, their overall HD viewing will increase.
As cable and satellite providers substitute HD channels for SD where available, the percent of "true HD" viewing will grow.
As cable providers require set-top boxes for all sets, HD viewing for cable will expand.