As any fan can attest, music does much more than just entertain us. It has the power to energize, inspire and transport us. Mood plays a critical role here, and the performers in the 67th season of the Eurovision Song Contest will be tapping into a range of emotions in an effort to strike the right chords with enthusiastic—sometimes fanatics—audiences.
To do so, the performers plan to get intense with audiences by leaning into energetic moods and shifting away from the neutral moods that were more prevalent last year. In total, seven of this year's 37 songs fall into the "energizing" mood category1—the most prominent primary mood descriptor2 across all of the entries. While we saw an equal number of "energizing" entries last year, this year's contest will feature more songs with other energetic undertones.
Last year, for example, "yearning" was the most prevalent mood (there were nine) among the song entries; this year, there are just four. Similarly, there are no songs with a "sensual" primary mood descriptor in this year's contest; last year, there were five. There are also twice as many songs with "excited" and "defiant" as the primary moods: four and two, respectively.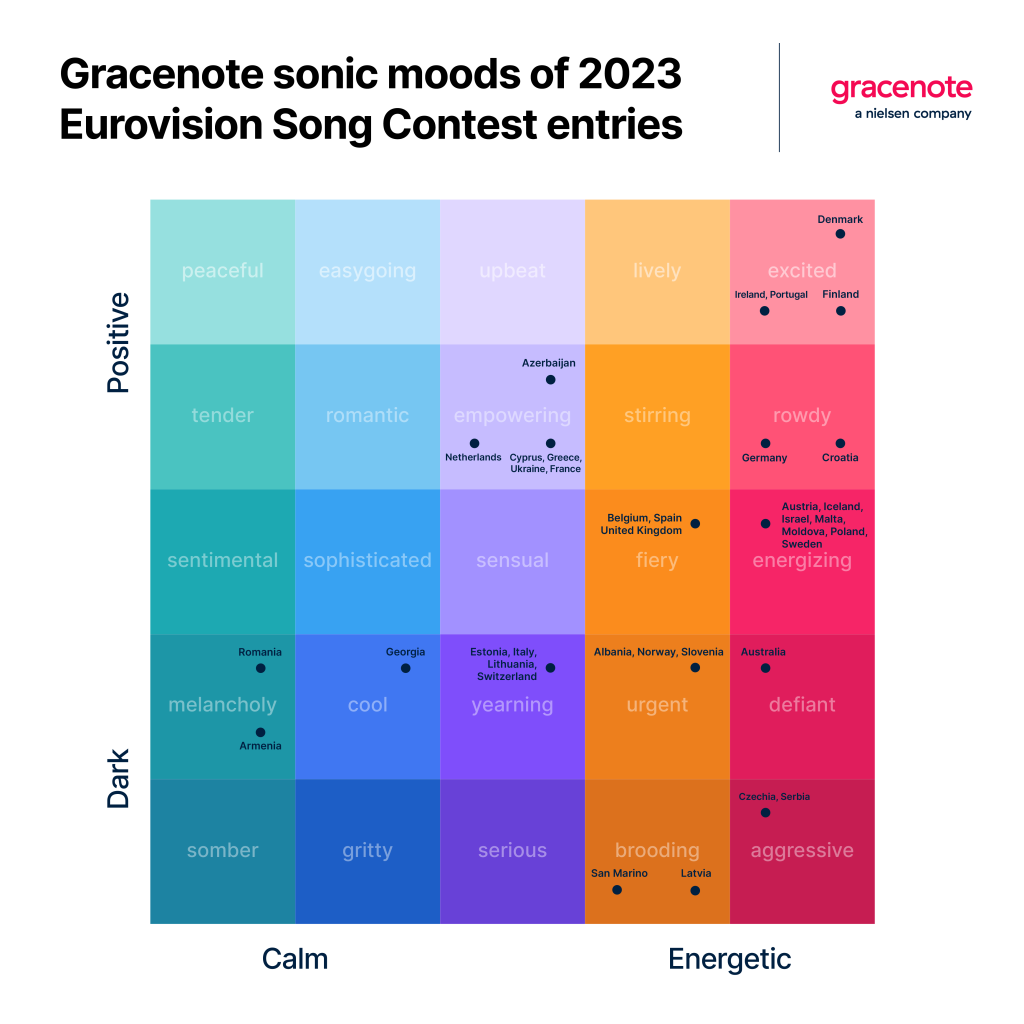 The shift toward more energetic moods bodes well for competitors, as half of the 24 winning songs between 1998 and 2022 were characterized by five moods at the more energetic side of the spectrum: "energizing," "excited," "fiery," "rowdy" and "urgent." And in the last decade, seven of the last 10 winning songs have expressed at least one of these moods. This year, 19 of the 37 entries express "energizing," "excited," "fiery," "rowdy" or "urgent" as their main mood.

Of these five moods, "fiery" is the most common among winners since 1998, including last year, when "Stefania," Ukraine's entry from hip-hop band Kalush Orchestra, took the top prize. "Stefania" was one of three entries with a "fiery" primary mood.
Dana International's win for Israel in 1998 with her song "Diva" was the first entry with a "fiery" primary mood descriptor to take the top prize. Her win also kicked off a trend that we've seen hold through 2022: 14 winners have featured moods at the more energetic end of the spectrum. Israel's win in 1998 was also more in tune with the pop music of the time—a shift that has carried through most of the contests in the years that followed.
Comparatively, the winning songs of the first 42 editions of the contest, which started in 1956, were less energetic: Only four of the 45 winners (there were four co-winners in 1969) during this period were songs with more energetic moods. The primary moods of the others had average and below-average energy levels.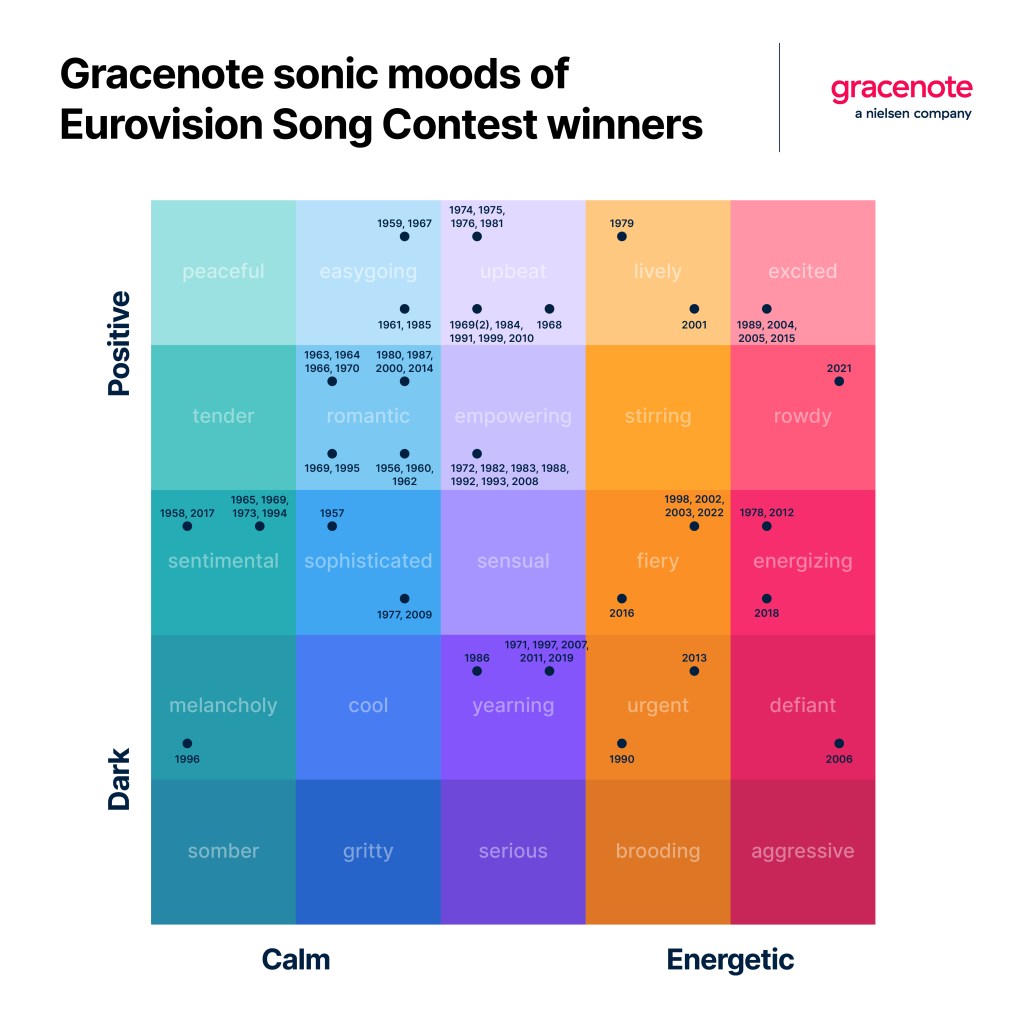 In total, this year's entries cover less emotional range than last year, as the songs cover just 12 primary moods—down from 15 in 2022. Entries are more heavily stacked in the positive and energetic areas of the mood spectrum, which puts more songs in contention to win from a recent historical perspective. In looking at the top 10 contenders to win, based on the odds at eurovisionworld.com, seven exhibit one of the five moods that have dominated in recent years, suggesting that history will likely repeat itself when the final vote is tallied following this year's contest.
This year's contest starts May 9, 2023. The semi-finals are May 11, and the final is May 13.
Notes
1 As categorized by Nielsen's Gracenote music data
2 Gracenote's Sonic Mood Descriptors feature 25 level one mood descriptors. These descriptors indicate the most prominent and distinct elements in a song, such as rhythm, melody, and timbre. Combined, they provide a "mood profile" of a song, which indicates the primary mood and strength.