From the TV screen to the silver screen, today's audiences have an enormous array of devices and streaming options to choose from for their viewing pleasure. And this is making it quite the challenge for marketers to reach their intended consumer across multiple screens. In the case of movie marketers, the challenge is motivating consumers to put down their devices (or at least silence them!), get off the couch and head to the theater.
According to Nielsen's 2014 Moviegoing Report, which explores the behavioral trends of moviegoers across all age groups and ethnicities, 77% of Americans saw at least one movie in a theater this year, which is consistent with moviegoing in 2013. But the frequency of moviegoing has declined slightly, with moviegoers saying they saw an average of 7.3 films in the theater this year, compared with 7.7 films in 2013. And teens and young adults (aged 12-24)—a moviegoing group Nielsen has dubbed the "Digitals" due to their seemingly preferred mode of media consumption—are driving the bulk of this decline.
In 2014, Digitals claimed to have seen an average of 7.1 movies at the theater, compared with 8.4 movies in 2013. In fact, since 2007, moviegoing frequency among Digitals has trended downward. Meanwhile, frequency among moviegoers aged 25+ has remained relatively stable over the years.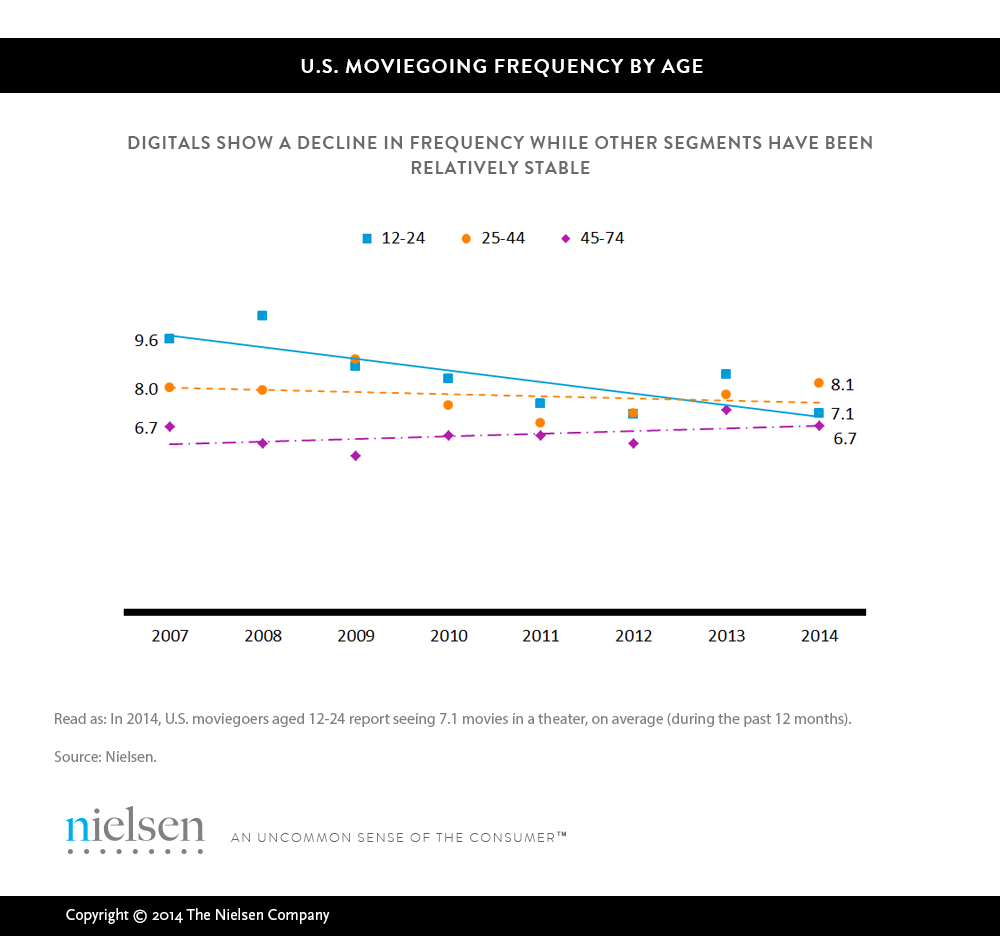 Although moviegoing seems to be losing steam among Digitals, understanding what appeals to these tech-savvy youngsters can be the difference between alienation and action. So who are these increasingly finicky Digitals, and what do they value when making their entertainment decisions? Some of the findings from this year's Moviegoing Report include:
Streaming Holds Sway: 87% of Digitals say they stream movies or TV shows, with 36% reporting that they stream more content now than last year. Digitals are particularly enticed by the instant and "unlimited" nature of streaming, with more than 60% saying they've streamed at least two feature-length movies in a single day.
Online Verdicts Matter: Two-thirds of Digitals post about movies on their social networks, with nearly three-fourths of these posters frequently sharing their opinion of a film. After movie trailers, social-media posts from friends and family are Digitals' next most trusted source of movie information (even more so than TV commercials).   
Go with the Flow: Nearly 30% of Digitals say they often decide on the specific movie to see after arriving to the theater, and 80% of these "spontaneous moviegoers" look up movie info on their phones while at the theater.
It's about Being Social: Digitals are the most likely to attend the theater as a group, with nearly two-thirds usually going in a group of at least three people. And more so than other moviegoers, Digitals say they visit the movie theater to spend time with others.
"For marketers looking to connect with these young, digitally savvy moviegoers, it's key to use online sources to build urgency to see the movie at a theater," said Kathy Benjamin, SVP Client Solutions, Nielsen Content. "Social is especially important because, for Digitals, seeing a movie is a means to a 'social' end. They may not know what kind of movies they want from Hollywood, but there's one thing they definitely don't want: to be left out of the conversation."
Methodology
The Nielsen Moviegoing Report is a consumer research study that was conducted primarily online, with an in-person augment to reach Spanish-dominant Hispanics. The study was conducted in September 2014 and gathered feedback from over 4,100 people living in the U.S. aged 12 to 74 years old and from 450 children aged 6 to 11 (who were invited to participate in the survey through their parents and completed the questionnaire with parental supervision). 
An international component is new to the study this year. Responses were also gathered from over 1,000 moviegoers on select movie metrics in 11 regions including China, Japan, U.K., France, Germany, Russia, Australia, Mexico, Italy, Brazil and Spain.
Learn more about moviegoers, including an in-depth look at the Young Adult Adaptation movie genre, at Nielsen's Children's Book Summit on Dec. 12, 2014, in New York.