No matter what your level of gaming experience is, or what types of games you prefer, there's no better time to be a gamer than during the months leading up to the holidays. Publishers know that we all spend more around the end of the year, so they're always prepared to serve up a bounty of top titles for gamers to feast on. According to overall anticipation levels measured by Nielsen Game Rank™, the most sought after games on each platform due between October and December 2015 include some perennial powerhouses and some heavy hitters back from hibernation, covering a wide range of genres.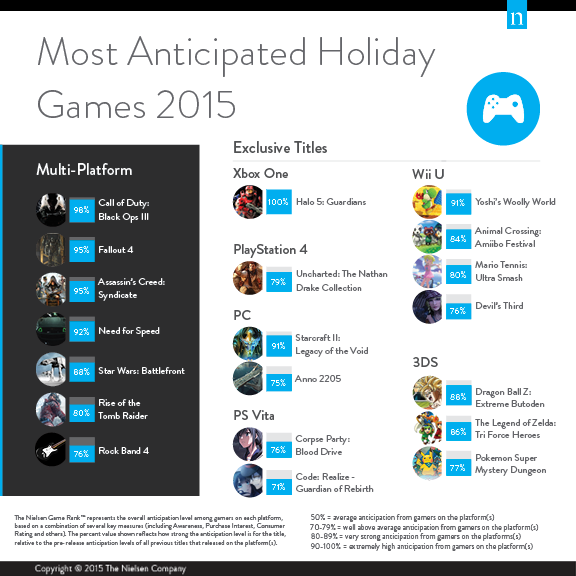 Activision's shooter Call of Duty: Black Ops III tops this year's multi-platform list, with a ranking of 98%, adding to the publisher's popular Call of Duty series. Bethesda's Fallout 4, the long-awaited follow-up in its hit post-apocalyptic RPG franchise, and Assassin's Creed: Syndicate, this year's offering from Ubisoft's stalwart action/adventure series, both come in close behind at 95%. All seven of the multi-platform titles that gamers covet most (noted in the chart above) are being released on PS4, Xbox One and PC.
Electronic Arts (EA Games) gave its racing series Need for Speed (92%) an 8th Gen tune-up to hit the streets again this year, and the publisher is set to capitalize on the buzz around "Star Wars: Episode VII" with the release of Star Wars: Battlefront (88%) to the new platforms in mid-November. Square Enix expands the recently rebooted "Tomb Raider" franchise this holiday season with Rise of the Tomb Raider (80%), which adventure-seeking gamers are eager to get their hands on. And fans of the music/rhythm genre are hoping to get the band back together with Rock Band 4 (76%) by Harmonix after a five-year hiatus.
As for platform exclusives, the feather in Microsoft's cap this holiday is Halo 5: Guardians (100%) for Xbox One, the latest release in the publisher's immensely popular sci-fi shooter series. On PC, Blizzard brings gamers and eSports fanatics another entry in its "StarCraft" real-time strategy series with StarCraft II: Legacy of the Void (91%), while Ubisoft offers up the next iteration in its famed city-building franchise Anno 2205 (75%). Sony will release Uncharted: The Nathan Drake Collection (79%) to PS4, providing fans of the action franchise the chance to play all three titles in the series remastered for 8th Gen, while PlayStation Vita gamers are anxious for Corpse Party: Blood Drive (76%), a survival-adventure game from Xseed, and Code: Realize – Guardian of Rebirth (71%), an adventure-visual novel from Aksys.
Though Nintendo may be short on multi-platform titles this holiday, it has a surplus of high-profile exclusives, with a total of seven highly anticipated games on Wii U or 3DS due out in the coming months. U.S. gamers are keen to jump into Yoshi's Woolly World (91%) on Wii U after the publisher released the title in the U.K. earlier this year, and the combination of Animal Crossing and Amiibo is generating a great deal of excitement among many Wii U gamers for Animal Crossing: Amiibo Festival (84%). Nintendo's console will also see exclusive releases of Mario Tennis: Ultra Smash (80%) and a relatively rare M-rated exclusive with the new action title Devil's Third (76%). Gamers on the 3DS are looking forward to The Legend of Zelda: Tri Force Heroes (86%) and Pokémon Super Mystery Dungeon (77%), new titles that build on two of Nintendo's biggest franchises. The 3DS will also welcome a third-party exclusive that gamers are enthusiastic for; fighting game Dragon Ball Z: Extreme Butoden (88%) from Bandai Namco.
Methodology
Nielsen Game Rank™ represents the overall anticipation level among gamers on each platform, based on a combination of several key measures (including awareness, purchase interest, consumer rating and others). The percent value shown reflects how strong the overall anticipation level is for the title, relative to the pre-release anticipation levels of all previous titles that released on the platform(s).
Values shown for multi-platform titles are averages of the values from each release platform.
Titles shown are those being released between Oct. 1, 2015 – Dec. 31, 2015 that have a Game Rank™ of 70% or higher.
Data was collected by surveying more than 4,800 gamers age 7 to 54 between the dates of Aug. 24, 2015 – Sept. 19, 2015.