2020 brought plenty of changes and challenges, but it has also pushed senior Australians, over 65 years old, to quickly embrace digital options for real-time updates to stay informed about COVID-19. In fact, Australians aged 65 and older are spending 81%1 more time consuming news online when compared to the same time last year. Keeping informed about hotspots, affected areas and support initiatives have been crucial for them to take the necessary precautions, and they have depended on online news sites to do so..
As the impacts of COVID-19 have evolved so fast, the need for real-time updates has resulted in senior Australians adopting mobile devices for convenience and regular updates. In 2020, Australians aged 65+ more than doubled (102%) the amount of time they spend reading news content via mobile devices.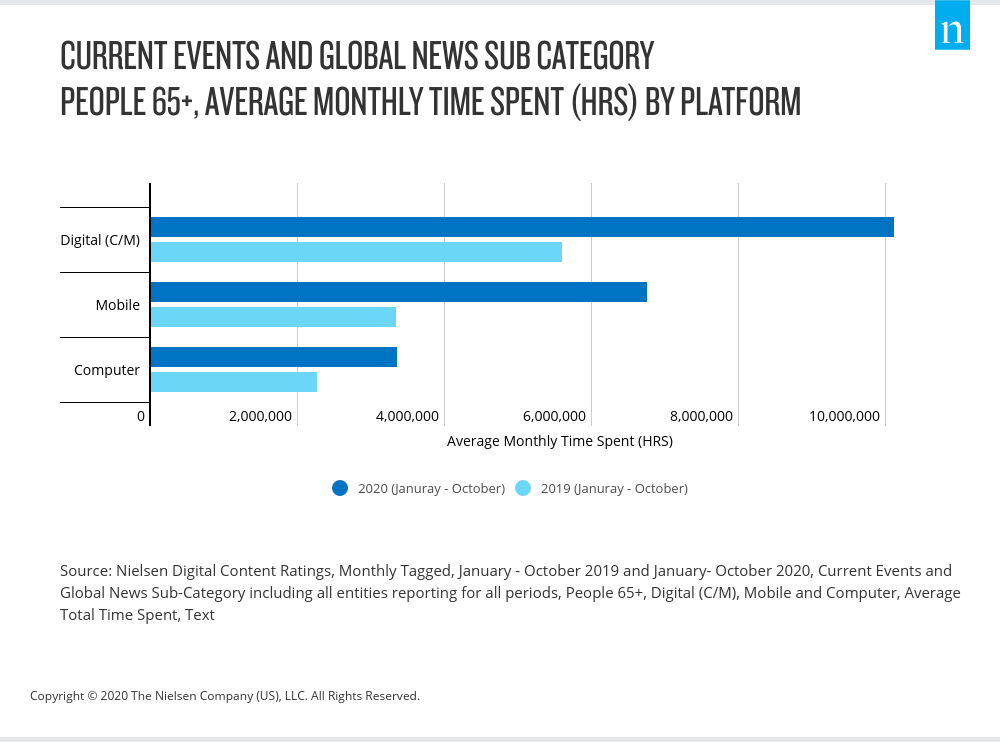 While the pandemic has played out, the role of localised news has been increasingly important in informing Australians about how COVID-19 has impacted on their community. Lockdowns, business restrictions and hotspots have been varied not only at the state level but also the community level.
As Australians aged 65 and older remain vigilant and take the necessary precautions, they are spending almost twice the amount of time (88%3) engaging with local news content when compared to last year. Localised news has also played a significant role in Victoria as the state has been severely affected by the second wave of coronavirus. As this second outbreak became more serious, and the state government responded with lockdowns and restrictions, local news sites became imperative for Victorians to understand the situation in their local area and to adjust their habits and lifestyles accordingly. Throughout the months of July and August, engagement on Victorian news sites skyrocketed, with audiences spending 67%4 more time consuming their content when compared to the previous year.
While we are still learning to navigate the pandemic, and as we draw closer to the end of 2020, it has clearly been a big year for consumption of news content, and will likely continue for some time to come. The ever-changing circumstances surrounding COVID-19 have sped up the news cycle, while a nation that is deeply and personally impacted by this news spends significantly more time consuming it.
Sources:
Nielsen Digital Content Ratings, Monthly Tagged, January – October 2019 and January- October 2020, Current Events and Global News Sub-Category including all entities reporting for all periods, People 2+, Digital (C/M), Mobile and Computer, Average Total Time Spent, Text
Nielsen Digital Content Ratings, Monthly Tagged, January – October 2019 and January- October 2020, Current Events and Global News Sub-Category including all entities reporting for all periods, People 2+, Digital (C/M), Mobile and Computer, Average Total Time Spent, Text
Nielsen Digital Content Ratings, Monthly Tagged, January – October 2019 and January- October 2020, Current Events and Global News Sub-Category including all entities reporting for all periods, People 65+, Mobile and Computer, Average Total Time Spent, Text
Nielsen Digital Content Ratings, Monthly Total, July – August 2019 and July – August 2020, Current Events and Global News Sub-Category (Victorian brands and sub-brands) including all entities reporting for all periods, People 2+, Mobile and Computer, Average Total Time Spent, Text