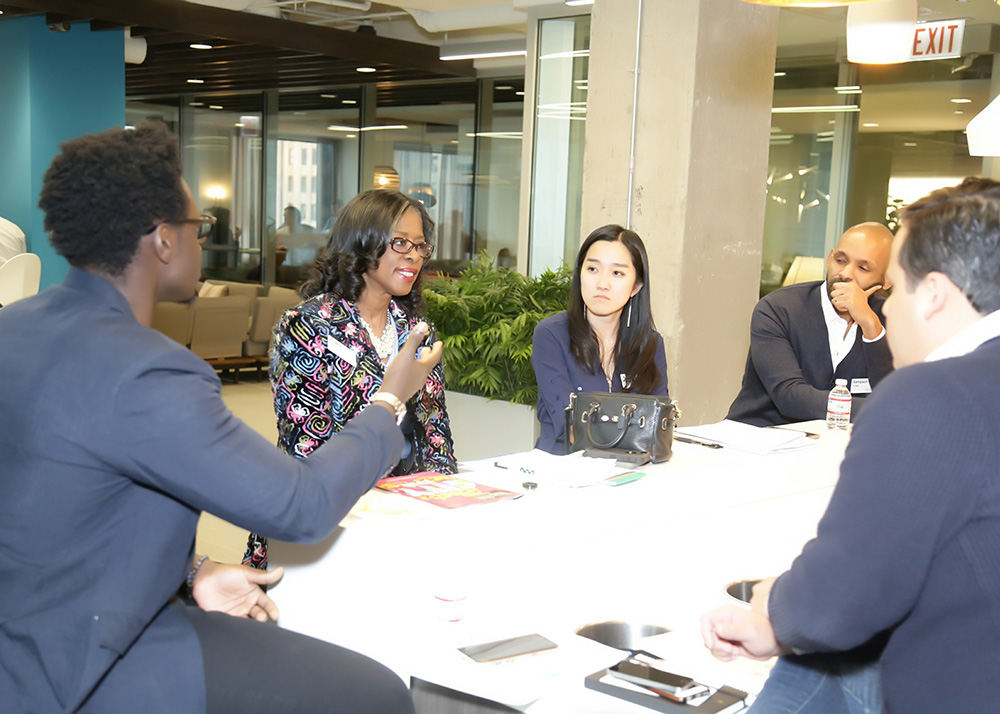 We recently inducted the class of 2018 for our Diverse Leadership Network (DLN) in Chicago, marking our fifth class of the program. The DLN, a 15-month leadership development program, is our most diverse leadership program and provides opportunities for high-potential, mid-level leaders to learn from senior leaders within the company, collaborate among their peers, and apply their skills to practical business case studies.
The 2018 class includes 40 talented associates from the U.S., Canada and Mexico and across every function of our business. Participants met with their coaches for the first time during the orientation. DLN coaches are senior leaders who guide participants throughout the 15-month program and provide strategic guidance for non-DLN related experiences as well. Some of our more than 90 associates who are DLN alums spoke at this year's orientation event, sharing strategies and tips for optimizing time in the program and enjoying networking and learning from their fellow classmates.
"Each year we induct a new class to the DLN, we're strengthening our diverse pipeline for years to come," said Audrey Yi, VP, Diversity & Inclusion at Nielsen. "Our data from the past five years of DLN graduates shows that, upon graduation from the program, associates are expanding their leadership and influence in our company, as 93% of alumni are in a new or expanded role and 20% have reached the VP/general manager level. Representation of DLN graduates in leadership positions shows that we're committed to infusing diversity and inclusion into everything we do at Nielsen."
DLN graduates are expected to complete business impact projects that will provide process improvements and innovation for our business. That's why we also invited senior leaders to share the company's strategic priorities for FMCG/Retail, Total Audience, Gracenote and more. Participants will use the content of these presentations to guide their problem-solving process on business projects that will be assigned later in the program.
As part of the program's initiative to foster external relationships with clients and other brands, Eugene Campbell, Director, Supplier Diversity and Sustainability for Allstate and Co-Chair of our African-American Advisory Council, gave a keynote address during the orientation. Eugene spoke about the unique opportunity afforded to DLN participants, and how this class should utilize their coaches and other resources to aid in their leadership journey.
DLN Impact Projects
Meanwhile, the DLN class of 2017 has continued their development in the program and recently completed four business impact projects that will be beneficial for many aspects of our company and our clients.
Development and Socialization of Multicultural Solutions
A team of DLN participants developed a strategy to both aggregate and socialize Nielsen's multicultural solutions with clients. The team created a multicultural solution roadmap, that points our client teams to the appropriate Nielsen product that helps our clients better reach multicultural consumers. They also created a task force that meets monthly to increase client awareness of our multicultural solutions. This project is essential to our business, because it shows our clients that we know the importance of multicultural consumers and are able to accurately measure their unique consumer preferences and behaviors.
Sales Engineering Process Improvement
Another DLN team created a streamlined process for our data to reach our clients. First, they engaged with both our sales engineers and client service teams to assess the areas where there were opportunities for increased efficiency. Then, the team developed a detailed responsibilities structure, which ensures that tasks are properly allocated and prioritized. The end result of this project is a better flow of information to our clients, which allows us to drive their business goals more efficiently.
Internal Cultural Adoption of Total Audience
A third team worked to socialize and evangelize our Total Audience system for internal associates. The group developed a strategy to both educate our employees and build their interest in our Total Audience measurement, which seeks to measure viewership across the many platforms available to consumers today. By creating this engagement, we ensure that our associates know the best way to incorporate Total Audience solutions into their client relationships and that our clients have access to our best audience measurement tools.
Experienced Hire Talent Assessment Model
Our final DLN team studied Nielsen's need for a way to assess prospective experienced candidates for Nielsen jobs. They helped Nielsen select Pymetrics, a talent assessment company that will use a candidate-friendly, AI-powered, bias-free set of games to assess a candidate's fit for a role.
"The DLN team was instrumental in helping us get to the talent behind what's next, by evaluating the marketplace for talent assessment solutions," said Chris Louie, SVP, People Analytics and Talent Assessment and sponsor of the DLN talent assessment project. "They leveraged their diverse set of experiences—different perspectives shaped by their current functional and geographic homes and their personal experiences as candidates. This provided unique perspectives on what a useful cross-Nielsen solution would look like. This project is a prime example of the superior results that diverse teams can produce when empowered to do so."
Pictured above: Angela Talton, Nielsen's Chief Diversity Officer, meets with the DLN Class of 2018 at orientation.