Even though global ad spending has grown only moderately on a year-over-year basis, 2013 has proven to be a year to spend for select industries—and an off year for others. Industry and services was the fastest growing sector in the first quarter (up 8%), according to Nielsen's quarterly Global AdView Pulse report. Meanwhile, financial services and automotive advertisers are spending less.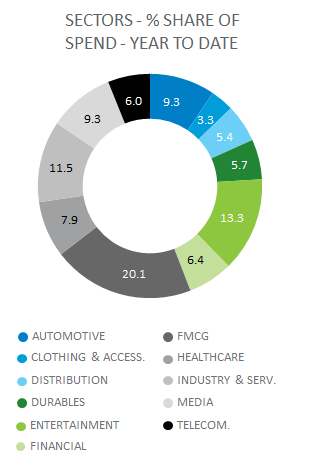 Within industry and services, ad spending for industry, agriculture and property grew the most, with an increase of 28.7 percent globally. Asia-Pacific and Latin America regions were the heaviest regions for spend, with 22.1 and 10 percent growth in industry and services, respectively. The sector's 11.5 percent ad spend market share solidifies it as a major advertising player among the industries.
Fast-moving consumer goods (FMCG), the long-standing most valuable player in sector growth, showed no signs of slowing down, boasting a 6.1 percent increase for the quarter. Latin America led this increase with a 22.2 percent bump. The drink subsector drove the global growth, which experienced a 9.7 percent increase. Spending also grew in cosmetics and toiletries, gaining 5.6 percent for the period. The spirits category within the drink subsector performed particularly well, experiencing an increase in spending of 36 percent for the quarter.
Financial and automotive are two sectors suffering, primarily due to the ongoing economic situation in the Western world. Advertising spend declined in these sectors by 2.9 percent and 5.1 percent, respectively. The commercial vehicles category within the auto sector saw the biggest drop—23%, while advertising in investment and savings and card services each fell 14% in the financial sector.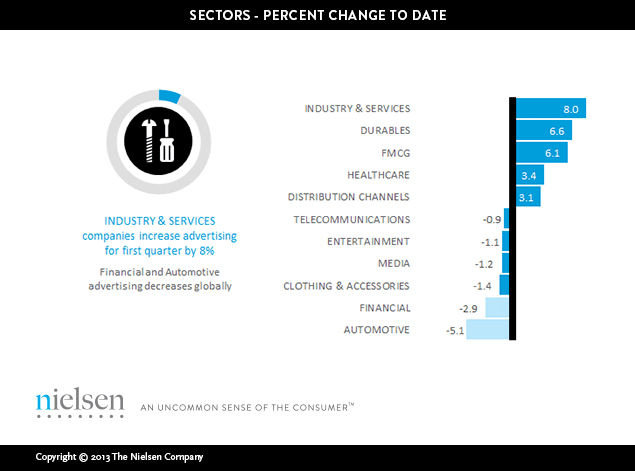 METHODOLOGY
Nielsen Global AdView Pulse measures ad spending for TV, newspapers, magazines, radio, outdoor, cinema and Internet display advertising. Ad spend is based mainly on published rate-cards. Some markets may exclude select media due to data availability.
The external data sources for the other countries included in the report are:
Argentina: IBOPE
Brazil: IBOPE
Croatia: Nielsen in association with Ipsos
Egypt: PARC (Pan Arab Research Centre)
France: Yacast
Greece: Media Services
Hong Kong: admanGo
Japan: Nihon Daily Tsushinsha
Kuwait: PARC (Pan Arab Research Centre)
Lebanon: PARC (Pan Arab Research Centre)
Mexico: IBOPE
Pan-Arab Media: PARC (Pan Arab Research Centre)
Portugal: Mediamonitor
Saudi Arabia: PARC (Pan Arab Research Centre)
Spain: Arce Media
Switzerland: Nielsen in association with Media Focus
UAE: PARC (Pan Arab Research Centre)