Even if you were passed out on the couch for a tryptophan-induced nap on Thanksgiving, you were probably still able to faintly hear the holiday marketing blitz ramping up for the season on the TV in the background. It's Christmas time and the sights and sounds of the holidays are ringing across our screens and through our speakers.
For radio, the annual tradition of holiday music is now in full swing, as most of the stations that typically flip to the "All Christmas" format have by now replaced Miley Cyrus and Florida Georgia Line with Brenda Lee and Johnny Mathis.
The All Christmas Format
On or around Thanksgiving, programmers traditionally flip the switch and begin a four-week run of holiday tunes while watching their audiences grow steadily before peaking on Christmas Eve. Last year in the top 48 markets measured by Nielsen, 28.4 million Americans [1] tuned to an "All Christmas" radio station on Dec. 24.
Now, the fact that Christmas music on the radio performs best the night before Christmas shouldn't surprise you, but after digging into the data for the top holiday-format stations in each of those markets last year, a few interesting trends emerged.
First, the mid-day daypart (Monday-Friday 10 a.m.-3 p.m.) led the holiday ratings, with listening peaking during the 12 p.m. hour over the four-week stretch from early December to New Year's. Last year, the audience size during mid-days increased 71 percent from when the stations were not in the All Christmas format.
However, that wasn't where the most dramatic changes due to holiday music happened. The numbers for the nighttime (defined as Monday-Friday 7 p.m.-midnight) slot were off the charts compared with the normal results after sundown. During the course of the holiday ratings season, nights saw a 129 percent lift and—hold onto your eggnog—a 582 percent lift on Christmas Eve.
To put that last stat in perspective, the normal nighttime average quarter-hour (AQH) audience–the average number of listeners tuned in during a given 15-minute period—on these stations in 2012 was 291,700. On Christmas Eve, it was 1.9 million.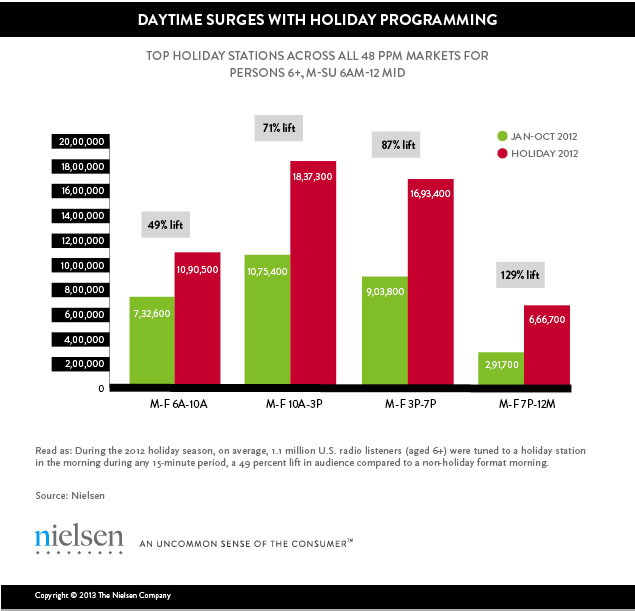 Top Holiday Songs
No matter when listeners were tuning in to get their holiday fix last year, they were treated to a wide variety of titles and artists. Last year's holiday spree across the radio airwaves included something for every generation, ranging from the most-played new release by Rod Stewart (a remake of "Let it Snow") to Bing Crosby's "White Christmas," originally recorded in 1944.
Just as the success of individual radio formats varies from market-to-market and region-to-region, the same is true of the holiday playlists that fill the airwaves and digital streams of stations all across the U.S. Last year's most-played song in New York was Mariah Carey's "All I Want for Christmas Is You," while Jose Feliciano's "Feliz Navidad" topped the spin charts in Los Angeles.
Everyone has their list of favorite holiday classics, and artists are no exception when it comes to recording them. In fact, many artists recorded their own versions of songs that were the most played in 2012. After taking a closer look at airplay from the top 10 Adult Contemporary stations in 2012, we found that stations played a whopping 34 versions of "Winter Wonderland" throughout the season. However, the Eurythmics' version was the most played, at just under 600 spins [2]. Other popular tracks included "Sleigh Ride" and "Let It Snow, Let it Snow." The most popular recordings of each were by Leroy Anderson (1,000 spins) and Harry Connick Jr. (700 spins). "Santa Claus is Coming to Town" and "It's Beginning to Look a Lot Like Christmas" also saw heavy rotation in 2012, and the most played versions of each were from Bruce Springsteen and the E Street Band (800 spins) and Johnny Mathis (1,200), respectively.
Season's Streamings
When it comes to streaming, the soundscape doesn't mimic radio airplay. Justin Bieber's lead single "Mistletoe" from his 2011 holiday album Under The Mistletoe saw a great deal of streams in 2012 with over 7.6 million streams, while three of the top six songs were different versions of "All I Want For Christmas Is You" (Bieber's duet with Mariah Carey was streamed over 3.8 million times, while the original Mariah Carey version saw 3.5 million streams, followed by Michael Buble's take that resulted in 2.6 million streams) [3]. Michael Buble was also a favorite, as his version of "It's Beginning To Look A Lot like Christmas" was streamed over 2.7 million times. "Last Christmas" by '80s pop duo Wham! Was also a hit with 2.7 million streams.
Holiday Music Sales
The holidays are also big for albums. Twelve million holiday-genre albums sold in the U.S. in 2012, accounting for 3.8 percent of the year's music sales [4]. These numbers, however, were at five-year lows, representing 15 percent and 10 percent drops, respectively, from 2011, when 13.9 million holiday albums were purchased, accounting for 4.2 percent of full-year sales.
There weren't as many major "must-have" new holiday titles last year as there have been in the past, which played a part in last year's dip. Of the 12 million albums sold, only about one-third (4.3 million) were new releases less than 18 months old. Rod Stewart's top-selling Merry Christmas Baby fell into this category and sold 858,000 albums. This figure pales in comparison to the leading albums in prior years, such as Michael Buble's Christmas in 2011, which sold 2.5 million, and Josh Groban's Noel in 2007, which sold 3.7 million.
By this time next month we'll know who the breakout holiday artist of 2013 is, having heard their song on the radio all across the country at all hours of the day and night. It really is beginning to sound a lot like Christmas.
Notes
Nielsen Audio Metro PPM ratings, persons 6+ daily cumulative audience for the top holiday stations across all 48 PPM markets on 12/24/12.
Nielsen BDS airplay data, 2012, from the Top 10 AC Stations; does not include total U.S. airplay.
Nielsen BDS streaming data, 11/1/12 – 12/31/12. YouTube data was added to BDS in 2013 and is not included here.
Nielsen SoundScan. U.S. point-of-sale music product purchases. Nine-week period is week-ending 11/4/12 – week-ending 12/30/12.