While trust in advertising can lend itself favorably to consumers' goodwill toward a company, consumer willingness to take action as a result of exposure to a specific message is good proxy for how effective the advertising is. And, according to Nielsen's Trust In Advertising report, trust and action often go hand in hand.
The Nielsen Global Survey of Trust in Advertising polled more than 29,000 Internet respondents in 58 countries to measure consumer sentiment on 19 forms of paid, earned and owned advertising formats.
Not surprisingly, word-of-mouth formats such as recommendations from family and friends and consumer opinions posted online prompted the highest levels of self-reported action among 84 percent and 70 percent of respondents, respectively. Roughly two-thirds of respondents indicated that they take action at least some of the time based on ads shown on TV (68%), branded websites (67%), ads in newspapers (65%), consumer-consented emails (65%), editorial content in newspapers (64%) and ads in magazines (62%).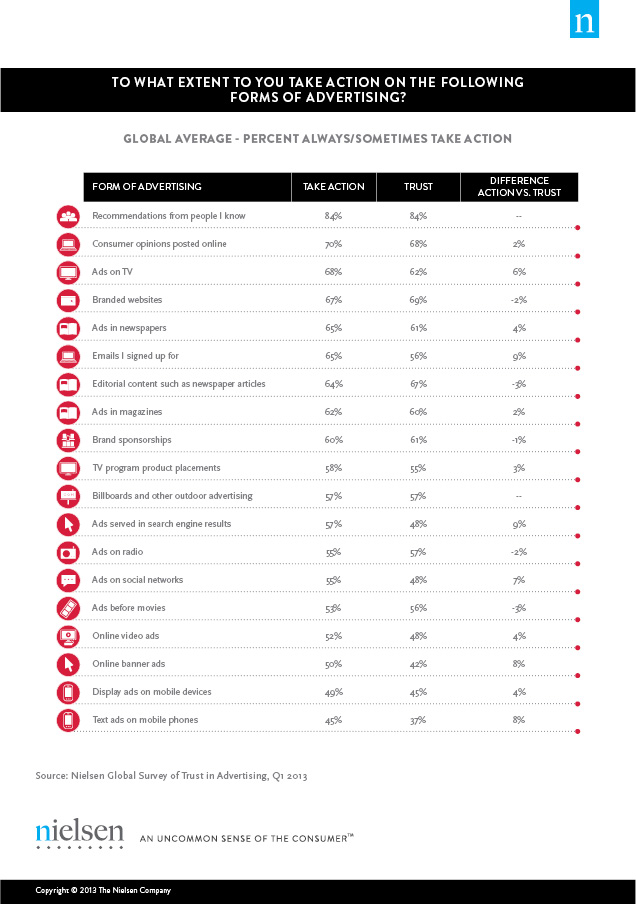 For some ad formats, the take-action score even exceeded the trust score, suggesting that consumers may be willing to check out a product even if they didn't find the ad completely credible. While there is a sizeable difference between respondents who said they always take action and those who said they sometimes take action, the overall scores demonstrate that, broadly speaking, ads are prompting a reaction in consumers.
"Although online formats have the opportunity to engage more effectively with consumers, trust in these ads is growing as they become more pervasive and persuasive with creative that is provocative, smart and challenges the status quo," said Randall Beard, global head, Advertiser Solutions at Nielsen. "And customers are responding, as the findings show about half of respondents are taking action based on online ads. A customer's willingness to take action on an ad is a brand marketer's currency. While trust and action generally go hand in hand, even ad formats that are developing show they can be effective in getting consumers to the point of sale."
Trust and Action Levels Highest in LatAm, Lowest in Europe
Quantitatively, Latin Americans reported the highest levels of trust in 13 of 19 forms of advertising. The region also reported the highest percentage of respondents willing to take action on all 16 types of paid/owned advertisements and one of the three types of earned advertising formats (editorial content). Respondents in Asia-Pacific were the most willing to take action based on recommendations from friends and family and opinions posted online.
In addition to reporting the most skepticism across all forms of advertising, except consumer opinions posted online, European survey respondents were also least likely to take action based on ads.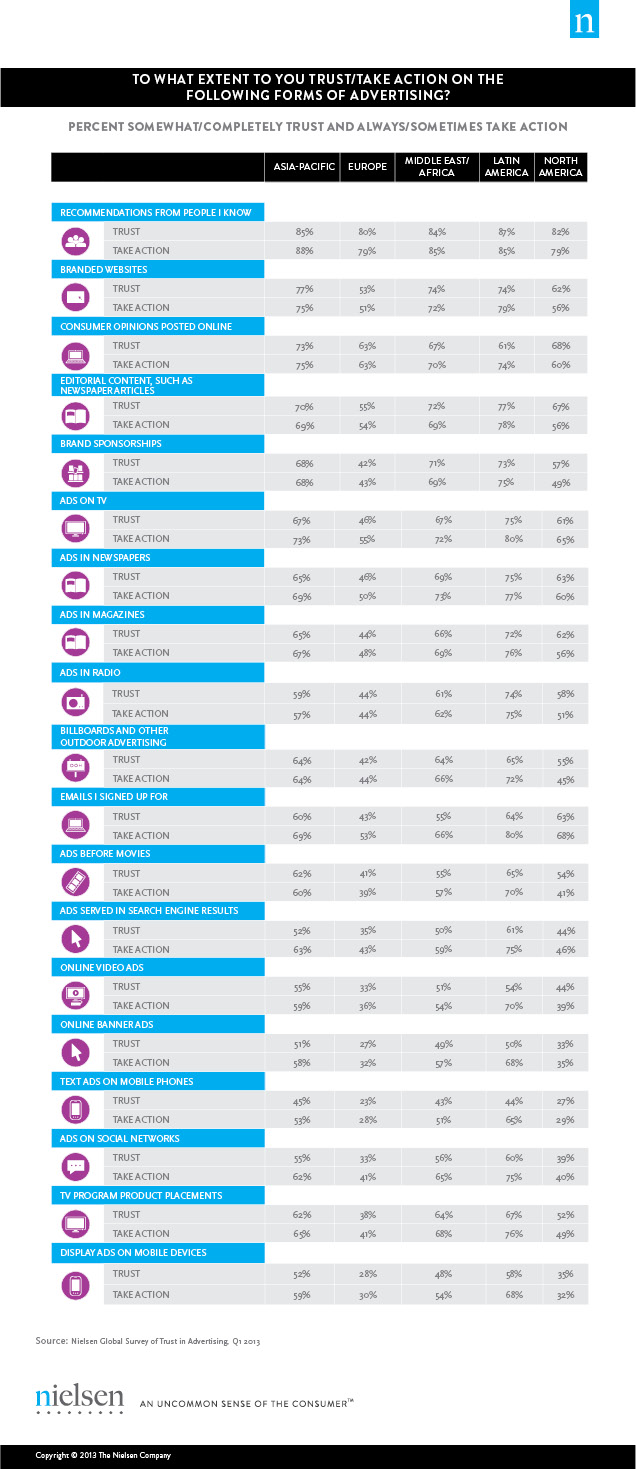 METHODOLOGY
The Nielsen Global Survey of Trust in Advertising was conducted between February 18 and March 8, 2013, and polled more than 29,000 consumers in 58 countries throughout Asia-Pacific, Europe, Latin America, the Middle East, Africa and North America. The sample has quotas based on age and sex for each country based on their Internet users, and is weighted to be representative of Internet consumers and has a maximum margin of error of ±0.6%. This Nielsen survey is based on the behavior of respondents with online access only. Internet penetration rates vary by country. Nielsen uses a minimum reporting standard of 60 percent Internet penetration or 10 million online population for survey inclusion. The Nielsen Global Survey, which includes the Global Consumer Confidence Survey, was established in 2005.