Game consoles aren't just for gaming anymore. In fact, seventh-generation game consoles (e.g., PS3, Wii, Xbox 360) continue to gain traction as devices for watching video as well. For the third year in a row, Americans in 2012 spent more of their overall console time streaming video. According to recent data from Nielsen, the use of video-on-demand (VOD) and streaming services accounted for 22 percent of users' overall time on these systems last year, up from 19 percent in 2011 and 13 percent in 2010.
PlayStation 3 users—who drove the trend in increased streaming activity—spent nearly 25 percent of their console time streaming content in 2012, up from 15 percent during the prior year. Wii users remained the most likely to spend their console time using VOD and streaming (32%), while Xbox 360 users spent about 13 percent of their usage time for VOD and streaming content, the same amount of time as last year.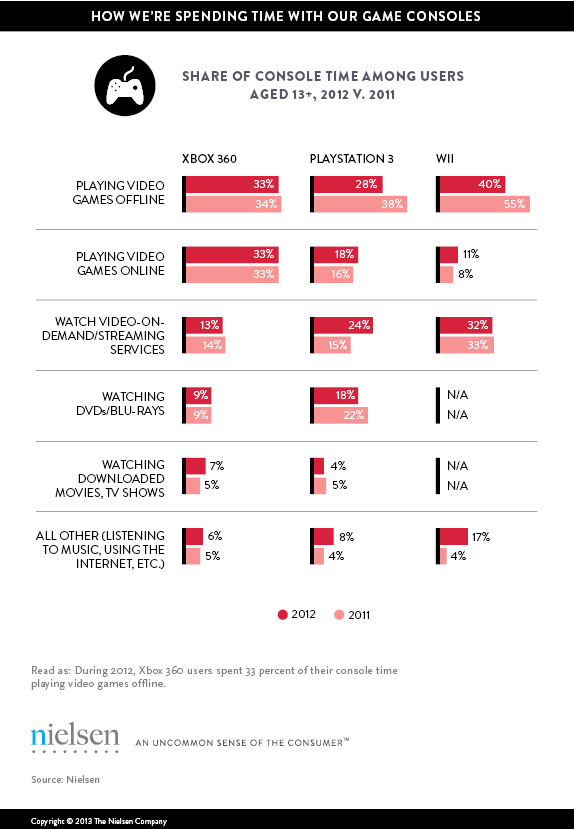 Beyond video, users of seventh-gen consoles are also unique in how they use their multi-functional systems. In 2012, Xbox 360 users spent the most time (33%) gaming online, while Wii users spent the highest share of time (40%) playing games offline. DVD/Blu-ray use in gaming consoles is declining, given the rise in VOD and streaming, but PS3 users were still the most likely to spend time watching DVDs/Blu-rays (18%).
We will feature more insights on gamers, console dynamics and allocations of time and money within gaming and the broader entertainment category in our Nielsen webinar, U.S. Gaming: A 360° View, scheduled for Thursday, March 14. For information, click here.
Methodology
Survey of 2,500+ general population consumers (including game console users) in the U.S. conducted in October 2011 and October 2012.