The names Kobe, Lebron and Manning are household names among fans of traditional sports, but among eSports enthusiasts, monikers such as "ppd," "Aui_2000" and "Fear" reign supreme. Powered by thumbs and digital reflexes, eSports—the common term for professional, competitive video gaming—continues to draw in a young, high-income audience, making them desirable to advertisers and content creators alike. But knowing who these fans are is not enough. To truly reach and resonate with eSports consumers, understanding how to best engage them is key.
Why eSports?
What drives eSports fans to follow their games, teams and competitions of choice in this rapidly growing space? As it turns out, eSports it not a one-sizes-fits-all activity for these consumers. In fact, there are multiple, variable reasons for engagement.
For one, these consumers are interested in improving their own gaming skills. They are also very interested in learning tips/tricks from the pros and general exposure to high-level gaming. Consistent with the "traditional" sports excitement that eSports events evoke, however, experiencing the competitive nature of eSports is also a key driver of engagement. The top five reasons for engagement are rounded out by the general hobby-like nature of eSports, as well as the unique angle it brings to consumers' gaming experience.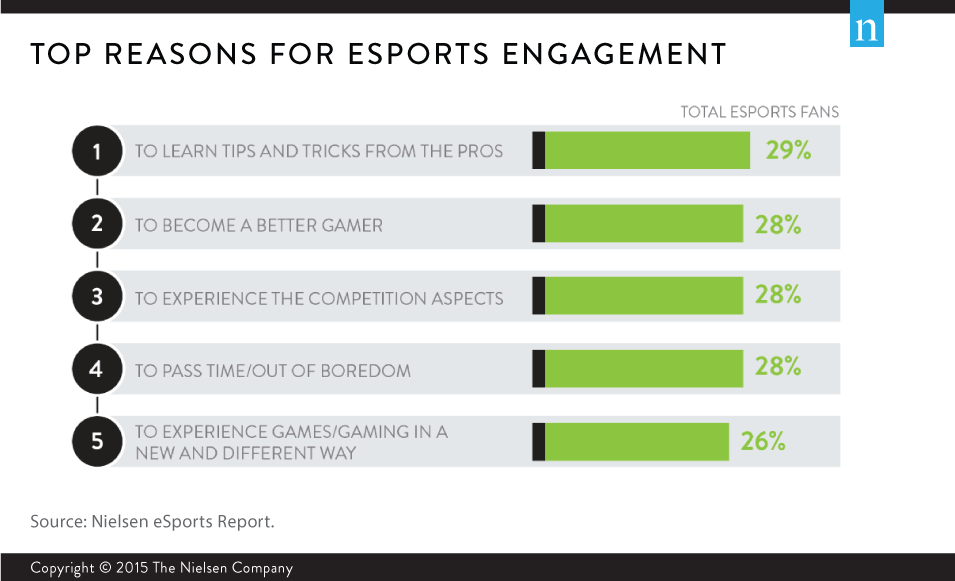 Helping Brands Get in the Game
Fans aren't just exposed to the thrill of competition and elite gameplay while viewing eSports—they also engage with the increasing number of brands sponsoring eSports events, shows, teams/players and more. But not all brand efforts are created equal in the eSports space, and the nature of their activations and sponsorship approaches largely play into their acceptance among eSports fans.
Across various activation types, U.S. eSports fans claim to be most favorable to brands that not only insert themselves into the eSports scene, but that do so in a way that supports the sport and its gamers. As such, fans highly regard brands that provide products, prize money and/or equipment to eSports players. Additionally, offering benefits to fans, such as sponsoring a sweepstakes/giveaway or making an event live stream available to them, also resonates well.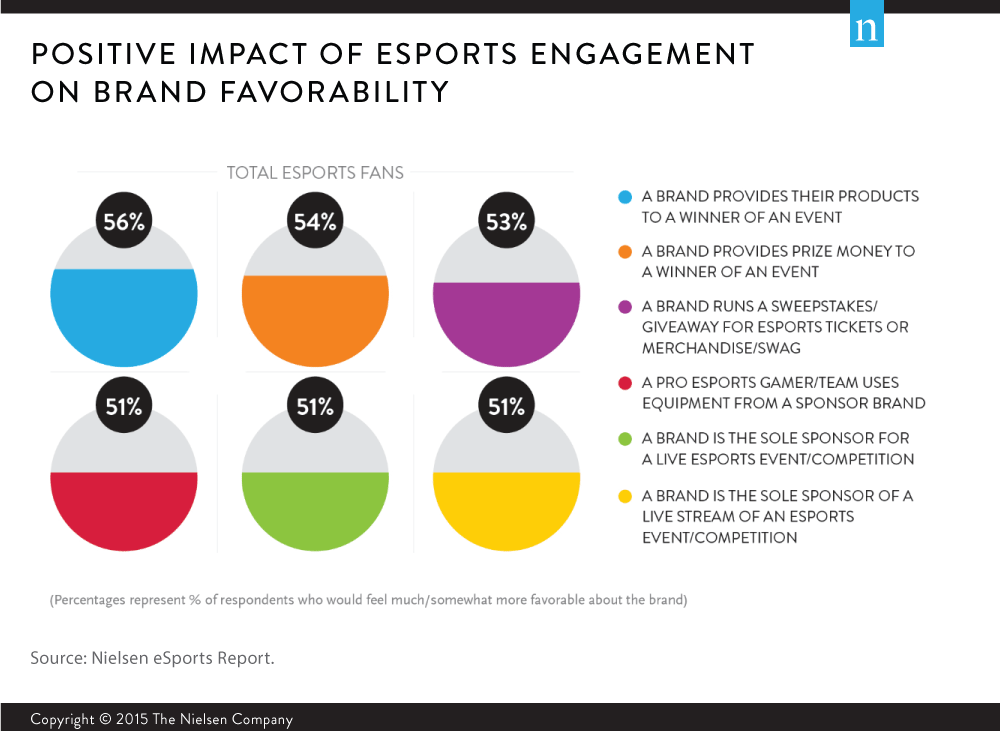 METHODOLOGY
The Nielsen eSports Report is a comprehensive look at consumer interaction with eSports in the U.S. Data was collected online in September 2015 among 1,000 eSports fans aged 13+ as well as 200 eSports-aware non-fans aged 13+. Gaming specific questions were replicated from the annual Nielsen 360° Gaming Report to allow for profiling vs. broader U.S. gaming behavior.