{"order":3,"name":"subheader","attributes":{"backgroundcolor":"000000″,"imageAligment":"left","linkTarget":"_self","pagePath":"/content/corporate/au/en/insights","title":"Insights","titlecolor":"A8AABA","sling:resourceType":"nielsenglobal/components/content/subpageheader"},"children":null}
Jarryd Hayne's highly anticipated 49ers debut on 'Monday Night Football' was the number one program on Nielsen Twitter TV Ratings during the day of play. With more than 13,000 Tweets being viewed over 2.7 million times by a unique audience of 193,000, sports fans around Australia jumped on Twitter to follow the real time commentary of all the big plays and key moments. 
Unsurprisingly, there is little doubt that the 49ers have been adopted as 'Australia's team' in the NFL with 91% of mentions for @49ers vs 9% @Vikings and @JarrydHayne_1 being the most mentioned player with more than 2,700 mentions by Australian fans. 
While not as well known in the U.S., Jarryd Hayne still featured in the top ten most mentioned players coming in at number six, just behind 49ers quarterback Colin Kaepernick (five) and linebacker Navorro Bowman (four) with running back Carlos Hyde being the most mentioned player by U.S. fans.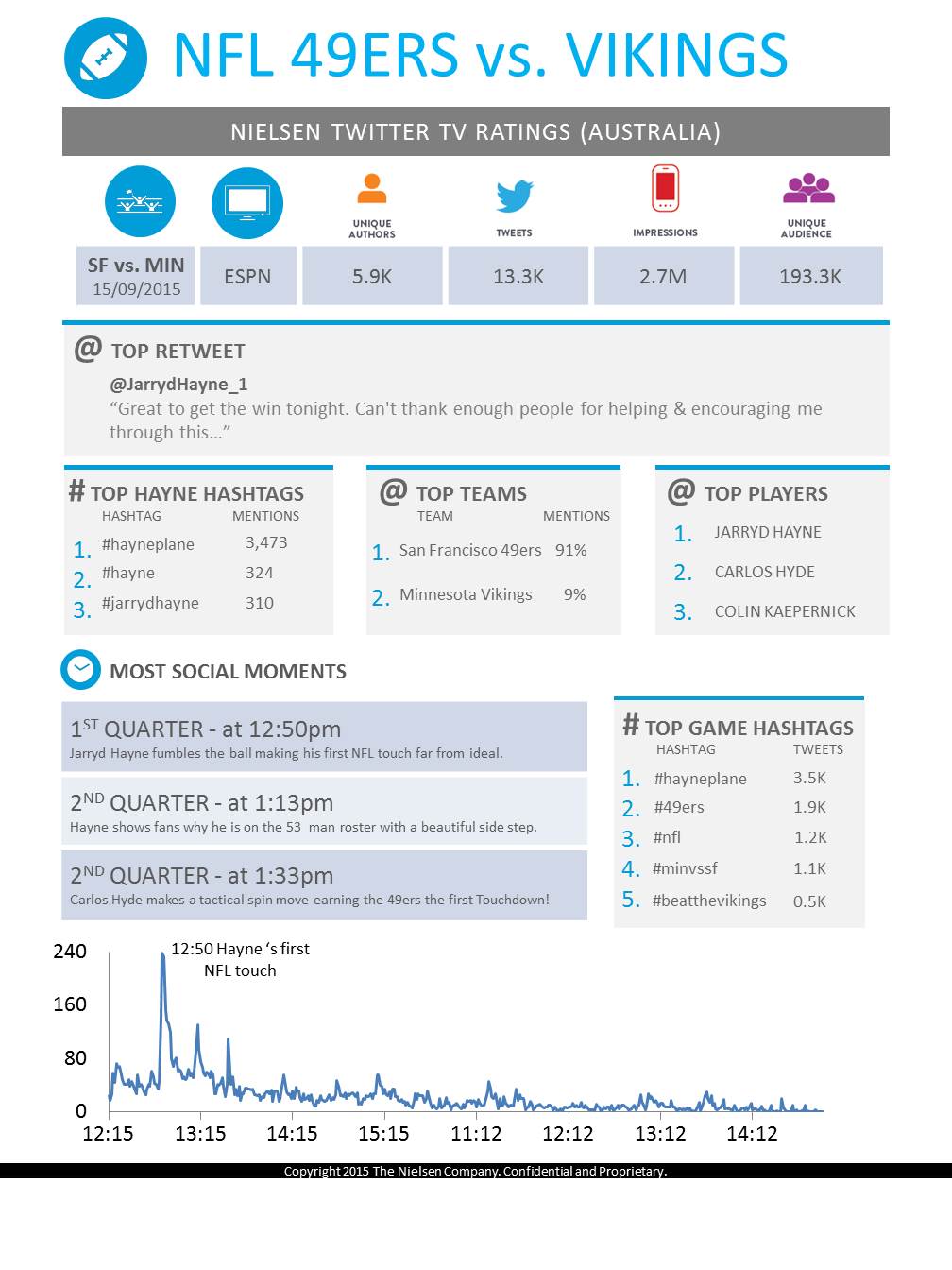 About Nielsen Twitter TV Ratings
Nielsen Twitter TV Ratings is the first-ever measure of the total activity and reach of TV-related conversation on Twitter. Nielsen Twitter TV Ratings measure not only "authors"— the number of people Tweeting about TV programs — but also the much larger "audience" of people who actually view those Tweets.
Nielsen Twitter TV Ratings measures all programs across more than 100 Free-to-Air and Subscription TV Channels, providing:
Metrics of Activity and Reach for episode, program, network station.
Insight and ranking mentions of actors, cast/talent, athletes, sports teams.
Real-time monitoring of Authors and Tweets for every program on air.
Metrics include:
Unique Audience: The total number of distinct Twitter accounts accruing at least one impression of one or more different Tweets ascribed to a TV episode.
Impressions: Total number of times any Tweets related to a program were seen.
Unique Authors: Number of Twitter accounts that posted at least one Tweet about a program. 
Tweets: Number of Tweets related to a TV program.