Medicinal products as well as food, beauty products and commercial TV commercials reached most 18-49 year old TV viewers in February this year. Another ranking in Nielsen Közönségmérés Kft.'s top ten list according to GRP: telecommunications, financial institutions, household goods, transport, services and leisure.
The proportion of viewers reached by advertisements, in the Hungarian professional term Gross Rating Point (GRP), expresses how many contacts the broadcasts of an advertising spot reached among the members of the target group studied. Because an ad can reach multiple viewers more than once, the amount of the GRP metric may exceed 100 percent. In counting, they add up the audience reached by each broadcast of the ad.
Among the foods, TV commercials for puddings / milk-based desserts, sliced ​​chocolates and juices reached the majority of TV viewers aged 18-49, also in February this year. In the case of body care products, face cream and toothpaste reached the highest GRP, according to the measurements of Nielsen Közönségmérés Kft.
Food trade is also remarkably active, ranking fourth in the GRP rankings of product classes; 6,461 percentage points is almost twice as many as 3,494 for pudding / milk-based dessert.
Hypermarkets are also in the top twenty product categories, with 3,149 percentage points.
The entire population last watched real-time TV for 301 minutes a day in February. For women, a person watched an average of 321 minutes a day, compared to 280 minutes for men.
A total of 625,582 commercials were broadcast on domestic TV channels in twenty-nine days; 18 percent more than in February last year.
At a list price, based on the channels examined by Nielsen at the spot level, HUF 56.6 billion was spent on television advertising in February this year. 14 percent more than in the second month of last year. Actual spending can be significantly lower than this, as television companies offer varying degrees of discounts to advertisers.
In February 2016, the GRP of the sectors that reached the most viewers with their TV commercials.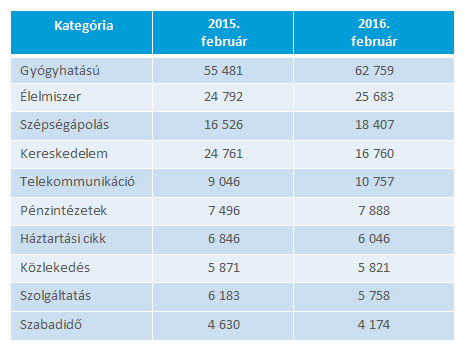 Source: Nielsen Audience Measurement
Percentages of TV ads related to some of the major GRP product classes in daily consumer goods in February 2016.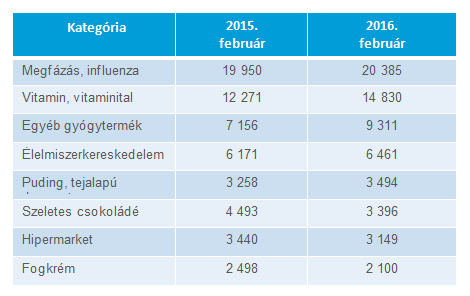 Source: Nielsen Audience Measurement