There's a common belief that sports have the power to change the world. Whether it's a walk-off homerun that wins the game, a last-minute goal as the whistle sounds, a photo finish as the checkered flag waves or a hole in one, people love the thrill of these unforgettable moments, and they long to share them with close friends, relatives or even a perfect stranger. Watching sports on linear television—especially away from home—gives audiences the opportunity to connect with each other when they can't be at the ballpark.
To better understand the linear TV-viewing habits of sport fans when they're away from the comfort of their couches, Nielsen conducted a summer survey among persons 18 and older that provides directional insights into key areas of interest for advertisers: location, co-viewing habits, attention and demographic composition.
Location, Location, Location
While we've always known that people view linear TV content outside of the home, precise viewing locations have always been elusive. With insight from our recent survey, we now know exactly where people are viewing sports when they're away from their homes. The survey covered restaurants/bars, other peoples' homes, the office, the gym, in transit (permanent screens on a bus), hotel rooms, the airport and other locations.
The data supports the notion that restaurants/bars remain one of the most popular out-of-home (OOH) locations, as 26% of respondents said that they only watched OOH sports at a restaurant/bar. However, viewing in other places is a big draw for OOH sports content. Of the remaining 74%, 40% said that they watch in both restaurants/bars and elsewhere and 34% only viewed in other places. Nevertheless, restaurants/bars were the highest single viewing location from all respondents.
While the trends for OOH location viewing are similar among persons 18-34 and persons 35+, 83% of younger viewers (18-34) said they watched sports content outside of the home somewhere other than at a restaurant/bar in the past week. The second-highest option was someone else's home at 49%, followed by work at 35% and the gym at 38%.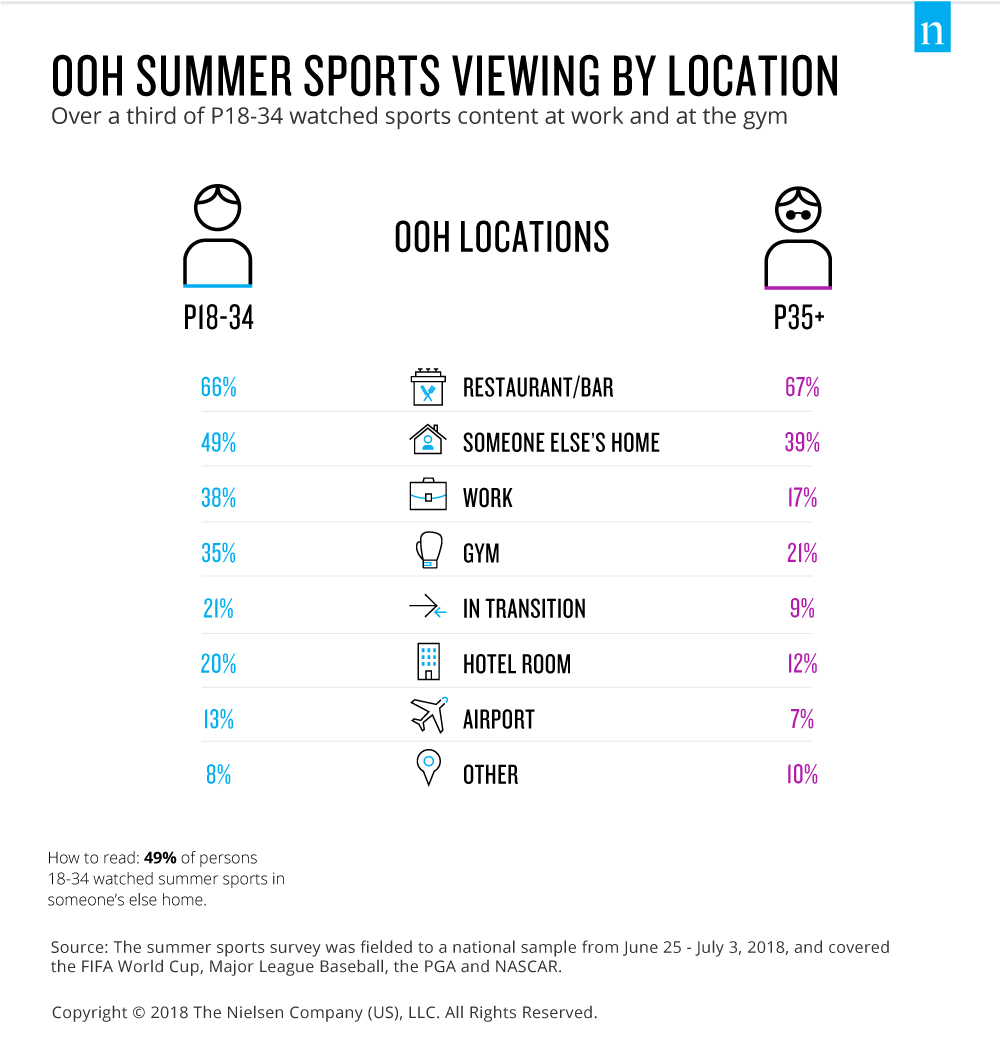 It's Always Better When Viewing Together
In line with what we see from Nielsen's National Out-of-Home Measurement service, the analysis highlights that 18-34-year-olds accounted for 53% of OOH viewers who watched summer sports. Interestingly, over half (55%) of the adults 18-34 said that they watched with other people, with a third of them watching with two other adults. Among the summer sports measured, we see that on average, females preferred to watch OOH content with a larger group than males (female group size 3.5 vs. male group size 3.3).
But since viewing content away from home often involves settings that are subject to loud conversations, distractions and other activity, it's a fair question to ask if viewers are listening to the content they're watching. In short, they are engaged with the advertising as well as the game. The survey found that up to 66% of OOH viewers were able to listen to the entire event they watched on linear TV. In the end, while consumers who view sports content outside of the home are engaged in other activities as they watch, they are very much listening to what's on the screen.
Overall, sports content is a big draw for younger viewers, with Generation Z and Millennials driving nearly 45% of sports OOH viewing. On average, the survey found that fans that tuned in to watch the sports surveyed on linear TV this summer skewed male, at 62%, had an average age of 38, and live in homes with an average household income of $67,000. Similarly, OOH viewers of key major summer sports were predominantly male with an average age range between 35 and 40 years of age; however, their household income was slightly higher, as it ranged from $64,000 to $76,000.
While only a lucky few can experience live sports in all of its glory, the TV glass is a great conduit for audiences to watch their favorite team or player in a room full of fans as passionate and crazy as they are. Over the past couple of years, the media and advertising industry has made great strides to quantify OOH viewership, especially for sports content. And today, understanding the location of where OOH viewing is taking place is another step in the journey to measure all the occasions consumers are watching TV and provide advertisers with a much clearer picture of a program's true total audience.
For additional insights, download our recent OOH report on summer sports viewing.