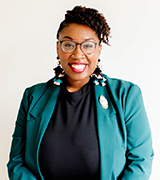 Black audiences have always been aware of the power of TV to influence ideology and aspirations. A Different World, the Cosby Show spinoff, made me want to go to Florida A&M University, a historically Black college, and Jodie Landon, a standout in the animated 90s classic Daria, personified my overachieving high school years in a small town.
The enormous impact of feeling seen prompted my mom to call me the first time our hometown news anchor wore her natural hair. It's how political commentators and national correspondents like NBC's Kristen Welker, MSNBC's Joy Reid and CNN's Abby Philip are changing perceptions of who can lead a news desk and whose voice matters. It's also why a character as fantastical as Bridgerton's Lady Danbury can seem as relatable as our most eloquent and brutally honest auntie.
For the rest of America, the isolation of prolonged social distancing has perhaps hinted at the isolation many diverse populations have long felt from being underrepresented in the office, at school, or even in public policy. As African Americans navigate these challenges, the role of television content has become heightened. No longer merely a source of entertainment, information or even inspiration, TV consumption in Black households has become essential to how we cope, connect and endure in the midst of COVID-19 and the layered crises that have disproportionately impacted black and brown communities during the last year.
The burdens of this era have been especially acute for Black women, who shoulder significant levels of both influence and responsibility in today's Black family and larger society. Consuming content that reflects our unique journey can be a form of much needed self care. Despite the preponderance of Black women occupying leading roles off screen, there is still a dearth of content that acknowledges our contributions on screen. While finding such content can still be challenging, doing so is often cause for celebration in Black communities driving trending topics across social media as well as conversation at home.
With more content options than ever before—each with a price—American audiences are considering a broader than ever spectrum of broadcast networks, a la carte cable bundles and hundreds of streaming options. As Black audiences look to invest their time and money on content, the diversity of content that platforms offer could be the deciding factor for consumers weighing which services to keep after a trial period.
Parity in representation is important, but TV isn't always about reflecting reality. It's often a way to escape it. This makes the expansion of the stories, themes and roles Black women and Black men inhabit, both in front of and behind the camera, just as critical. Not just for the thrill that being seen has on Black audiences, but for the potential that full inclusion in the creation and distribution of TV content will have in shaping the hopes and dreams of Black families, our country and the world.
For additional insights, download our recent The New Black Family Culture: Navigating Culture Through Content report. Learn more about the work Nielsen is doing in African American communities across the U.S.