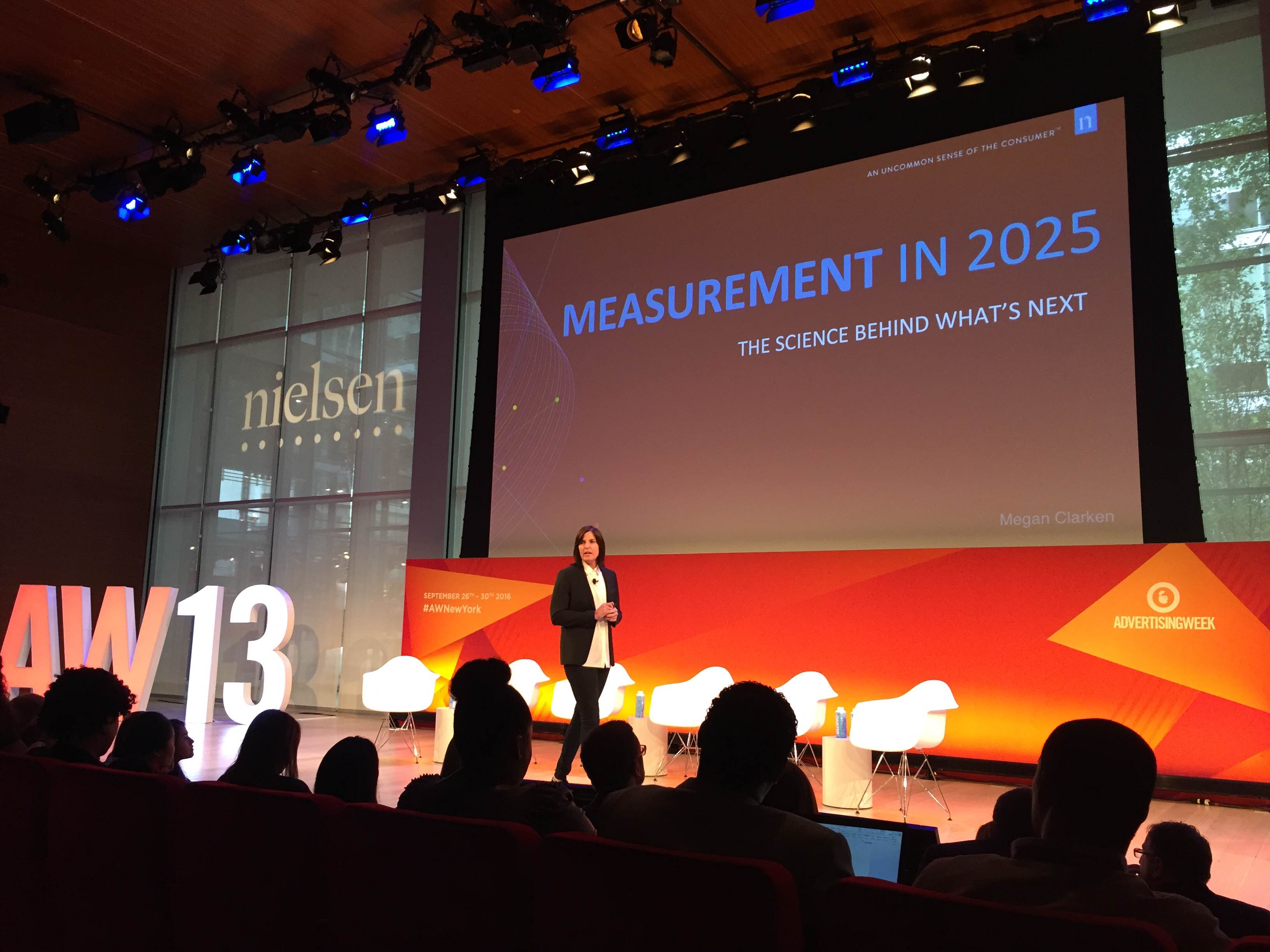 Last week, from the stage at Advertising Week 2016, we announced the syndication of Nielsen Digital Content Ratings. It's a major moment for us at Nielsen and the industry at large. While that's a bold claim, it's not an understatement.
Nielsen Digital Content Ratings is a core part of the Nielsen Total Audience Measurement framework—one of our top priorities as a company. We believe the industry needs independent, comprehensive and comparable metrics in order to measure audiences and have a complete view of how they interact across devices. With increased audience fragmentation, device proliferation and emerging business models, a like-for-like view of audiences across platforms is critical to the success of the entire industry.
And starting Sept. 30, 2016, publishers, agencies and advertisers will be able to see a daily measurement of audiences across digital platforms with metrics that are comparable with Nielsen's TV ratings.
As Nielsen's President of Product Leadership, Megan Clarken, said during the announcement, "This is the next step in the transformation of measurement as we know it."
Powered by Nielsen's robust census data platform, next-generation software development kit (SDKs), and new cloud application programming interface (API), Nielsen Digital Content Ratings provides daily census-based measurement of digital content including video and text across computer and mobile. In addition to census inputs, Digital Content Ratings leverages an enhanced panel to report on over 50,000 media properties.
This means that content owners will be able to showcase and maximize the value of their content with metrics needed for monetization. In addition, agencies and advertisers will be able to access richer insights on digital media consumption across all screens to optimize their media plans.
We're excited to be able to provide the industry with truly independent measurement of content across digital platforms, and the industry is too. Several clients have already adopted the product and are eager for this latest evolution of measurement.
"As a leading global media company, A+E Networks offers consumers a diverse communications environment, ranging from television networks to websites to mobile apps and OTT services," said Don Robert, Executive Vice President, Research & Analytics, A+E Networks. "Adopting Nielsen Digital Content Ratings will give us the ability to see our brands' audiences across platforms using metrics comparable to TV ratings."
"We're very excited about the potential of Nielsen's Digital Content and Advertising Ratings and the future of more robust third-party measurement features that cover the breadth of BuzzFeed's cross-platform content: from fans watching Tasty videos on Facebook mobile to the latest BuzzFeed News investigation on Google's AMP," said Edwin Wong, Vice President, Research and Insights, Buzzfeed.
"As the world's largest privately held media services agency, we are always focused on providing our clients with complete communications planning and activation across channels," said Michele Donati, Senior Vice President, Managing Director, Horizon Media. "Nielsen's Digital Content Ratings could provide comparable metrics in digital and TV—an across-the-board view that's invaluable in media planning."