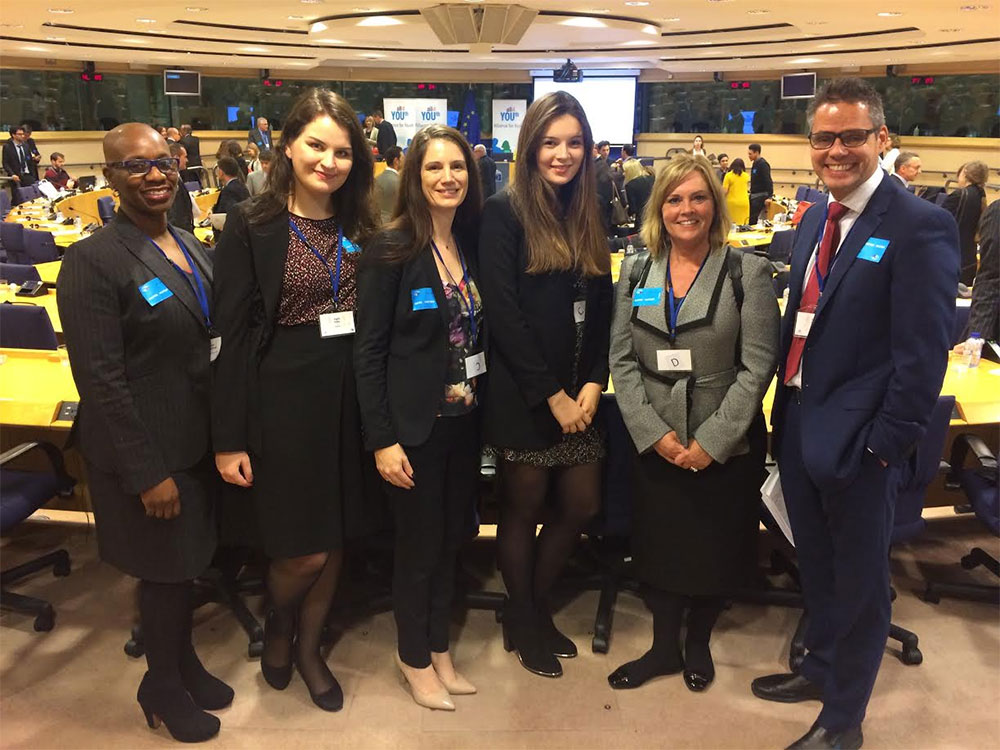 As a global member of Alliance 4 YOUth, Nielsen partners with Nestlé and other members to help reduce unemployment in Europe. As an active member of the consortium, Nielsen contributes pro bono studies to the Alliance, creates digital media space, including content on the Alliance's Facebook page and leverages its internship and apprenticeship schemes to reduce youth unemployment among people under 30 and boost youth employability in Europe.
In the U.K., apprenticeship schemes are training programs for youths 16 and older that provide practical work experience in the workplace and education in a school or training centre. The successful completion of the scheme leads to a recognised qualification by the country's examining body.
And we take our role very seriously. In fact, Nielsen has 20 apprentices in the U.K. this year and just as many planned for 2017, complemented by countless Nielsen internships across the continent.
Initiated in 2014 by Nestlé, the Alliance 4 YOUth is a business-driven initiative to promote youth employment in Europe. It seeks to reduce youth unemployment by helping young people gain experience and employability through jobs and training opportunities, as well as through education. The organization's partner companies also mobilize their employees to engage with the community and help young people prepare for work by offering practical advice, resume clinics and interview preparation. The Alliance 4 YOUth partners are active members of the European Commission's European Alliance for Apprenticeships, promoting apprenticeships and training as active ambassadors of vocational training across Europe.
In addition to the year-round work of each partner company, the alliance members gather annually to assess progress and set priorities. This year's event was held Nov. 15, 2016, at the European Parliament in Brussels. This year's theme, discussion and debate focused on assessing how successful apprenticeship schemes are and what can be done to enhance their attractiveness in order to tackle youth unemployment. Many young people, their parents, and even education providers view apprenticeship schemes as an alternative to a college degree. The work of the Alliance 4 YOUth seeks to help shift this thinking, and companies, education providers and young people should to work together to show that apprenticeship schemes should be complementary to an academic education instead of a replacement for one.
Ahead of the event, Nielsen conducted a survey among apprentices, education providers and employers to provide a baseline of data for discussion and debate during the gathering. The findings from the survey overwhelmingly support the presence of apprenticeship schemes in the region, as 96% of 1,700 apprentices surveyed said they believe the schemes will help them find work after they complete their studies. The survey also found that 98% of apprentices would recommend apprenticeships to others.
Simply making apprenticeships available, however, isn't enough. The research also pinpointed that if apprenticeship schemes are to be successful, businesses, education providers and governments need to collaborate for a unified experience. Notably, only 38% of employers, 37% of apprentices and 41% of education providers stated that they feel that there are proper links between employers and education providers on apprenticeship schemes. Furthermore, 31% of employers, 36% of apprentices and 24% of education providers said the study element and the work experience in apprenticeship schemes don't match.
Karen Fichuk, president of Lead Markets at Nielsen, and Dwight Watson, Global Client Lead Nestlé both attended the event and discussed key findings from the survey and explained how Nielsen is making an impact in youth employment by hiring young people in emerging leadership programs, apprenticeship schemes and internships.
"Companies can help tackle youth unemployment by creating meaningful work experience for young people, which is relevant to their studies, where they can make an impact in the company and develop their professional skills," said Fichuk. "We have various programs around the world for entry-level associates. One that has been running for many years is the Emerging Leaders Program, which involves wide rotations across our business. It has been a big investment but has led to Nielsen having some incredible young leaders."
Youth unemployment in Europe is at an all-time high, with many European countries seeing unprecedented numbers of youths without jobs. The current average across Europe is 18.8%, down from 23.9% in early 2013. Despite the decline over the past three years, the issue remains a huge burden on European societies, especially in large cities and in southern Europe, where youth unemployment rates can reach up to 50%.