Young adult (YA) fiction adaptations—movies based on young adult fiction titles—are a growing slice of the box office pie, increasing 6% between 2013 and 2014. One might assume that teens are driving this trend, considering that the characters in these books are around their age. But in reality, young adults are heading to theaters less frequently than they were five years ago, and fans of the YA movie genre span many age groups.
In a survey of Americans aged 12-35 who had seen three or more recent YA fiction adaptation movies, 43% choose the genre as one of their favorites to go see in a movie theater, on par with fantasy and action/thrillers.
So what about this genre is driving moviegoers to the cinema?
Three out of five survey respondents (60%) say that they are definitely fans of this genre. Not surprisingly, fanship skews towards younger women, but men aren't far behind. Men aged 18 and older are the second-strongest fans and may represent the "date night" audience for these movies.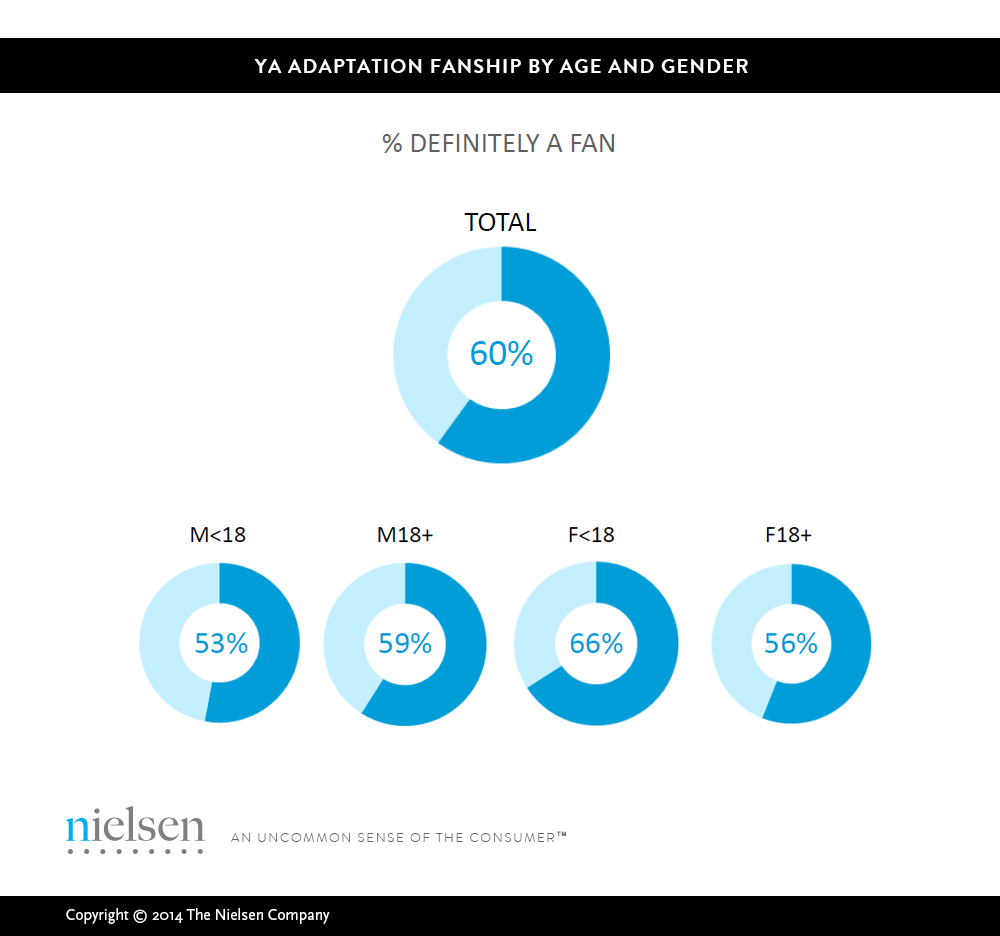 Audiences' excitement for these movies starts with the books—and the movies help the books as well. YA fiction authors whose books are now movies dominate the top 20 author list by units sold from the first quarter to the third quarter of 2014.
"There's a symbiotic relationship between books and the movies for these films. While YA fiction fans first gravitate to the genre because of their experience with the books, it doesn't automatically spell success at the box office," said Naveena Samuel, vice president of client solutions, Nielsen. "Readers want to see the characters and worlds come to life, and they need to be equipped with materials to create buzz and excitement around the movie."
For these movies, a good story is key—fans say a strong plot is most likely to intrigue (2.38x more likely to drive interest as the other drivers in the study). The cast is also important to this audience—the actors don't have to be well-known, but it's particularly crucial for fans that the cast fit the book both in terms of characteristics, as well as looks (1.64x).
In addition, while many of these stories follow similar archetypes, viewers say it's important to highlight what is different and original about each tale (1.41x) and stay true to the story (1.38x).
For more information on YA adaptation movie fans, download a preview report.
Methodology
This study is based on a quantitative survey among fans of young adult fiction adaptation movies (defined as those who have seen 3+ recent genre titles). Approximately 2,000 respondents aged 12-35 took a 20-minute English-language online survey conducted during the week of Nov. 3, 2014 (70% women and 30% men). The study identified four groups of fans ranging from avid to casual viewers and provides insights on how marketers can best reach each segment based on their book and movie habits, as well as other behaviors and characteristics.