Technology has changed a lot in the last 30 years—even the last three! Today's consumer is more connected than ever, thanks to the proliferation of digital devices and platforms. Content once available only via specific channels, such as print and broadcast television, can today be delivered to consumers through their multiple connected devices.
These changes are driving a media revolution and blurring traditional media definitions. In fact, Americans now own four digital devices on average, and the average U.S. consumer spends 60 hours a week consuming content across devices. In Nielsen's Digital Consumer Report, we explore this transformation and examine how the everyday lives of consumers are now intertwined with the digital world.
At the heart of this shift is the proliferation of digital devices. A majority of U.S. households now own High-Definition Televisions (HDTVs), Internet-connected computers and smartphones, giving consumer more choices for how and when they access content. Two-thirds of Americans now use smartphones, allowing them to take media content wherever they want, and they also to use the devices throughout their purchase journey.
The swift adoption of mobile devices has been bought home as well, where second-screen activities have transformed the TV viewing experience. Eighty-four percent of smartphone and tablet owners say they use their devices as second-screens while watching TV at the same time. Consumers use second screens to deepen their engagement with what they're watching, including activities such as looking up information about the characters and plot lines, or researching and purchasing products and services advertised. One of the more popular second-screen activities is using social TV: roughly one million Americans turn to Twitter to discuss TV on an average day.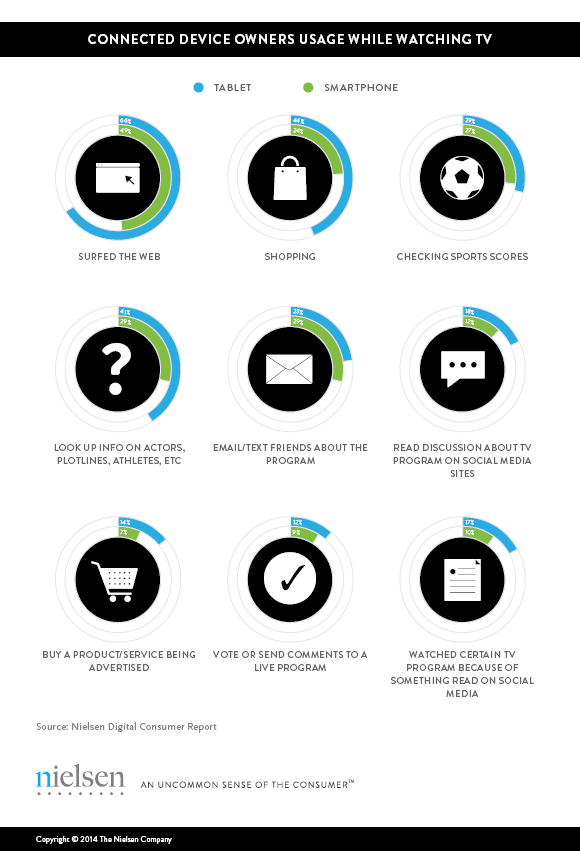 Social media continues to play an important role in the lives of U.S. consumers. The report found that two-thirds (64%) of social media users say they log on to social sites at least once a day via their computers, and half (47%) of smartphone owners visit social networks on their devices daily. Mobile devices are certainly driving the growth in social media, as social media app usage increased 37 percent in 2013 compared to last year.
Given the fast-moving evolution of digital media, it's more important than ever to have a clear view of what consumers are doing today to understand the implications for the future. To learn more about how these trends in digital technology are propelling the new multiscreen, constantly connected lifestyles of consumers, download Nielsen's 2014 Digital Consumer Report.