Summer is the season of beach reads, which means millions of Americans are sitting in the sun with a romance book (or e-book) in hand.
Who's reading these steamy stories? The fan base is a broader group than you might think, as recent popular titles have welcomed new readers to the genre in the past few years. According to Nielsen's Romance Book Buyer Report, romance book buyers are getting younger—with an average age of 42, down from 44 in 2013. This makes the genre's average age similar to the age for fiction overall. In addition, 44% of these readers are aged 18-44, which includes the coveted Millennial demographic.
Romance book buyers are still more likely to be female than buyers of fiction overall, but with more attention than ever directed to the genre—especially given all the media coverage of Fifty Shades of Grey—more men are coming into the fold. In first-quarter 2014, men accounted for 15% of romance books purchased, compared with 12% in 2013.
These demographic changes aside, the general profile of romance fans in the U.S. remains fairly steady. Nielsen data shows that romance book buyers are more likely to be from the South and Mid-West regions, tend to be retired and identify as Christian.
These core romance fans are avid readers who stay very loyal to the genre. Some 6% of buyers purchase romance books more than once a week, and 15% do so at least once a week. Moreover, 25% of buyers read romance more than once a week, and nearly half do so at least once a week; only 20% read romance less than once a month.
Younger buyers (those under 30) are not quite as devoted, reading and purchasing less often. They also have different tastes; while romantic suspense is the most popular subgenre overall, these younger readers trend more toward erotic stories.
How are romance readers discovering and purchasing these novels? Both the bookstore and online sources are equally important in the romance market, with Amazon (and Kindle apps for e-books) dominating the online space.  
Bookstores remain an important channel for many. Among readers of all ages, buying in the store is the most-mentioned (56%) way of acquiring romance books. Brick-and-mortar stores are also important to discovery. When asked to pick from list of 25 methods of finding romance books, the largest share of fans (66%) chose browsing in a store; also important are in-person recommendations from friends and others they know (54%), online book sites (42%) and bestseller lists (33%).
While bookstores cannot be ignored as a place where many romance fans discover and purchase their next read, the genre is also at the forefront of the digital revolution. The e-book share of romance (39% in Q1 2014) has consistently been above that of adult fiction (31% in Q1 2014) as a whole.
Amazon is the top digital retailer for romance, with 60% of romance e-book readers saying they buy titles via Amazon. When it comes to digital devices, most romance e-book purchasers (83%) say they read via a mobile app on a tablet rather than a dedicated e-reader (12%), with 5% using other devices. Again, Amazon dominates, with the company's Kindle app used by 61% of romance e-book readers.
The lower cost and easy accessibility associated with e-books makes this audience especially open to trying new things. Of those readers who buy digital romance novels, around half agree to a "high extent" that they are more "willing to experiment because the price is low" and "e-books are a good way to try a new author." 
So how is the romance audience deciding on which new authors to try? Recommendations from family/friends, reviews, price, teaser chapters and word-of-mouth are the leading influencers cited by readers (each by around 40% of buyers). With over one-third of digital romance readers using subscription providers, e-book recommendation services such as BookBub are also increasingly important for discovery. But age matters in terms of influence; younger romance readers are more likely to be influenced by Amazon ratings and book bloggers, compared to their older counterparts.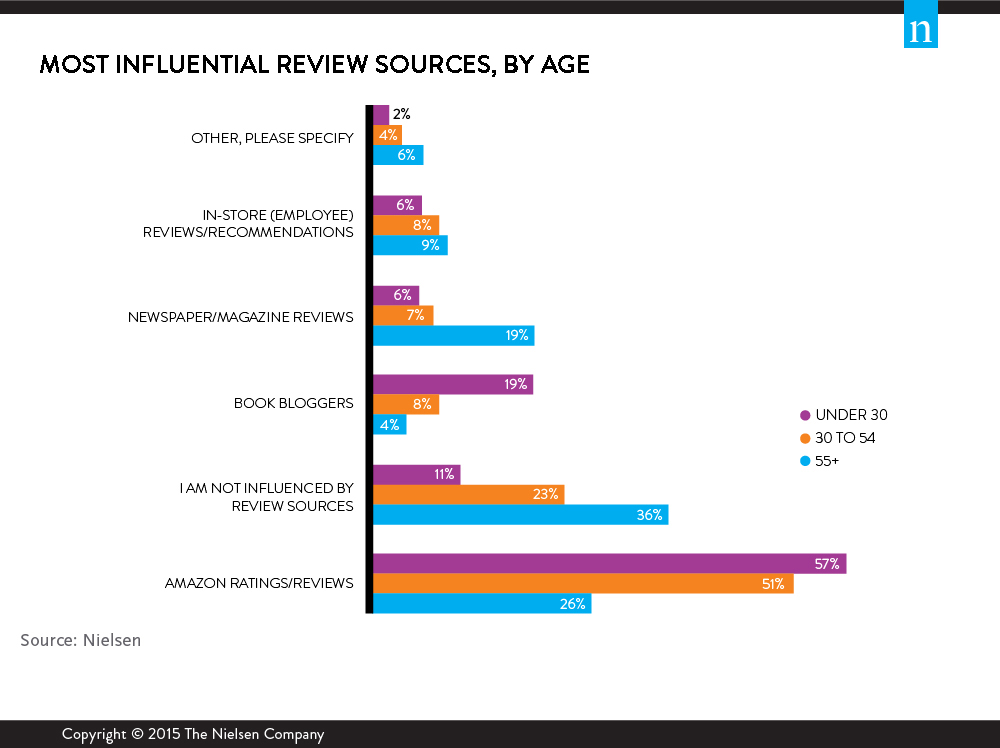 Given the fondness these readers have for word-of-mouth recommendations when it comes to books and authors, it's not surprising that these readers like to talk about authors and books they like. Three-quarters of buyers say they chat about romance novels with friends and relatives, a habit slightly more common among those under 30.
Want to learn more about other book genres? Attend a Nielsen Book Summit this fall. The Children's Book Summit will be held in New York City on Wednesday, Sept. 16, 2015, followed by the Christian Book Summit in Nashville on Friday, Oct. 23, 2015.
METHODOLOGY
Insights for this article came from several sources: BookStats (BookStats is an effort to provide the U.S. book publishing industry with a comprehensive annual view of overall book sales in all formats, genres and channels. It was created by a partnership of the Book Industry Study Group (BISG), the Association of American Publishers (AAP), and Nielsen Book), Nielsen Books & Consumer Monthly Tracker (Books & Consumer Tracker; surveying a nationally representative sample of 6,000 book buyers per month), and the Nielsen Romance Buyer Survey for Romance Writers of America (RWA) (a deep dive study using a sample drawn from the Books & Consumer Monthly Tracker).
The Romance Book Buyer report summarizes data from each of the above sources, but mostly from the Nielsen Romance Buyer Survey for RWA that was conducted in the spring and early summer of 2014.