With nearly a billion Tweets sent in the U.S. about TV in 2015, social media continues to play a starring role in fans' living rooms. Audiences gathered on Twitter this season to discuss the fate of zombie apocalypse survivors, bid farewell to the Black Mamba during his final game as a Laker, and comment on the Bachelor's questionable love interests. From Frank Underwood's fictional campaign for reelection to a series of Presidential primary debates that seemed stranger than fiction, the American people also took to Twitter to document the political rat races as they unfolded on screen.
With online response to linear TV peaking as programs air live, networks, agencies and advertisers pay close attention to highly engaging moments and look to capitalize on social programs as opportunities for advertisers to drive earned media. At the close of this eventful TV season, Nielsen took a look back to highlight the top series, specials and sports events on Twitter in the U.S. from Aug. 31, 2015, through May 29, 2016.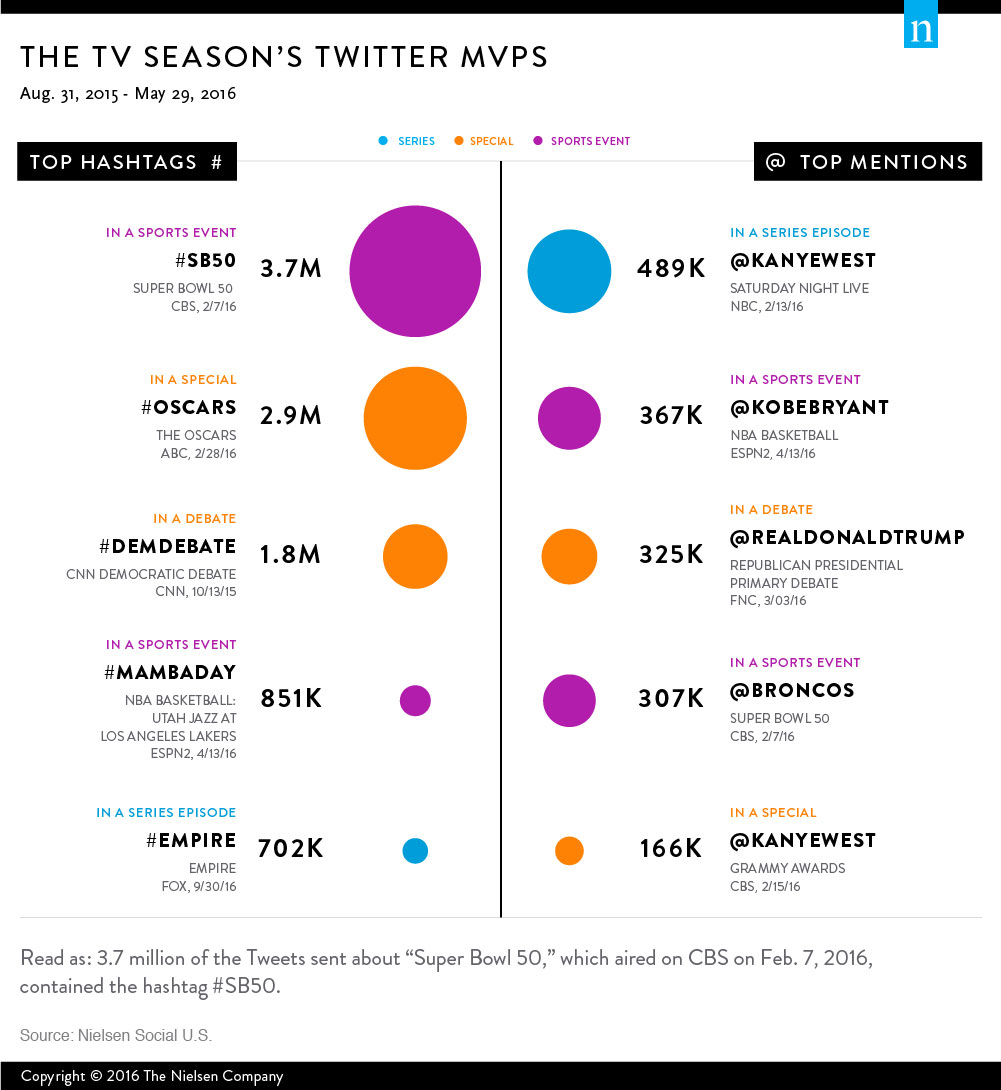 TOP TV SERIES ON TWITTER
Fans of "The Walking Dead" took to Twitter with enough fervor each Sunday to actually wake the dead–social media wise at least. With an average of 435,000 Tweets sent about each new episode, "The Walking Dead" topped our social TV series list for the third consecutive year. "Empire" returned for a second season to reign as the most talked-about premiere this fall with 1.3 million Tweets sent in the U.S. about the episode.
Netflix held fans captive this season as they watched an alleged murderer try to prove his innocence, while the reboot of 80s sitcom "Fuller House" notched 1.3 million Tweets in the first month of its release.
Fans of reality singing competitions definitely found their voice on Twitter this season. Fans of NBC's "The Voice" voted on Twitter to save their favorite contestant from elimination, sending 217,000 Tweets at 8:53 pm EST during the live semi-final results episode on Dec. 8, 2015, making it the most Tweeted minute for any series episode this season. Each week, Twitter authors sung their praise for Univision's "La Banda," making it the most Tweeted-about Spanish-language program in the U.S. this season.
TOP SPECIALS ON TWITTER
Awards season shared the spotlight this year with presidential primary debates. The GRAMMYs, which aired on CBS, won the award for the most-Tweeted special of the season, while The Oscars on ABC took home the top nod for most people Tweeting about a special with 1.8 million unique authors. Amidst all the glam of Hollywood, politics were never far from the mind of Americans. The most-Tweeted minute of the debate season was during the CNN Democratic Debate on Oct. 13, 2015, at 9:50 p.m. ET, when 33,500 Tweets were sent in the U.S. following a comment from Bernie Sanders about Hillary Clinton's emails.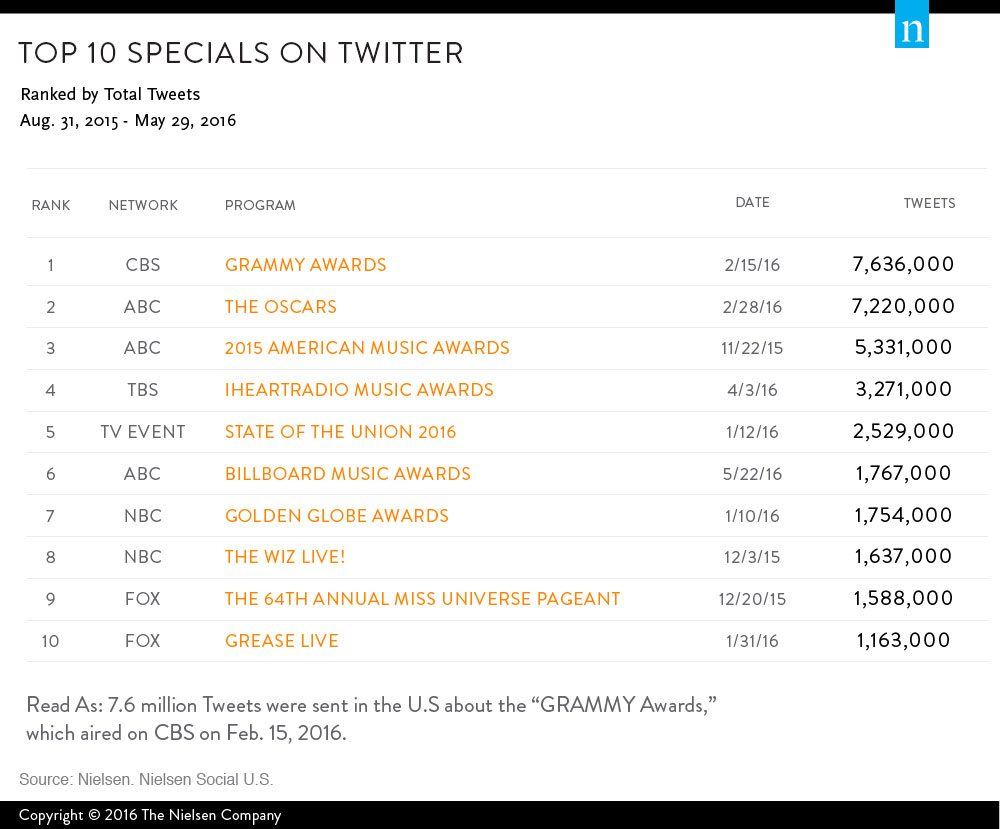 TOP SPORTS EVENTS ON TWITTER
The Super Bowl continued to lead the pack on Twitter for sports events, as 16.9 million Tweets were sent about this year's Super Bowl 50 on CBS. The most-Tweeted TV minute from a sports event also took place during the Super Bowl, when 162,000 Tweets were sent in the minute following the halftime show at 8:44 pm ET. Kobe Bryant's final NBA game was a social slam-dunk; 1.9 million people in the U.S. took to Twitter to cheer on the basketball legend as he scored 60 points to win his final game, which aired on ESPN2.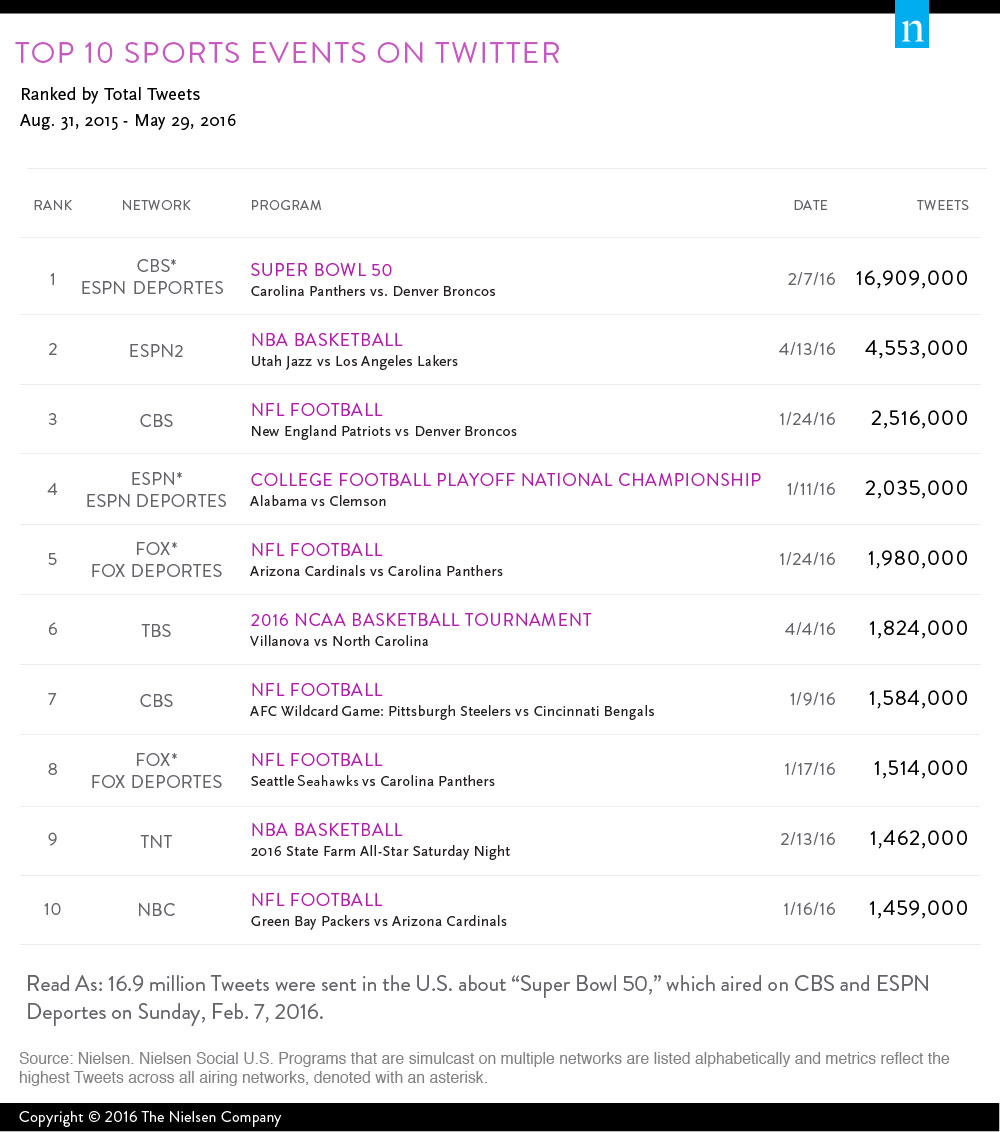 Methodology
Nielsen Social captures relevant Tweets sent in the U.S. from three hours before through three hours after the telecast, local time. Series list includes new/live primetime and late fringe programming on broadcast and national cable networks and excludes programs with less than five telecasts. Sports events and specials include new/live programming on English-language and Spanish-language broadcast and national cable networks. For multicast events, networks are listed alphabetically and metrics reflect the highest Tweets across all airing networks, denoted with an asterisk. OTT measurement includes program's release date + 30 days, reflecting the sum of all Tweets across those 31 days. Due to data availability, tracking for "Making a Murderer" occurred from Jan. 5, 2016 – Feb. 4, 2016.