There are many reasons why so many people cherish the holiday season: the festive decorations, the time-honored traditions, fellowship with family and friends…and of course, a multitude of great new video games to play.
As the holiday shopping season approaches, video game makers typically set the table with a feast of high-profile new games for players to devour. So which ones are gamers most anxious to sink their teeth into this year? According to overall anticipation levels measured by Nielsen Game Rank™, the most sought-after games being served up between September and December 2018 represent a wide variety of dishes, but they're all fan-favorite comfort foods.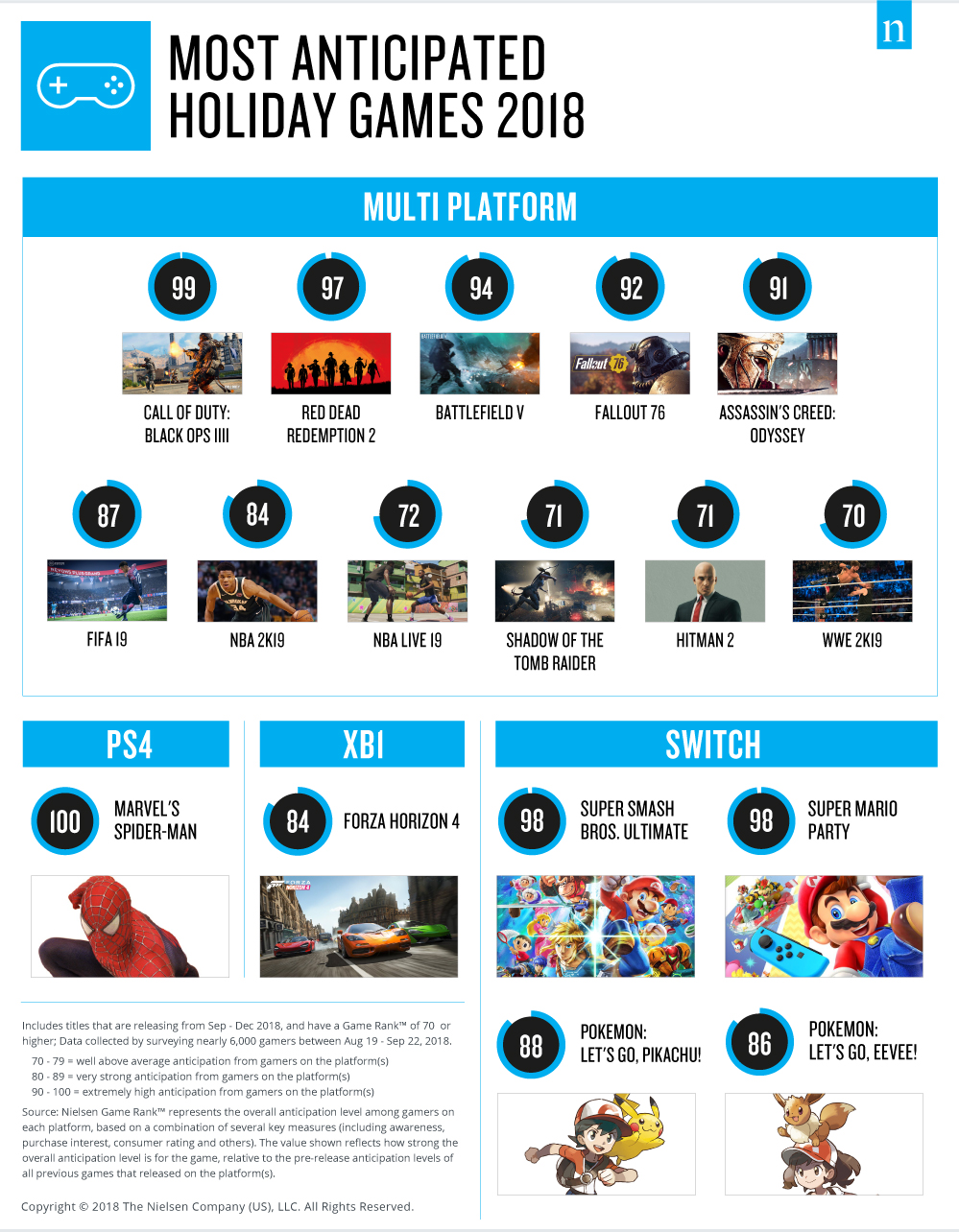 Multiplatform releases
Of all the sub-brands within the Call of Duty series Black Ops has consistently generated a great deal of excitement from fans, and Activision looks to be replicating that fervor with Call of Duty: Black Ops IIII. This latest installment in the franchise tops this year's list of highly anticipated games releasing on multiple platforms with a score of 99, indicating that the current overall anticipation for the game based on a combination of key consumer measures is higher than 99% of previous games when at that same point in the pre-release cycle. Very close behind, and also reaching extremely high levels of anticipation among gamers, is Red Dead Redemption 2 (97). Now eight years past the release of the first Red Dead Redemption, which itself was six years after the launch of Red Dead Revolver, gamers are certainly champing at the bit to get back into Rockstar's Wild West world.
Call of Duty: Black Ops IIII and Red Dead Redemption 2 Top This Year's List of Most Anticipated Multi-Platform Games
Electronic Arts is parlaying the acclaim Battlefield 1 received for its World War I setting with a progression to World War II for this year's Battlefield V (94), bringing the series full circle back to the original 2002 release in the series, Battlefield 1942. Bethesda, on the other hand, is going back in the timeline for Fallout with Fallout 76 (92), a prequel to the previous games in the series in which players are among the first explorers to venture out of nuclear fallout shelters to recolonize the Wasteland. And Ubisoft has made "time jumps" a mainstay of the Assassin's Creed series, with this year's journey transporting players to Ancient Greece in Assassin's Creed: Odyssey (91).
Also among the more eagerly awaited games this holiday season are two installments from rebooted franchises. In 2013, Square Enix relaunched the Tomb Raider series, culminating in this year's Shadow of the Tomb Raider (71), with fans of the franchise eager to embark on this latest chapter of Lara Croft's adventures. In 2016, Square Enix also revamped the Hitman series, though eventually cut ties with developer IO Interactive after the titular Hitman release. Less than a year later, however, the franchise was picked up by WB Interactive, leading to this year's Hitman 2 (71), providing devotees of Agent 47 the welcomed opportunity to carry on with the Hitman's exploits.
And with every holiday season comes the release of annual sports games, many of which continue to grab gamers' attention each year. This year is no exception, with FIFA 19 (87) and NBA Live 19 (72) from EA Sports, and NBA 2K19 (84) and WWE 2K19 (70) from 2K Sports showing solid levels of anticipation.
Platform exclusives
Sony has one exclusive release this season which is not only generating high levels of excitement, but according to Game Rank™ data, was one of the most anticipated games for the PS4 to date leading up to its launch. Gamers are thrilled with the new opportunity to play as the iconic web-slinging wall-crawler in Marvel's Spider-Man (100), which joins God of War, Uncharted 4 and Horizon: Zero Dawn as one of the exclusive games PS4 gamers are most enthusiastic about. Microsoft has one exclusive offering for Xbox One gamers as well in Forza Horizon 4 (84), which expands the popular racing franchise and delivers the thrill of speeding across a fictionalized representation of the U.K. in over 450 licensed cars.
Nintendo is not holding back on platform exclusives with four highly anticipated games coming out this season. Mario is leading the charge, with gamers ecstatic for the chance to both fight and party with the Italian plumber for the first time on Switch. Super Smash Bros. Ultimate (98) grows the fighting franchise by adding even more characters to an already abundant roster, and Super Mario Party (98) brings the classic board game design to Switch, while enhancing it with new features like a screen sharing mode and online play. This holiday season also presents the first Pokemon games that are exclusive to Switch. Pokemon: Let's Go, Pikachu! (88) and Pokemon: Let's Go, Eevee! (86) look to combine components from previous games in the series with elements of the popular mobile game Pokemon GO.
'Tis the season for sequels
A quick glance at this year's multi-platform list might lead you to believe you were looking at the list of holiday games from 2015, when we also saw new releases from Black Ops, Fallout, Assassin's Creed and Tomb Raider, along with the annual sports titles as well. In fact, of the eleven franchises represented on this year's multi-platform list, only Red Dead, Battlefield and Hitman did not have a new release in late 2015, yet even those come from established franchises. The platform exclusives releasing this season also stem from series or long-standing brands. The lack of new intellectual properties on this year's list is conspicuous, but it's not exactly a new trend. Though the video game category has become increasingly saturated with sequels and franchises, new brands do arise occasionally. In recent years, however, publishers seem to reserve their seasoned veterans for the holiday shopping battle, favoring other less competitive seasons to launch new fledglings from the nest.
Looking back over the past four years there have been a handful of new video game brands that were launched in the later months on the calendar, like Destiny (September 2014) and The Crew (September 2014), but those appear to be the exception to the rule. The most popular season to give birth to new life in the video game market as of late has been from February to May. New brands such as Horizon: Zero Dawn (February 2017), For Honor (February 2017), Bloodborne (March 2015), Titanfall (March 2014), The Division (March 2016), Quantum Break (April 2016), Watch Dogs (May 2014), Splatoon (May 2015), and Overwatch (May 2016) all released in that timeframe. Glancing ahead to 2019 that trend continues, with Anthem, Days Gone and Sekiro: Shadows Die Twice currently slated for release in February and March.
Why isn't ____ on this list?
The games included on the list are those that currently have higher levels of anticipation across the broader body of gamers overall. But every year there are certain games that may not resonate quite as strongly with consumers for one reason or another, yet are still ones that certain gamers will have bookmarked as ones to watch. Some games may even generate extreme levels of enthusiasm, but among a much smaller niche of the overall gaming audience. And of course, some games releasing this holiday may simply be late bloomers that haven't caught the attention of gamers just yet, but could come on strong right before (or even shortly after) launch.
Other games to watch for this holiday shopping season are WB's LEGO DC Super-Villains, Activision's reboot of the Spyro the Dragon series Spyro Reignited Trilogy, and from Ubisoft's latest rendition of the rhythm/dance series Just Dance 2019.
Methodology
Nielsen Game Rank™ represents an index of the overall anticipation level among gamers on each platform, based on a combination of several key measures (including awareness, purchase interest, consumer rating and others). The values reflect how strong the overall anticipation level is for the title, relative to the pre-release anticipation levels of all previous titles that released on the platform(s). In other words, an upcoming release with a Game Rank™ of 90 indicates that after considering a combination of various consumer measures, and taking into account how far the game is from releasing, the current overall anticipation for the game is higher than 90% of previous games on the same platform(s), when at that same point in the pre-release cycle.
For this year's analysis, 82 games releasing Sept. 1, 2018 – Dec. 31, 2018, were considered, with those that have a Game Rank™ of 70 or higher being included in the list. Values shown for multi-platform titles are averages of the values from each release platform. Data was collected by surveying nearly 6,000 active gamers age 7 to 54 via Nielsen's Video Game Tracking service, between Aug. 19, 2018 and Sept. 22, 2018.