Nielsen ESG key issue areas assessment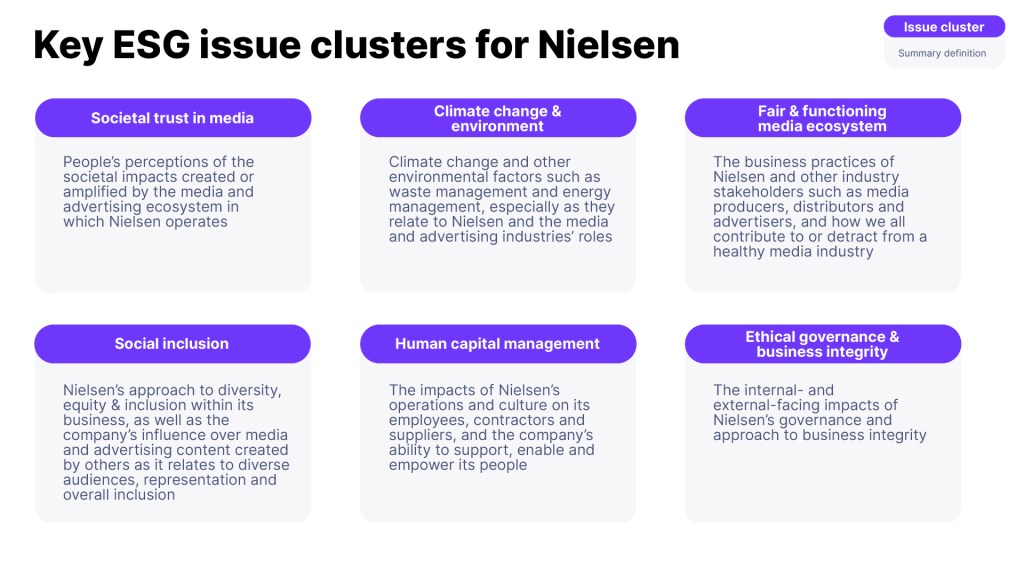 As part of Nielsen's purpose to power a better media future for all people, we strive every day to engage our people, processes, data and technology to make Nielsen a more responsible company and to enable a more equitable world, where everyone is included and everyone counts. To continue to grow Nielsen's environmental, social and governance (ESG) strategy and reporting, in late 2021 we engaged our stakeholders to create Nielsen's fourth ESG key issues assessment. This effort was made in light of our changed business footprint and focus on the media industry, following the completion of the previously announced sale of Nielsen Global Connect to affiliates of Advent International Corporation on March 5, 2021.

The objective of this assessment is to identify and describe ESG issues or topics of greatest relevance to Nielsen and its stakeholders to inform Nielsen's internal ESG strategy and planning, our reporting and transparency efforts, and our ongoing communications about our overall ESG commitments. We use this periodic ESG issues assessment, along with other ongoing feedback mechanisms throughout our business, to proactively listen to our stakeholders and better understand Nielsen's ability to directly and indirectly create value through our business and in our communities, today and into the future.
The results of this assessment identify issues that cut across all aspects of our business, operations and value creation through our client and industry relationships, our employees and our communities. The responsibility to deliver on our key ESG commitments is shared by all of our functional teams and leaders across our global business.
Methodology
The first step of this assessment is identifying the universe of ESG issues, impacts, risks and opportunities that may be important to Nielsen and our stakeholders.

To do so, we built on the input and research from previous assessments and interviewed 26 internal and external stakeholders, conducted an employee survey and reviewed a wide range of documents and public reports representing diverse Nielsen and stakeholder perspectives.
After identifying dozens of issues, impacts, risks and opportunities that may be important to Nielsen, we prioritized them to develop a more focused and concise set of topics to inform our ESG strategy and reporting. As part of this process, we reorganized, and in some cases redefined, topics to better reflect our understanding of internal and external stakeholders' views about the issues and their relative importance.
Based on factors such as frequency of mentions and other stakeholder input, we assigned scores to reflect the level of importance of each identified issue. This provided a high-level ranking of the issue clusters, considering importance to external stakeholders and Nielsen's business.
After developing the initial issue prioritization, we reviewed and validated the results internally at Nielsen and with our external ESG consulting team, making revisions as needed. Sources consulted as part of our research process included ESG rater/ranker feedback, traditional media and social media scans, existing Nielsen company documents and contextual research reports on industry and global issues.
Stakeholders considered as part of this assessment included:
● Employees and company leaders
● Clients
● Industry trade groups and influencers
● Regulators and policymakers
● Community organizations and nonprofits
● Investors
● Suppliers and strategic business partners

Because of the broad nature of the media industry in which Nielsen operates, and the increasingly urgent climate crisis affecting all industries, we also looked beyond the more focused perspective of traditional stakeholders to consider wider systemic issues. These include potential social and environmental impacts on natural ecosystems, society-at-large and future generations.
Summary findings
Similar to our most recent key issues assessment published in 2019, we have grouped the material topics into six issue clusters (detailed below). These clusters are interrelated, and some share overlapping sub-topics. Our assessment did not uncover entirely new salient topics. However, we did see shifts in perspective on existing issues.
Notable findings include:
Increased awareness and concern around data use, media integrity and private sector influence—including by Nielsen, as well as many other companies—as well as on
over-consumption and other economic and sustainability-related topics.
Increased emphasis—and divergent perspectives—on Nielsen's business model and the risks and opportunities it presents regarding the tension between revenue generation and consumer protection.
Increased debate around Nielsen's role as a neutral observer within an increasingly
fragmented and contentious media landscape.
Greater and more urgent concern around high-profile ESG issues, such as the
consequences of climate change, as well as challenges related to diversity, equity and inclusion (DE&I).

These findings and resulting ESG key issues reflect stakeholder research and analysis at the time of the assessment in late 2021. As our business and stakeholder input continues to evolve, our ESG issues and focus areas may be updated accordingly.
ESG key issue clusters
Societal trust in
media
Societal trust in media encompasses societal impacts created or amplified by the media and advertising ecosystem. These include issues such as consumer data privacy and ad targeting; freedom of speech and democratic norms; misinformation or unethical content
providers; and influence on identity formation and social perceptions, particularly as it affects marginalized groups and/or foments polarization and other negative social outcomes.
As the industry-standard measurement provider, Nielsen plays a
central and influential role in the overall value chain in the media and advertising industries.
An increasingly fragmented media ecosystem is becoming a new
battleground for political belief, culture wars and the truth itself. Advertisers and media platforms (both new and traditional) face escalating pressure from consumers and regulators to create responsible, inclusive and representative content. These expectations could extend to more neutral operations in the space, like Nielsen, in the future.
Moreover, earning and maintaining consumer trust is central to
Nielsen's mission to measure all audiences.
Climate change
and environment
This cluster comprises climate change caused by CO 2 emissions and other environmental factors. It relates to impacts on Nielsen and Nielsen's impact on stakeholders connected to these issues through
its role in the media and its operations, products and services.
Climate change is affecting every region and most industries. This has an effect on consumer needs and behavior patterns, and on Nielsen's clients' needs. It is also relevant to Nielsen's approach to operational sustainability areas such as waste management and energy management. While water use and sustainable forestry are not as significant at this time in terms of Nielsen's direct operations, they are recognized as societal issues that affect our employees, suppliers and other stakeholders around the world.
Just as Nielsen is embracing the opportunity to use its data and services to have a positive influence on DE&I, there is an opportunity to consider how data can be used to enable more sustainable, less harmful consumer behavior in relation to climate change and environmental impacts.
Fair and
functioning
media ecosystem
Fair and functioning media ecosystem includes the impacts and activities of Nielsen as well as media producers, distributors and advertisers, and how they affect and support a healthy media industry; this relates to objective, accurate and inclusive audience measurement and the economic implications of Nielsen's ratings.
The shift from ad-supported to subscriber-supported online content platforms presents both a challenge and opportunity for Nielsen. Many consumers have reduced their exposure to advertisements in media, and subscriber platforms like Netflix have resisted measurement by Nielsen. Still, marketers are eager to use Nielsen's products to ensure their ads are placed alongside ethical or uncontroversial content during an age of dispersed viewership.
Nielsen's foothold as the currency of choice in the United States, and a global leader worldwide, could be challenged by changing media consumption habits, and by competitors that operate with less rigor and/or do not operate under added complexity of external audits and accreditations. New media companies who report their own metrics to ad buyers can also limit the ability of Nielsen to provide independent metrics based on the current model, and this is further influencing changes to the overall function of the media ecosystem. There are long-term implications for the company if our products and media measurement systems do not remain relevant to the shifting demands of media platforms and advertisers.
Social inclusion
Social inclusion encompasses Nielsen's approach to DE&I within its business through hiring, retention and engagement, as well as the company's influence over media and advertising content that is inclusive, responsible and representative of society.
Media is closely connected to culture, identity formation and social harmony. As a leader in media ratings, Nielsen has an influential role in what kind of content gets made, and by whom.
Nielsen's ability to calibrate big datasets against demographic data and its representative panels is a strategic differentiator that has positive financial and reputational benefits.
A strong DE&I culture and workforce (at all levels) that is representative of society help the company attract and retain top talent, create more innovative products and gain reputational benefits.
Nielsen's ratings, and its product portfolios like Gracenote, can also enable content producers and advertisers to invest more in underrepresented communities, helping the company better meet changing consumer and industry demands.
Human capital
management
Human capital management includes the impacts of Nielsen's operations and culture on its employees, contractors and suppliers, including employee attraction and retention; employee health and safety; COVID response; DE&I and pay equity.
Like most professional services firms, Nielsen's employees are of critical importance to the business. Nielsen's ability to attract and retain a diverse and engaged workforce at all levels is crucial to the company's success and is an increasingly important issue for internal stakeholders, as well as investors.
The company's restructuring in connection with sale of NielsenIQ to affiliates of Advent International Corporation has created additional stress for many employees as they continue to navigate these internal changes alongside the ongoing pandemic.
The continued stresses created by COVID-19, as well as shifting social norms around how people engage with each other, present additional challenges and risks for Nielsen's employees, especially field staff who are crucial to deliver on the company's strategic differentiators.
Ethical
governance and
business
integrity
This cluster includes the internal- and external-facing impacts of Nielsen's governance and approach to business integrity, including public policy engagement on social issues, data security and transparency, compliance with shifting regulations and meeting consumer expectations around privacy during a time of changing industry norms.
Trust and ethics are the cornerstones of Nielsen's business. The company has built its reputation as a neutral, trusted party. Failing to deliver on that promise—whether through an overreliance on new sources of big data, lack of transparency or an inability to gather a representative sample of the population—carries a risk to Nielsen's business and reputation.
As the digital economy continues to rapidly grow in relevance around the world, there is increasing pressure on companies like Nielsen to move more quickly and with less rigor to meet the expectations of marketers and content producers.
Integrity and governance issues become amplified and more complicated in the international context. Nielsen also operates in some countries that rank highly on global corruption measures.
For past ESG issue assessments, please visit the links below:
Forward-looking statements
This communication includes information that could constitute forward-looking statements made pursuant to the safe harbor provision of the Private Securities Litigation Reform Act of 1995. These statements include those relating to Nielsen ONE" as well as those that may be identified by words such as "will," "intend," "expect," "anticipate," "should," "could" and similar expressions. These statements are subject to risks and uncertainties, and actual results and events could differ materially from what presently is expected, including regarding Nielsen ONE. Factors leading thereto may include, without limitation, the risks related to the Ukraine conflict or the COVID-19 pandemic on the global economy and financial markets, the uncertainties relating to the impact of the Ukraine conflict or the COVID-19 pandemic on Nielsen's business, the failure of Nielsen's new business strategy in accomplishing Nielsen's objectives, economic conditions in the markets Nielsen is engaged in, impacts of actions and behaviors of customers, suppliers and competitors, technological developments, as well as legal and regulatory rules and processes affecting Nielsen's business and other specific risk factors that are outlined in Nielsen's disclosure filings and materials, which you can find on http://www.nielsen.com/investors, such as its 10-K, 10-Q and 8-K reports that have been filed with the Securities and Exchange Commission. Please consult these documents for a more complete understanding of these risks and uncertainties. This list of factors is not intended to be exhaustive. Such forward looking statements only speak as of the date of these materials, and Nielsen assumes no obligation to update any written or oral forward-looking statement made by Nielsen or on its behalf as a result of new information, future events or other factors, except as required by law.