A recent video made by two rogue and rude Domino's employees left a bad taste in the mouth of customers who watched it. But, thanks to some social media tipsters, Domino's was able to issue their own YouTube response quickly as a remedy to the potentially brand damaging viral video. The buzz online about the brand spiked during the crisis.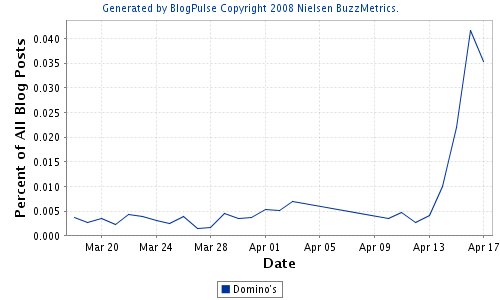 Patrick Doyle, President, Domino's U.S.A., thanked the online community for the tip in his video and the brand also created a twitter account @dpzinfo to communicate.
Another major brand, Amazon, also drew some social media heat recently when gay and lesbian titles were dropped from Amazon's sales rankings. This prompted an outcry and the creation of an #amazonfail tag on Twitter. Amazon issued a statement claiming it was merely a computer glitch and "ham-fisted cataloging error."
Comparatively, the Amazon story spiked a bit higher than the Domino's one, but neither registerd buzz as high as British singer Susan Boyle, whose performance on "Britain's Got Talent" became an online smash.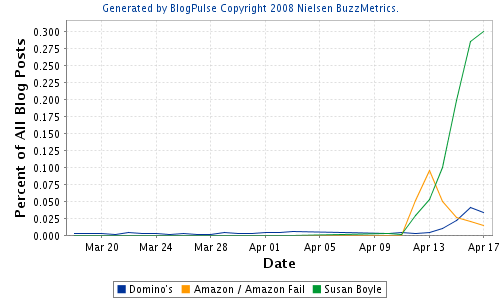 But what's important here is not the amount of chatter, but the emotion, intensity and negativity associated with a brand in a crisis. Words like "disgusting," and "snot" hounded Dominos. The word "Motrin" also found its way into the conversation, echoing the PR backache that brand had with an ad that went negatively viral.
View a Brand Association Map of the Domino's brand before and after the crisis.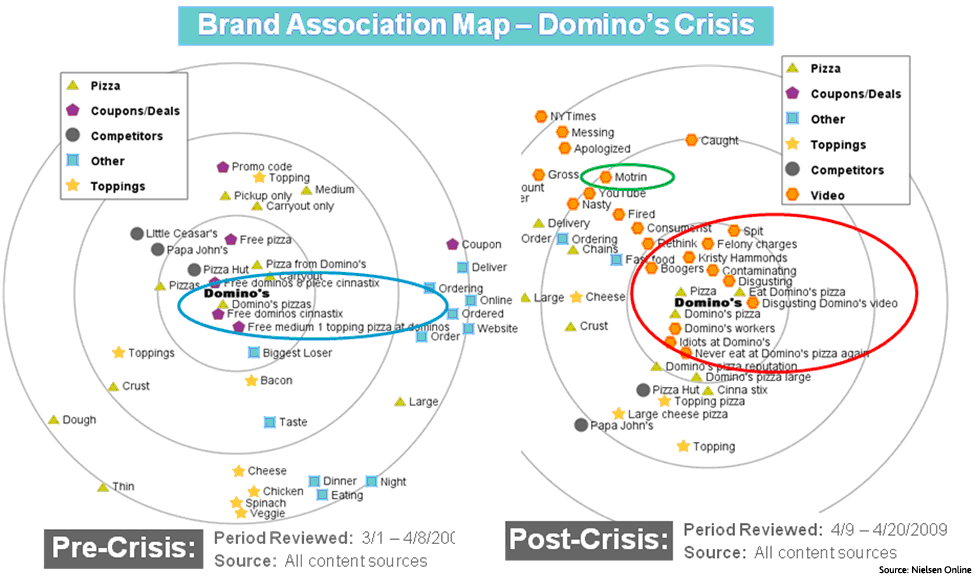 Similarly, tags like "#glitchmyass" cropped up on Twitter relative to Amazon. When negative (tag) clouds hover over your brand, it's critical to be able to track online threats and respond immediately using social media.
Learn more about Nielsen Online's tracking tools here.