With Valentine's Day this weekend, many curious and lovelorn singles are turning to online dating sites to find that special someone. And if advertising by those sites is any indication, this may be a real golden age for online hook-ups.
An analysis of ad expenditures by online dating sites shows significant year-to-year increase since 2003. In 2007, when the most recent full-year data is available, advertising for these sites topped out at almost $193 million. And with data complete through the first three quarters of 2008, last year's online dating ad spends are on pace to exceed that figure.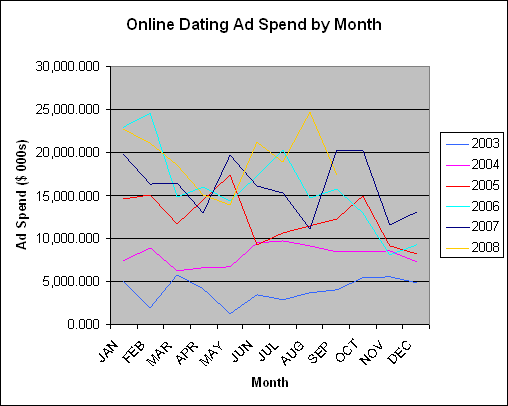 The bulk of online dating ad spends are found on Cable TV. In 2007, $117 million – or 61% of all ad buys – were spent on cable. Network TV ran a distant second with a total $24.8 million in ad expenditures. Internet ad spending was not included in Nielsen's analysis, since internet ad spends do not factor search/sponsored links, which are likely a significant part of a dating site's campaign strategy.
The top advertiser among online dating sites is eHarmony. Through the first three quarters of 2008, the site spent $93.3 million, almost twice as much on advertising as Match.com, who placed second on the list ($47.6 million). Match's sister brand – Chemistry.com – placed third with $28.3 million in ad expenditures.
Other dating sites specializing in one particular niche or another showed significant increases in ad spend in the first nine months of 2008. BlackSingles.com, which matches African-American singles, nearly doubled its ad spend. And the Ashley Madison Agency, which encourages married men and woman to enter into extramarital affairs, spent four times as much ($243,000) on advertising through September 2008 compared to the same time period last year.
Rank
Site
Jan 07 to Sep 07
Jan 08 to Sep 08
1
E HARMONY WEBSITE-DATING SVCS EHARMONY.COM
79,019.631
93,255.171
2
MATCH.COM WEBSITE-DATING SVCS
51,170.580
47,607.049
3
CHEMISTRY WEBSITE-DATING SVCS CHEMISTRY.COM
12,125.655
28,282.073
4
CUPID.COM WEBSITE-DATING SVCS
1,067.142
847.231
5
NOCHEATERSDATE WEBSITE-DATING SVCS NOCHEATERSDATE.COM
0.000
822.042
6
BLACKSINGLES.COM WEBSITE-DATING SVCS
272.964
510.251
7
ADULTFRIENDFINDER.COM WEBSITE-DATING SVC
0.000
243.553
8
ASHLEY MADISON AGCY WEBSITE-DATING SVC ASHLEYMADISON.COM
59.977
243.420
9
CIAOROSSANO.COM WEBSITE-DATING SVCS
0.000
212.750
10
CHRISTIANMINGLE.COM WEBSITE-DATING SVCS
0.000
201.213
Source: The Nielsen Company (2009)