Chevrolet, Ford, Honda, Toyota and Hyundai are the finalists for the 2nd annual Nielsen Automotive Green Marketer of the Year award, which will be presented at the Los Angeles International Auto Show on November 17, 2011. The award recognizes the brand that made the greatest strides in gaining consumer awareness and positively impacting consumer perceptions around the automotive industry's environmentally friendly initiatives.
Nielsen research shows that green marketing by auto companies continues to have a positive effect on consumer perceptions with 51 percent of consumers reporting that green marketing initiatives increased their consideration of the product. This is up 24 percent compared to 2010. Social media discussion about auto makers' green marketing initiatives has also been more positive this year with a 44 percent increase in positive discussion versus 2010.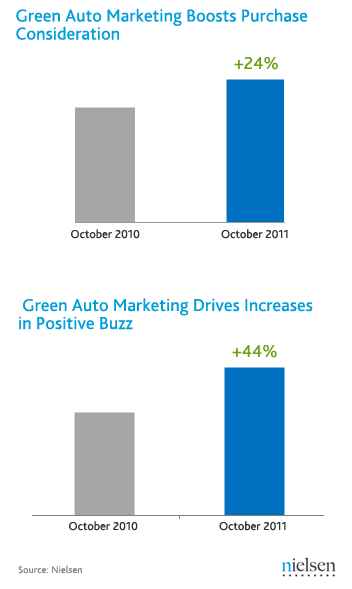 "Our research identifies how effective auto manufacturers are in raising awareness of their green products, initiatives, and innovations," said Lois Miller, President, Nielsen Global Automotive. "We can then understand if they were able to change perceptions and consideration in a positive way among consumers."
"We are thrilled that Nielsen Automotive has again chosen the Los Angeles Auto Show to host its increasingly important Green Marketer of the Year Award," said Brendan Flynn, Director of Communications for the Los Angeles Auto Show. "Nielsen's award provides an accurate and important gauge for auto makers and makes a perfect addition to the green story at the LA Show."
Methodology
To determine the finalists and winner, Nielsen leveraged three research studies to incorporate awareness levels and perceptions across media types. The studies included:
A custom survey of nearly 7,000 consumers' cross-media awareness and perceptions of environmental messages by automotive brand

Response data from 2.5 million viewers of national television advertising collected by Nielsen's ad effectiveness measurements service, focusing on green automotive ads

Measuring social media "buzz" sentiment within green-related discussion threads
Auto manufacturers that ran any national TV ads with "green" themes between October 2010 and September 2011 were eligible for consideration.