From videos to banking to online shopping, digital was top of a lot of marketers' and consumers' minds this year. To wrap up 2014, Nielsen looked at some of the top trends in digital including the latest top U.S. smartphone apps and operating systems.
Consumers seemed to place a premium on the Internet's social space this year, with a big portion of the top smartphone apps centered on connectivity—be it with friends, loved ones or cat videos. In fact, the app with the most year-over-year change was one designed to continue the conversation: Facebook Messenger use has risen 242% since 2013. Facebook held the No. 1 ranking as well with its social network app, which had over 118 million average unique users each month. Google Search came in second with about 90 million average unique users, followed by YouTube with 88 million average unique users.
Smartphone penetration grew from 69% at the start of 2014 to 76% of U.S. mobile subscribers by October 2014, and a majority of subscribers used Android (52%) and iOS (43%) devices to access their apps. Three percent of U.S. smartphone owners used a handset that operated on a windows phone, followed by 2% on a Blackberry.
Top Smartphone Apps of 2014
Rank
App
Avg Unique Users
YoY % Change
1
Facebook
118,023,000
15
2
Google Search
90,745,000
14
3
YouTube
88,342,000
26
4
Google Play
84,968,000
11
5
Google Maps
79,034,000
26
6
Gmail
72,405,000
8
7
Facebook Messenger
53,713,000
242
8
Google+
48,385,000
78
9
Instagram
43,944,000
34
10
Music (iTunes Radio/iCloud)
42,546,000
69
Source: Nielsen. Note: The list is ranked on average unique audience, which is the average of January 2014-October 2014. The year-over-year percent change represents the unique audience of October 2014 compared to the unique audience of October 2013.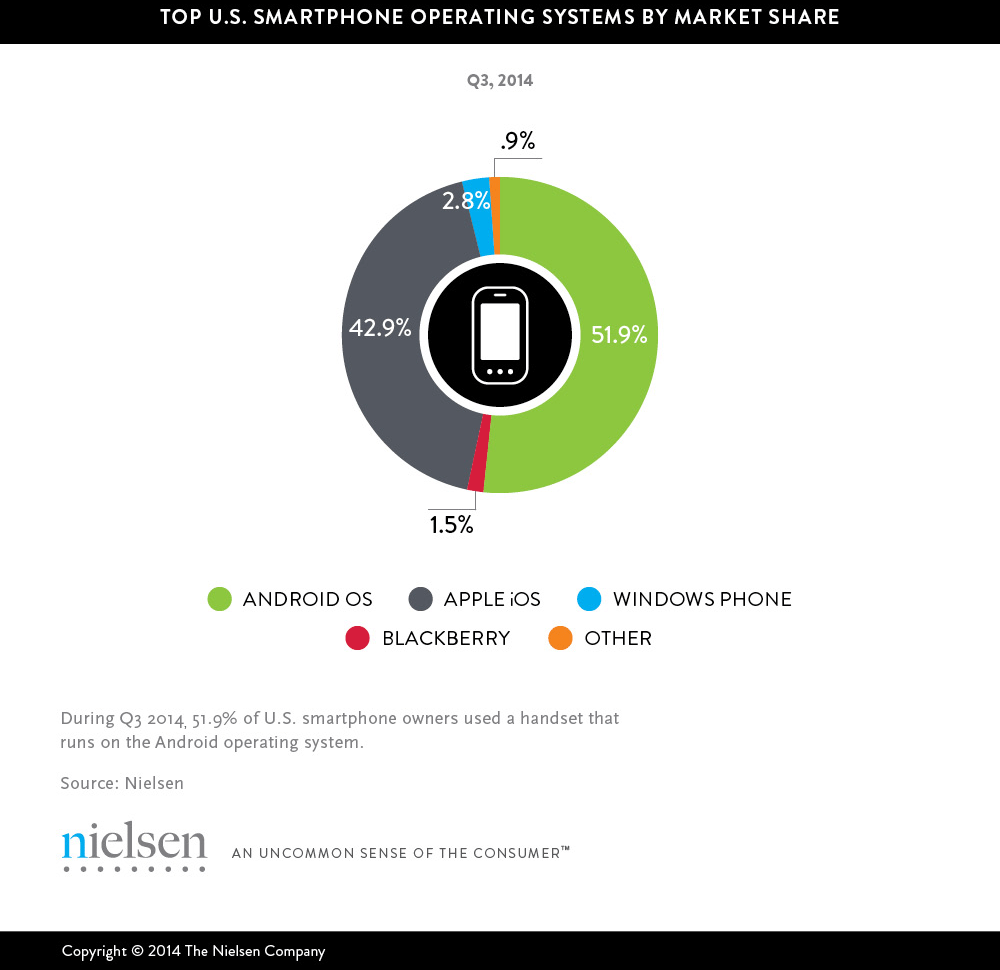 Methodology
Nielsen's Electronic Mobile Measurement (EMM) is an observational, user-centric approach that uses passive metering technology on smartphones to track device an application usage on an opt-in convenience panel. Results are reported out through Nielsen Mobile Netview 3.0. There are approximately 5,000 panelists in the U.S. across both iOS and Android Smartphone devices. This method provides a holistic view of all activity on a smartphone as the behavior is being tracked without interruption.
Data based on Nielsen's monthly survey of 30,000+ mobile subscribers aged 13+ in the U.S. Mobile owners are asked to identify their primary mobile handset by manufacturer and model, which are weighted to be demographically representative of mobile subscribers in the U.S. Smartphone penetration reflects all models with a high-level operating system (including Apple iOS, Android, Windows and Blackberry).