Taylor Swift's new album, 1989, is on track to sell 1 million copies by the end of its first week. The album is big news for the young artist, especially since it marks her official cross-over into pop after years of blurring the lines of the country music genre with her work. She's also increasingly not alone. Sam Hunt, who's written hits for Country stars including Kenny Chesney and Keith Urban, has seen the first hit "Leave the Night On" on his full-length debut album, Montevallo, climb the Billboard Top 100 singles chart. And music is crossing both ways. The Nov. 5, 2014, TV broadcast of the CMA Awards will include performances from pop stars Ariana Grande and Meghan Trainor.
Country's cross-over appeal isn't exactly new—country twang has found its way to the pop charts many times over the past 50 years. These days, however, hybrid country-pop music reflects a new generation of fans influenced by other genres topping today's charts, including rap and hip-hop, among others.
Similar to today's pop music fan base—which tends to include women and young adults under 44 years old—many current country listeners are young. The modern country music audience, which includes fans of artists such as Carrie Underwood, Rascal Flatts and Taylor Swift, skews toward women under 49 years old. Meanwhile, Millennial males listen more to traditional country music, from artists like Brad Paisley, Kenny Chesney and Zac Brown Band, than the general population. On the radio, Country's loyal listeners also skew young. It's the top national format among Millennials (aged 18-34) and Generation X'ers (aged 35-49). And audience share has grown 17% with teens (12-17 year-olds) over the last two years.
Still, country music has mass appeal. Among Boomers (aged 50-64), it's the second most popular national format after News/Talk radio. As a result, the cross-over appeal of country and pop music extends the music beyond the typical audience.
With an increasingly young audience, country music's popularity is growing. Country is the No. 1 format radio genre in the U.S., and its audience has increased by 17% since 2006. With a 15.2% share of all listening as of Spring 2014, that means 69.7 million listeners tune to country radio in the U.S. each week.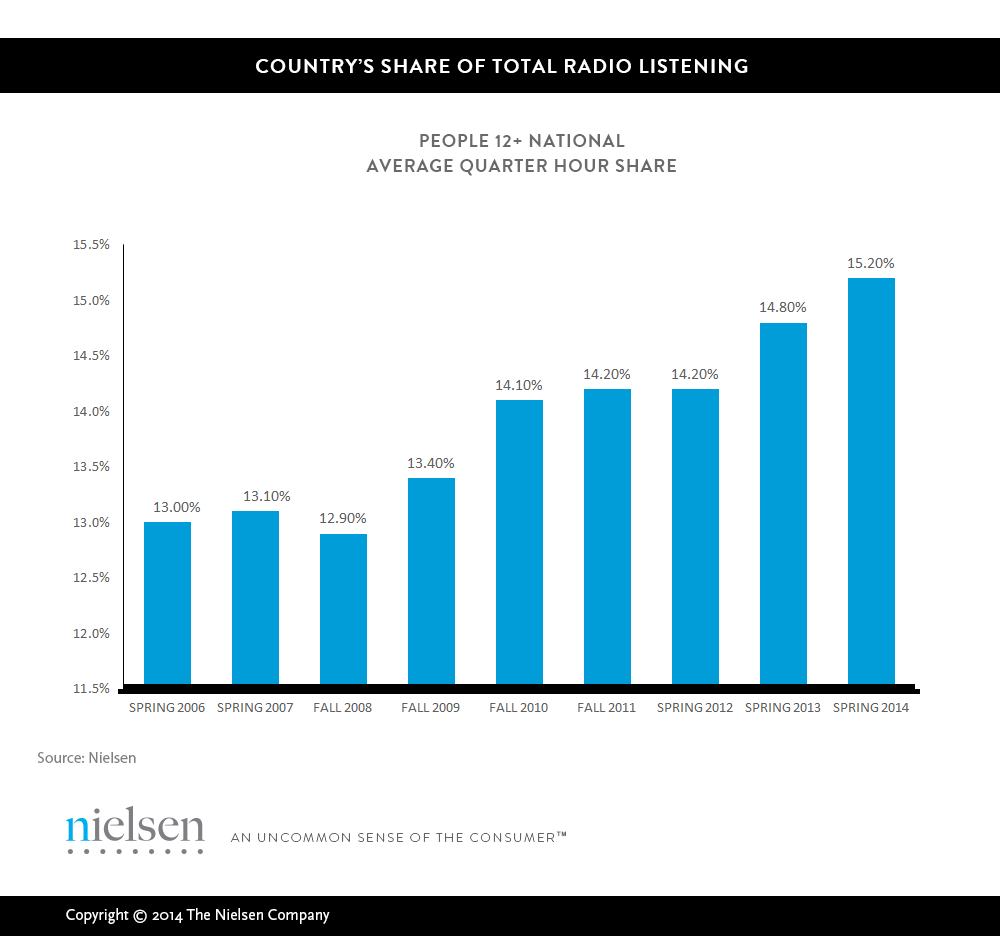 So how can marketers reach this growing but diverse listenership?
According to Nielsen's Audience Insights Report on Country Music, despite the demographic shift, country music fans stick to their roots with their All-American choices. Whether, it's the jeans they buy, the snacks they eat or the cars they drive, Country music listeners buy domestic brands.