Music is powerful. It can make us smile or cry, bring memories rushing back, and even inspire us to buy a product when it's combined with the right advertisement.
A recent study from Nielsen looked at effectiveness of more than 600 television advertisements, more than 500 of which included music. The research indicated that commercials with some form of music performed better across four key metrics—creativity, empathy, emotive power, and information power—than those that didn't.
That said, music can have a varied effect on different categories. For example, ads with music for consumer packaged goods (CPG) and travel campaigns scored high for empathy and emotive power. Meanwhile, music helped deliver information power for quick-service restaurant and retail campaigns.
In advertising, memorability matters, but effective ads do more than just create memories. While it's important for consumers to remember the message in your ad, connecting on an emotional level can directly lead to a purchase. So the best ads are the ones that have both information and emotive power.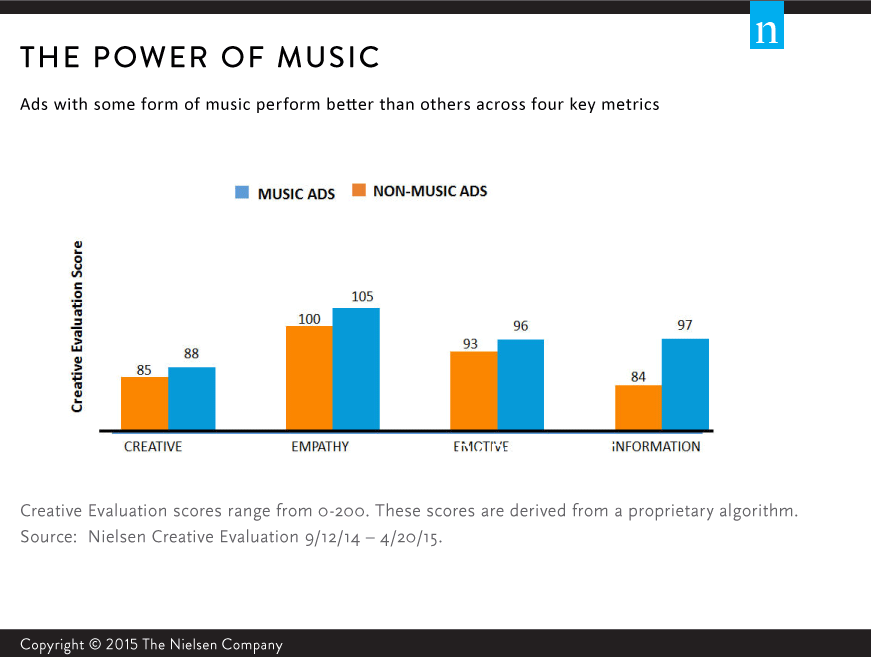 But from classical to punk to rock to rap, are all tunes equally effective?
According to Julanne Schiffer of Nielsen Entertainment, "It depends on the message you want to get across. Popular songs, for example, are the most effective at invoking some kind of emotional response. But, while pop songs deliver emotive power, other genres are better suited for price and promotional-based ads that are trying to get information across to audiences. In fact, the study found that generic background music helps improve information power. Advertiser jingles help make the brand seem in touch, but they don't generate as much empathy as other forms of music."
But that doesn't mean pop songs can't convey information. In fact, these tracks often provide a "hook" and add value to the information communicated in the ad. But advertisers should keep in mind that the tune doesn't have to be the main attraction. Incorporating popular songs—and even artists—into ads as elements of the larger narrative structure can boost a spot's memorability.
Advertisers can also use the familiarity of a popular song to incite a specific reaction in viewers that aligns with the objective of their ad. Powerful songs can invoke strong emotional responses, and songs can help create a soundtrack to the events unfolding in an ad when lyrics are integrated into the voice over and storyline.
But while it's important that ads resonate with viewers, advertisers want their messages to drive sales, especially with the large price tags that can come with using popular music. However, the good news is that popular songs (and artists) deliver a one-two punch: They boost emotive power and can drive significant returns.
Case in point, a recent Hewlett-Packard (HP) ad played on Meghan Trainor's quick rise to fame last fall. Using her song "Lips Are Movin'" and the context of the creation of that song's music video (and Trainor herself), the commercial was able to showcase its tablets in an effective way. The ad was so effective, in fact, that HP saw a 26% increase* in total dollar volume among her fans while the ad was airing. This was a considerable lift from the 6.53% increase that HP during the same period in the previous year.
*Lift observed from previous 12-week average.
Methodology
Memorability of the ads was measured through the Nielsen TV Brand Effect (TVBE) product. Nielsen TV Brand Effect employs a nationally representative online panel of U.S. TV viewers who have watched programs within the past 24 hours. This analysis is based on English-language ads on English networks within the TV Brand Effect coverage. Nielsen logs and issues surveys for all national commercials within its coverage dayparts and networks.
Emotive Power and Information Power are measured through Creative Evaluation. This is a companion product to TVBE designed to measure consumer response to the ad. Emotive and Information Power are composite measures calculated from consumer evaluation of the ad, developed by Dr. Robert Heath of the University of Bath.