While smartphones are relatively ubiquitous among both men and women in many parts of the world, far fewer women use them in India than men. In fact, only about 20% of Indian women are active on data-enabled smartphones today. Real-time smartphone usage data from Nielsen Informate Mobile Insights suggests that women who are using smartphones, though quite tech savvy and almost as engaged as men, just do different things on their devices.
According to recent Nielsen Informate data, men spend an average of 13 more minutes on their smartphones each day than women. When we look at what activities men and women are most interested in on the smartphones, there are notable differences. Men are more engaged with gaming, shopping, web browsing, reading news, and tending to their banking and financial service needs. Comparatively, women are more engaged with chatting, social networking and streaming audio and video.
Music And Video
Women in India consume more media (music and videos) than men on their smartphones. In fact, they spend 40% more time on music streaming apps and 50% more time on video streaming apps than their male counterparts. When it comes to streaming video, YouTube is the most popular video-streaming app among both men and women.
Shopping
An interesting trend seen since 2014 was the popularity of shopping apps among men in India – 43% compared to 38% among women. While this trend continues, the gap is definitely closing with the numbers currently at 55% for men and 52% for women.
The popularity of shopping apps among men can be attributed to two key factors: the male appetite for technology and the fact that men are often the ones who pay for the purchased items. Electronic items make up the majority of products people view and buy online, and men drive purchases in this segment. It's also possible that even when women make a purchase decision, they ask men to compare costs or complete the transaction.
However, when it comes to engagement, women actually spend more time on shopping apps (119 mins/month) compared to men (103 mins/ month). In developed countries like the U.K., U.S. and Korea, women spend twice as much time shopping on smartphones than men.
The e-commerce space is witnessing another big shift; major players are focusing on their apps instead of websites. By offering greater discounts to customers who purchase through apps, engagement levels on smartphones are spiking.
Chatting And Social Networking
Women in countries like India, Malaysia, Thailand and Qatar are 30% more engaged on chat apps than men, while engagement among women in Japan is twice than men. Women in India spend nearly 1.3x times more time chatting than men every month, primarily on WhatsApp Messenger.
Similar trends are seen on social networking platforms the world over. Driven primarily by Facebook App, this category sees higher engagement. It's even as high as 1.5x, among women in countries like Thailand, Korea, Qatar, Malaysia, Philippines, U.K., Japan and Italy. In India, women are as engaged as men on social networking apps, spending 240 minutes per month on them.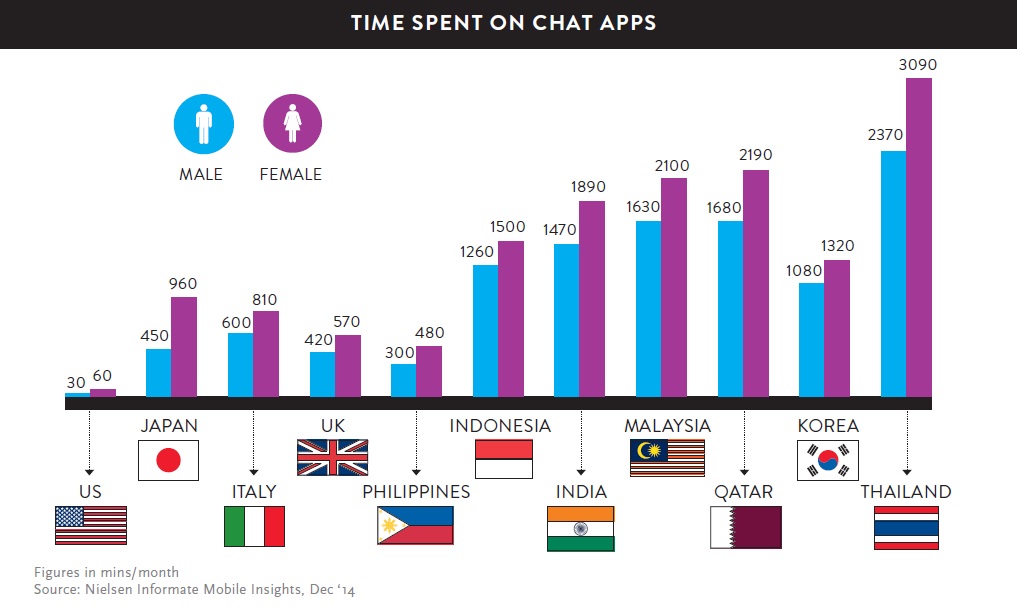 For more details, download the full report (top right).