African-American-themed shows, actors, directors and executive producers have dominated the small screen in recent broadcast seasons. And advertisers are taking notice.
According to Nielsen's Young, Connected and Black report, advertising spend on broadcast TV with predominant black audiences (ad dollars placed on programming that has greater than 50% of black viewers) increased 255% between 2011 and 2015. The reason? In the most recent broadcast seasons, broadcast TV drew a larger number of black viewers due to increased diversity of primetime programming that featured predominantly black casts and/or leading black actors—validating the growing mainstream audience appeal of shows that embody diversity.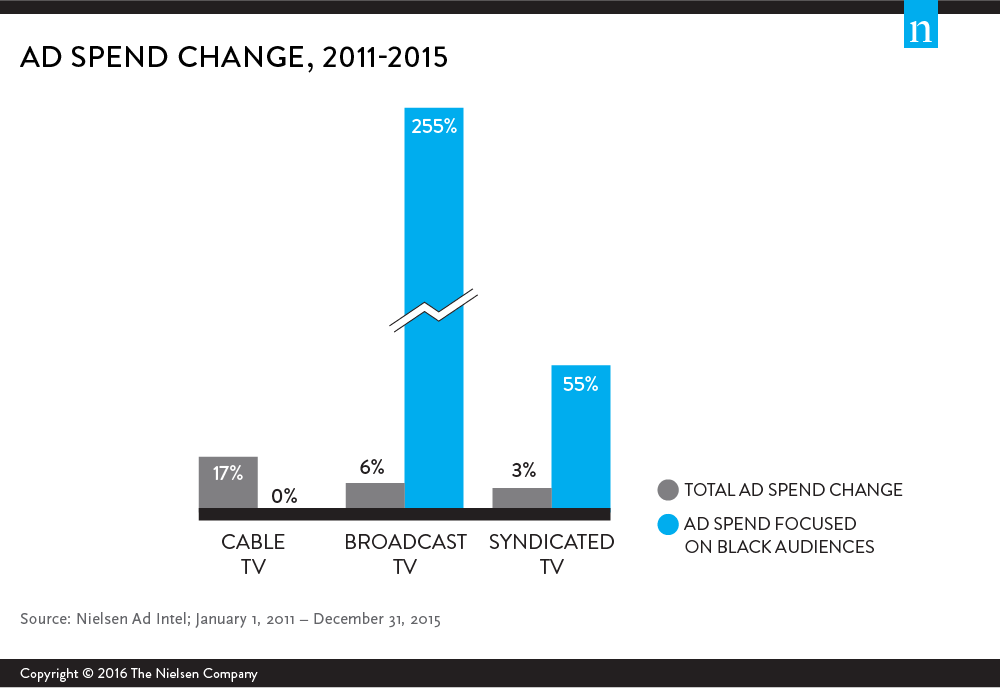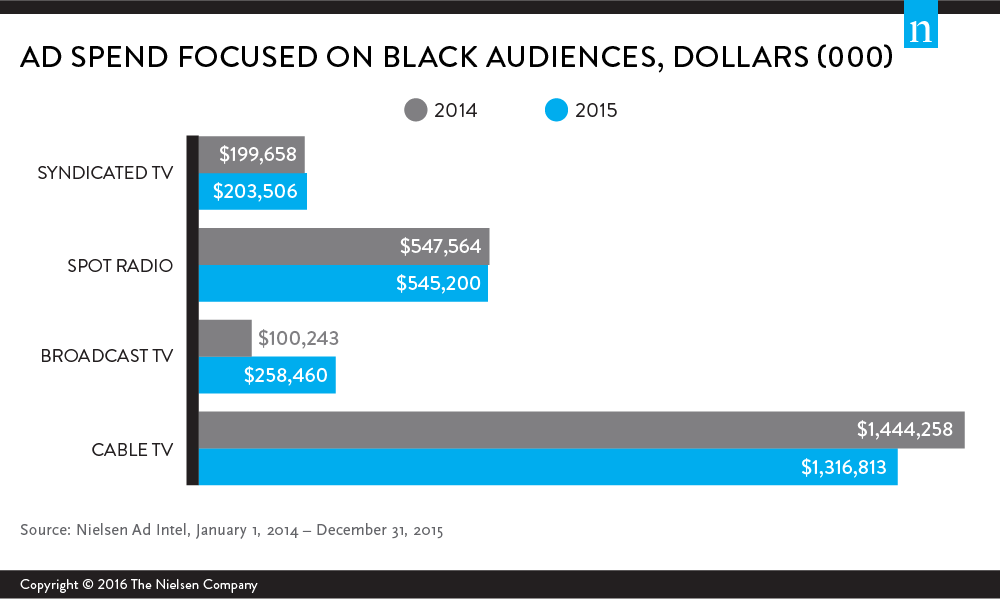 In the more recent time period between 2014 and 2015, advertising spend on programming with predominant black audiences increased 158% on broadcast TV, and it rose slightly on syndicated TV. While ad spend on predominant black audience programming decreased for spot radio and cable TV during the same time period, cable TV still represents the largest share of ad dollars that reach black audiences at $1.3 billion in 2015. And in light of the recent broadcast TV ad-dollar boost reaching black audiences, cable TV still offers the most comprehensive selection of niche audience-segmented programming for African-American viewers of all ages. Reality programs appearing on cable TV were most watched last season among African-American Millennials and African-Americans 35 and older. Dramas were top cable shows among African-Americans 35 and older.
WATCHING TV AND MOVIES ARE POPULAR LEISURE-TIME ACTIVITES FOR BLACK MILLENNIALS
For African-American Millennials, coveted leisure-time is enjoyed watching the big or small screen. Watching TV and movies is a popular way for black Millennials to use their free time, spending 20% more time between the two screens than their total market counterparts. For African-Americans 35 and older, the internet, participating in social activities and listening to music are some of the favorite ways they spend their free time.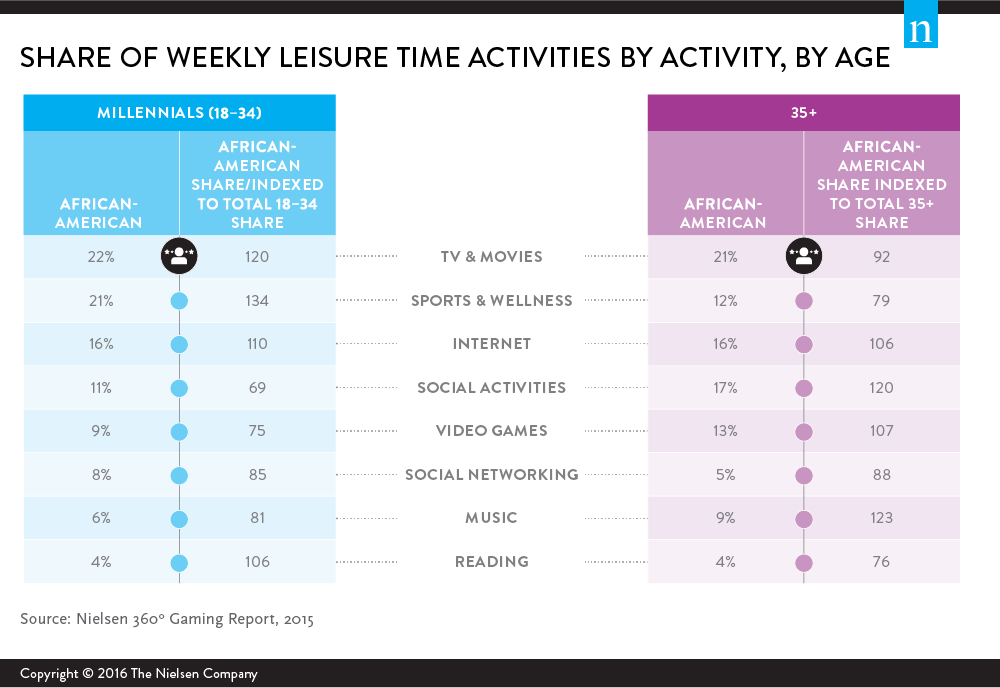 Relative to the increased diversity on TV and also in movies, black viewers of all ages (especially black Millennials) are helping to elevate up-and-coming black talent and content, which are the forefront of a continued trend toward diversity among these and other media platforms. In fact, 62% of black Millennials say that seeing celebrities in the media who share their ethnic background makes them feel good.
While there's been a recent surge in African-American-influenced programming on TV, there's still opportunity for other industries to follow suit. African-Americans and other consumers have been very vocal about the lack of diversity in movies, specifically, and they are using social media to amplify their voices. The hashtag #OscarsSoWhite is one example of how social media is helping to drive change in the industry. The hashtag was born in response to the lack of diversity in actor nominations in nearly all categories in the 2015 Oscar nominations. The Academy of Motion Picture Arts and Sciences, the Oscar's governing body, took swift action by further diversifying its membership. According to Oscars.org, of the 683 actors, directors, producers and executives invited to join the Academy's class of 2016, 46% were women, compared to 25% previously and 41% were people of color compared to 8% previously, demonstrating how consumers' use of social media can drive awareness and evoke change.
For additional insight, download Nielsen's Young, Connected and Black report.