When it comes to political commentary on the radio, most Americans, regardless of party affiliation, turn to News/Talk to hear the latest from the campaign trail. In fact, during the height of debate season and in the lead up to the first Super Tuesday of primary season, February portable people meter (PPM) listenership for the News/Talk format reached new highs.
But high levels of engagement with voters isn't just the territory of News/Talk radio, new insights from Nielsen reveal that other spoken word stations—like All News and Sports—can effectively reach engaged political audiences. Nielsen combined PPM data and Experian's Political Voting Behavior to determine which radio formats resonate with specific voter segments across four major voter groups—Democrats, Republicans, independents and unregistered. The study looked at listening and voting behavior of more than 70,000 panelists, aged 18 and older, in 45 major U.S. markets.
Among all listeners, preference News/Talk format ranks first for six of the 10 voter segments, including Super Democrats, Conservative Democrats, On-the-Fence Liberals, Green Traditional, Mild Republicans and Ultra Conservatives.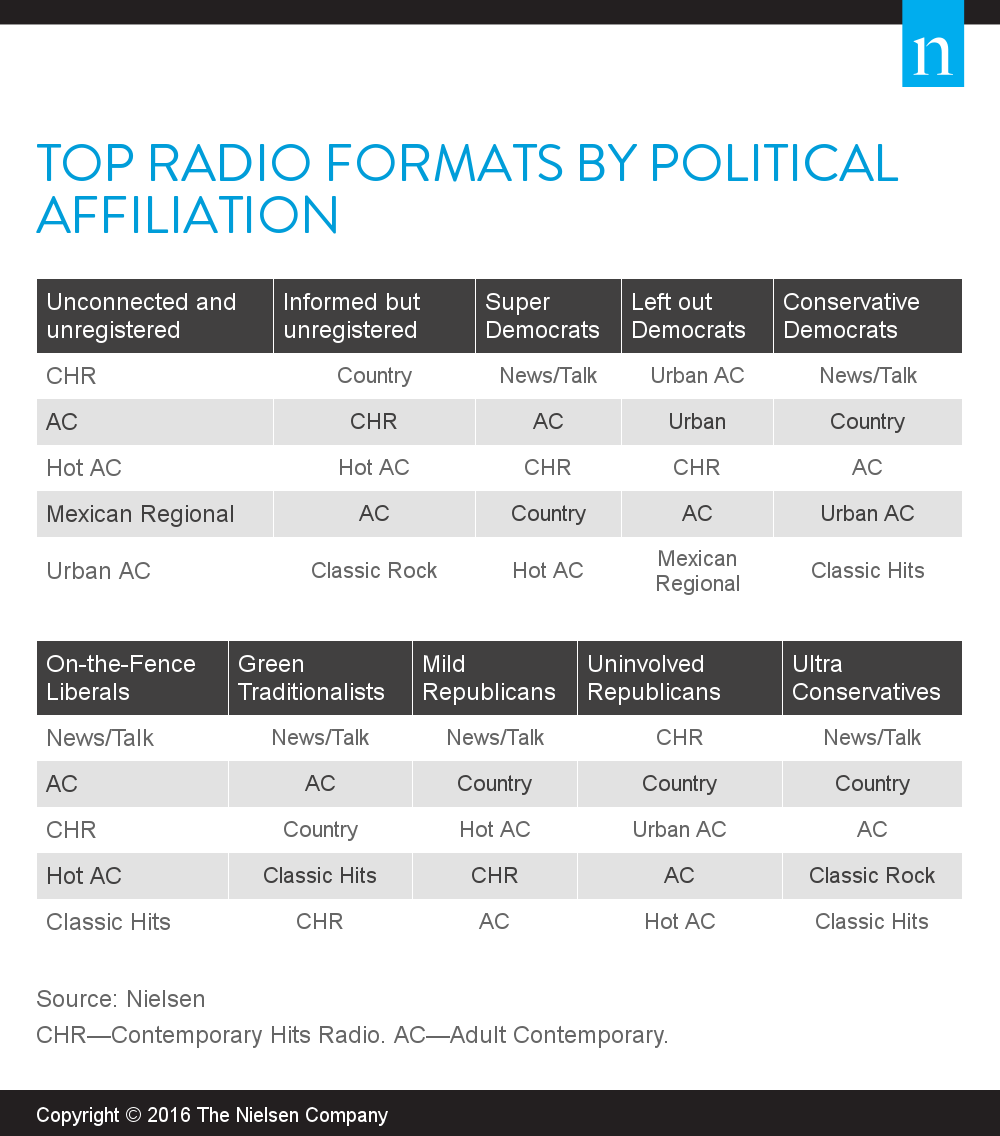 Whether they listened to conservative talk or liberal-leaning public radio stations, nearly nine out of 10 News/Talk radio listeners are highly engaged, registered voters, with most identifying as Mild Republicans or Super Democrats. The analysis conducted by Nielsen also found that 28% of News/Talk radio listeners in PPM markets are independent or unregistered.
But that engagement is not confined to just News/Talk. All News stations focus less on talk personalities and more on the most important headlines. The study found that 44% of All News audience identify as Democrats, which is 12 points higher than the total U.S. average. All Sports listeners are some of the most engaged radio fans, and 81% of them are registered voters. While 20% fall into the category of Mild Republicans, another 20% describe themselves as Super Democrats. In comparison, independent and unregistered voters together account for a third of the listeners in PPM markets that tune in to either All News and All Sports radio.