{"order":3,"name":"subheader","attributes":{"backgroundcolor":"000000″,"imageAligment":"left","linkTarget":"_self","pagePath":"/content/corporate/au/en/insights","title":"Insights","titlecolor":"A8AABA","sling:resourceType":"nielsenglobal/components/content/subpageheader"},"children":null}
More than two-thirds of online Australians over 16 years old will be watching video on demand (VOD) by the end of 2016, a new report into media consumption habits of online consumers has projected.
The 18th edition of the Australian Connected Consumer Report, reports a 4% increase in VOD in 2015, to 59%; Nielsen also forecasts an even greater increase of 8% this year to 67% based on Australians' intention to tune into the growing selection of services.
The adoption of VOD has exploded in Australia thanks to increasing options for convenient and varied viewing.
While traditional TV remains dominant, Australians are viewing more video content across the various catch-up and subscription services because there is more choice, more up to date content and appealing exclusive content. This is driving a real interest in trialling and subscribing.
We believe Netflix access among the online population (either paid subscriptions or trial), for example, will increase by 11% in 2016 meaning over a quarter of the online population will have access to this service in their household before the year is out. We are also forecasting that usage of Stan will increase by 8% this year to reach 11% of the population. In fact, we're predicting growth for most VOD this year based on 2015 numbers. 
The report, which surveys online Australians on their media content consumption across a growing assortment of devices, also found that TV remains the most viewed screen in homes. When looking at screens used to watch VOD, 56% are using their TV, an increase of 12% since 2014.
The TV screen is a central part of the Australian home, and people want to watch content on large screens for the best experience possible.
Traditional TV is still the dominant form of TV consumption by far with 89% of the online population watching broadcast or time-shifted TV. Catch-up TV from major publishers has also shown growth, and is the most popular form of video on demand content (equal with TV consumption on YouTube) with 39% of the online population viewing content across Australian catch-up services.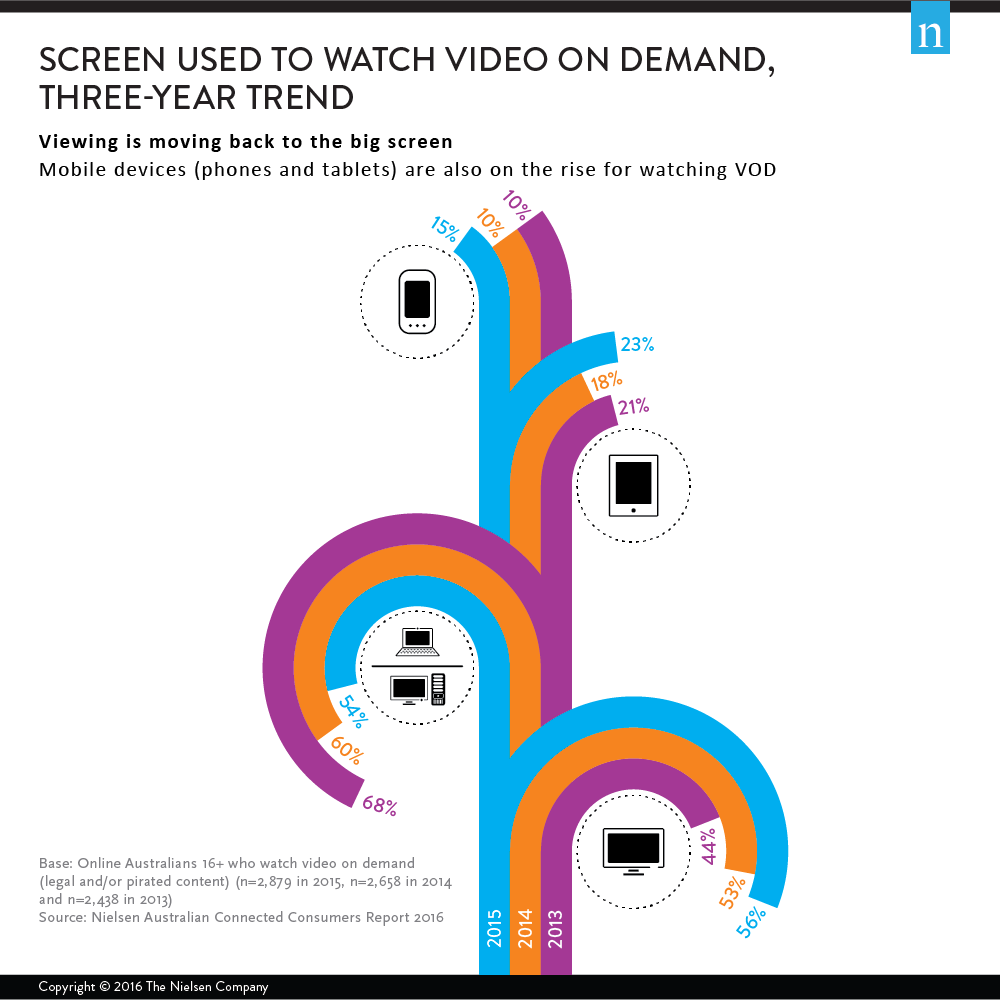 Pirated content has also dropped by a huge 10% in 2015, due to publishers offering foreign content locally with greater speed than ever. This decrease can also be attributed to the ongoing crackdown by the federal government on pirate sites.
Among video on demand viewers, the majority are watching weekly but 21% watch daily, up from 15% in 2014 and 12% in 2013. Engagement in the space has been steadily increasing over the past few years. Not only are there more Australians accessing video on demand content across free and paid services but they are increasingly incorporating viewing into their daily repertoire. 
Note: VOD is defined as TV or movie video content delivered via online services and sources (this includes catch-up TV, subscription video on demand services, pirated services and TV/movie streaming on sites such as YouTube)
Purchase the Australian Connected Consumers Report 2016 here.  
About the Australian Nielsen Connected Consumers Report, 2016The Australian Connected Consumers Report has been published since 1997 and is now in its 18th annual edition. The 2016 report analyses the responses of 4,802 online Australians aged 16 years and above through an online survey methodology. All responses were collected during December, 2015. The report was released on Thursday 31 March, 2016.