The multicultural populations in the U.S. continue to grow, and while those of Asian and Pacific Island ancestry (collectively, Asian American) are the smallest racial group in the country, they're growing the fastest. As a result, Asian American influences are having a profound and recognizable impact on the country's mainstream culture. At the helm of this influence, are Asian American women. 
Digitally Fluent with an Intercultural Mindset, Nielsen's fifth report on Asian American consumers in its Diverse Intelligence Series, details the rapid growth and expanding power of the Asian American female population. And one trend explored in the report where Asian American women are leading the way is health and wellness.
Asian American women are concerned with how they take care of themselves, inside and out. Eighty-one percent of Asian American women agree they are always looking for new ways to live a healthier lifestyle, 3% higher than non-Hispanic white women. As a result, they're focused on health and wellness in both the grocery and beauty aisles.
FRESH IS BEST AND ASIAN-INSPIRED PRODUCTS ARE MAINSTREAM
While at the grocery store, Asian American women often look for items that will align with their healthy lifestyle preferences. Fifty percent agree that they regularly eat organic foods, which is 27% higher than non-Hispanic white women. As further evidence of the desire to eat healthy, Asian American households spend 16% more total dollars on average in the fresh produce department relative to non-Hispanic white households. And they purchase and spend more on items such as fresh kiwi, mushrooms, spinach and sprouts.
Asian food products, once only available at Asian specialty stores, are also becoming more prevalent in major grocery aisles. The Asian influence on mainstream U.S. is apparent, as some products inspired by Asian flavors are seeing higher popularity among those not of Asian heritage. For example, 44% of non-Hispanic white households purchase Asian-inspired frozen entrées, compared with 34% of Asian American households. Also, 44% of non-Hispanic white households purchase dry noodles and dumplings, compared with 39% of Asian American households. Other Asian-inspired items that non-Hispanic white households purchase more include: rice mixes, instant rice and chow mein. This trend is expected to continue as other races and ethnicities in the U.S. develop more discerning tastes and the country's populations continue to become more multicultural.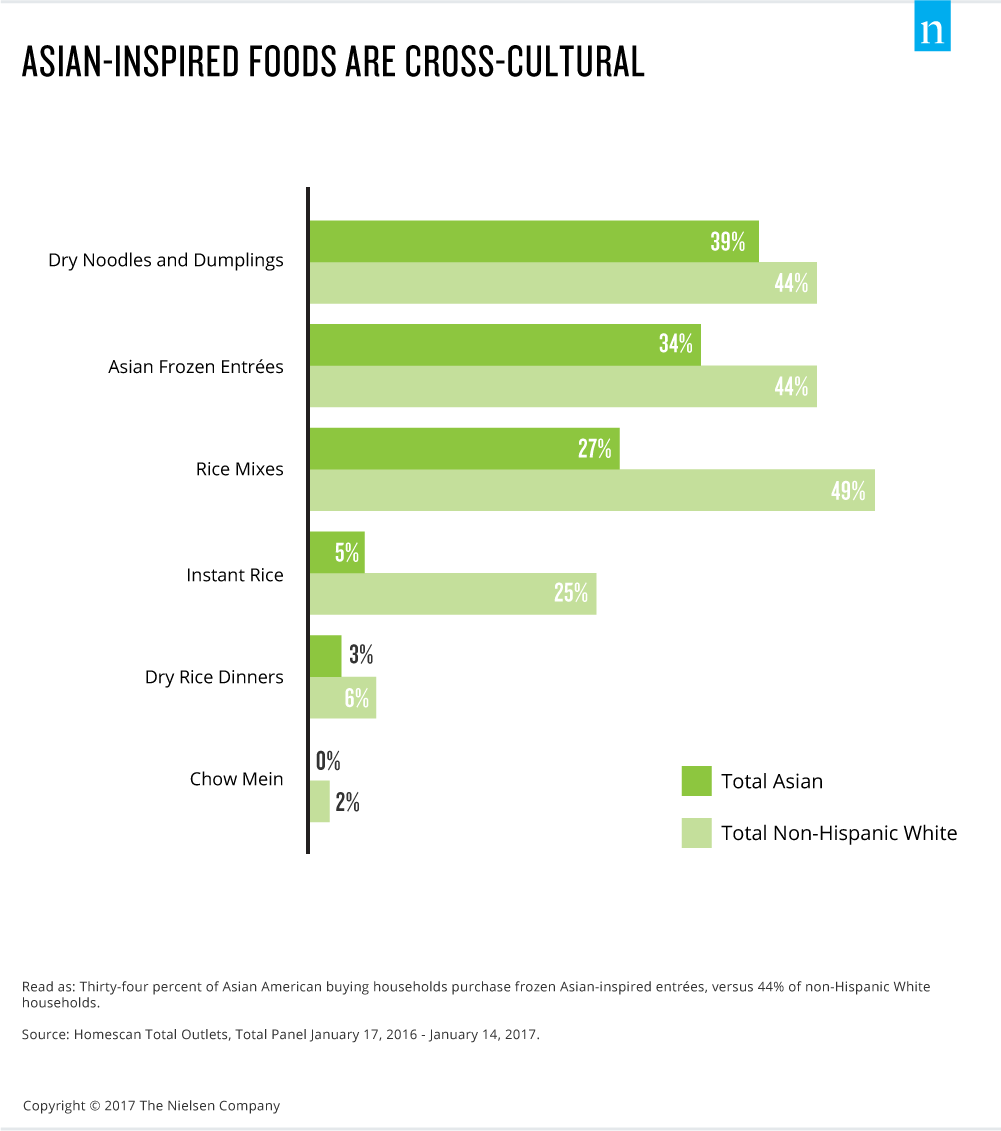 THE K-BEAUTY PHENOMENON
Another trend that is becoming popular in the U.S. are K-beauty products. K-beauty is a shortened term for South Korean skin care, makeup and bath/body products, as well as signature skin care regimens, often times incorporating as many as 10 or more steps.
Asian American women and their use of social media (such as YouTube) and other digital platforms (blogs) has aided in the rapid adaptation of K-beauty in the U.S. The social posts of passionate consumers of K-beauty products and regimens gained traction and buzz in mainstream beauty publications. The buzz around K-beauty led to these products being made available on the shelves of popular big-box retailers, drug stores and beauty retail stores. Now, these products have mainstream loyalists of all ages, races and ethnicities. That mainstream consumer crossover helped South Korea become, at $2.4 billion, the fourth-largest exporter of beauty products in the world in 2015 (Source: The World Factbook Central Intelligence Agency, 2016).
YOGA TRAVELS WEST
Yoga as an exercise became popular in the 1980s in the U.S.; however, it dates back to the early 1900s, arriving from Eastern Asian Indian culture. Fast forward to present day, more than 36 million people practice yoga, which is now a $16 billion industry (Source: 2016 Yoga in America Study, Yoga Journal and Yoga Alliance). Complete with designer gear, mats, towels and events, yoga often reaches affluent audiences with high disposable income and purchasing power. More than half of Asian American women (56%) practice yoga, which is higher than non-Hispanic white women.
Additional highlights from the report include:
76% of Asian American women will pay for a brand they trust, even if it is slightly more expensive.
54% of Asian American women have traveled outside of the continental U.S. in the last three years, which is 67% higher than non-Hispanic white women.
Asian American women own more computers, tablets and video game consoles than the total population.
For more insights, download Nielsen's Digitally Fluent with an Intercultural Mindset report.