It's no secret that gamers of all ages, platform preferences and experience levels look forward to the holidays each year. Regardless of which holidays gamers observe, this festive season has a way of uniting players with one common reason to celebrate—there are many great video games to play.
While hit games aren't exclusive to the latter months of the year, it is during this time that consumers are typically treated to the greatest density of eagerly awaited new releases. According to overall anticipation levels measured by Nielsen Game Rank™, the most sought after games slated to hit the market between October and December 2017 cover many fan-favorite franchises across a variety of genres.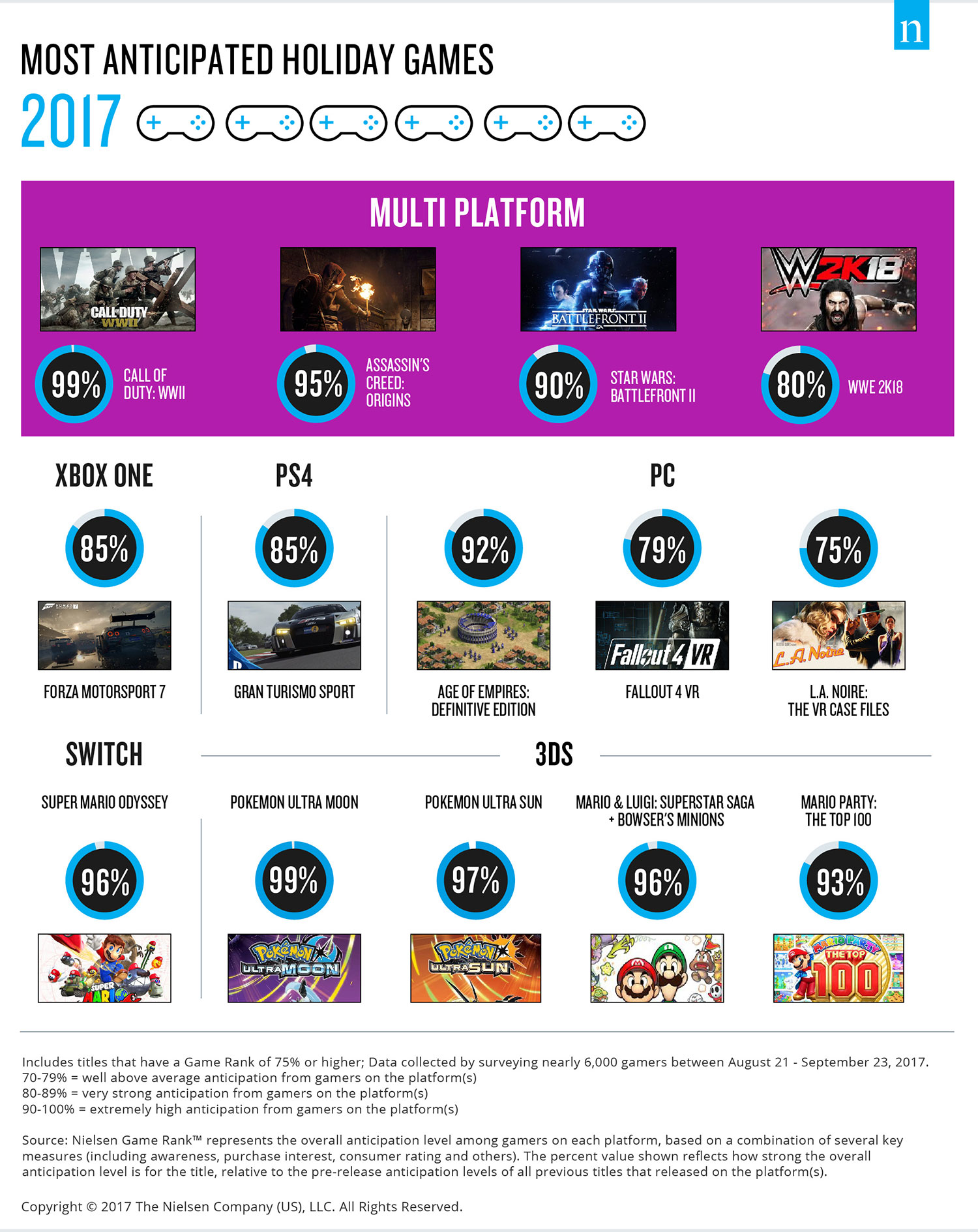 Multi-platform releases
One of Activision's flagship franchises has captured the attention of fans year after year, and that enthusiasm appears to be augmented even more this year by a return to the classic WWII setting. Call of Duty: WWII comes in at the top of the multi-platform list this year at 99%, indicating that the current overall anticipation for the game is higher than 99% of previous games when at that same point in the pre-release cycle.
EA's Star Wars: Battlefront II (90%), the sequel to the 2015 reboot of the franchise, is also fanning the flames of gamers' hearts with more opportunities for epic combat in the Star Wars universe, both on land and in space.
After not releasing a new game in the main storyline last year, Ubisoft's action/adventure franchise Assassin's Creed is back with a vengeance this holiday. That absence, however brief, may have made gamers' hearts grow even fonder for the series, with Assassin's Creed: Origins (95%) taking gamers to ancient Egypt for this escapade. And another familiar franchise rounds out the multi-platform list this year, as fans of the sports/fighting genre look forward to more body-slamming action in the ring from 2K's WWE 2K18 (80%).
Platform exclusives
Microsoft and Sony both have one console exclusive releasing this holiday season that fans have high anticipation for, and both games hail from the same genre. This head-to-head race to the finish for two of the most popular racing franchises is too close to call at the moment, as Forza Motorsport 7 (85%) on Xbox One and Gran Turismo Sport (85%) on PS4 currently have the same levels of overall anticipation from their respective gamers.
Nintendo had leveraged The Legend of Zelda to help launch its new Switch platform earlier this year, but the company is counting on Super Mario to haul in the holiday shoppers for the Switch's first fall/winter season. Super Mario Odyssey (96%) looks to be up to the task, as anticipation levels among Switch gamers is on par with the high bar previously set by The Legend of Zelda: Breath of the Wild and Mario Kart 8 Deluxe.
Mario makes appearances in a couple of highly anticipated releases this holiday season on Nintendo's 3DS as well. One is an encore compilation of fan-favorite mini games from the various Mario Party releases, aptly named Mario Party: The Top 100 (93%). The Italian plumber also joins up with his brother for a remake of Mario & Luigi: Superstar Saga + Bowser's Minions (96%), which allows players to experience the game from the perspective of various enemy characters.
The one franchise that has challenged Mario as the most anticipated among 3DS fans in recent years is the series that has convinced gamers that they "gotta catch 'em all." Pokemon returns to 3DS this holiday with Pokemon Ultra Sun (97%) and Pokemon Ultra Moon (99%), and the duo-releases are as eagerly awaited as ever.
Video game publishers have long employed the tactic of remastering hit games from days gone by in the hopes that gamers will want to spend time revisiting an improved version of an old friend. That nostalgia factor is evidenced this holiday season by the fondness with which PC gamers are looking to Microsoft's Age of Empires: Definitive Edition (92%), as the classic strategy game gets decked out with improved graphics and other enhancements. Publishers are also starting to retool popular games by giving them the virtual reality (VR) treatment. Two examples of this relatively new practice that are coming to market this holiday season—Bethesda's Fallout 4 VR (79%) and Rockstar's L.A. Noire: The VR Case Files (75%)—are both striking a chord with PC gamers.
Why isn't ____ on this list?
While the games mentioned here currently have higher levels of anticipation across the broader body of gamers overall, they're certainly not the only interesting games coming out this holiday season. There are certain titles each year that may not resonate quite as strongly with consumers for one reason or another, yet are still highly anticipated by smaller groups. And some games coming out this holiday season may simply be late bloomers that haven't caught the attention of gamers just yet, but could come on strong right before (or even shortly after) launch.
Other games to watch for this holiday shopping season include EA's Need for Speed: Payback, which adds to the publisher's racing franchise after skipping 2016; WB's Middle-Earth: Shadow of Mordor, the follow-up in the action/adventure series set in the Lord of the Rings universe; two sequels from Bethesda, shooter Wolfenstein II: The New Colossus and suspense thriller The Evil Within 2; and two releases from Ubisoft, the comedic RPG sequel South Park: The Fractured But Whole, and this year's rendition of the rhythm/dance series Just Dance 2018.
Methodology
Nielsen Game Rank™ represents the overall anticipation level among gamers on each platform, based on a combination of several key measures (including awareness, purchase interest, consumer rating and others). The percent value shown reflects how strong the overall anticipation level is for the title, relative to the pre-release anticipation levels of all previous titles that released on the platform(s). In other words, an upcoming release with a Game Rank™ of 90% indicates that after considering a combination of various consumer measures, and taking into account how far the game is from releasing, the current overall anticipation for the game is higher than 90% of previous games when at that same point in the pre-release cycle.
For this analysis, all titles releasing Oct. 1, 2017 – Dec. 31, 2017 were considered, with those that have a Game Rank™ of 75% or higher being included in the graphic. Values shown for multi-platform titles are averages of the values from each release platform. Data was collected by surveying nearly 6,000 active gamers age 7 to 54, between Aug. 21, 2017 – Sept. 23, 2017.