Nielsen has long been known for counting everyone. Just as we are the measurement standard for the media industry, we are committed to bringing the industry standard for measuring representation and inclusion in programming. As part of our Diverse Intelligence Series, our new report Being Seen on Screen: The Importance of Quantity and Quality Representation on TV explores the state of inclusion and representation in television programming.
Our goal: help the media industry create inclusive content, powered by diverse content creators.
This year, we have expanded our report from the top 300 to the top 1500 programs across broadcast, cable and streaming. We have also included deep dives into new identity groups: Native Americans and people with disabilities.
Highlights from the report
Almost all the major identity groups have some representation in all platforms, but streaming is filling in the gaps for the groups with the lowest share of screen, especially Native Americans and Asians.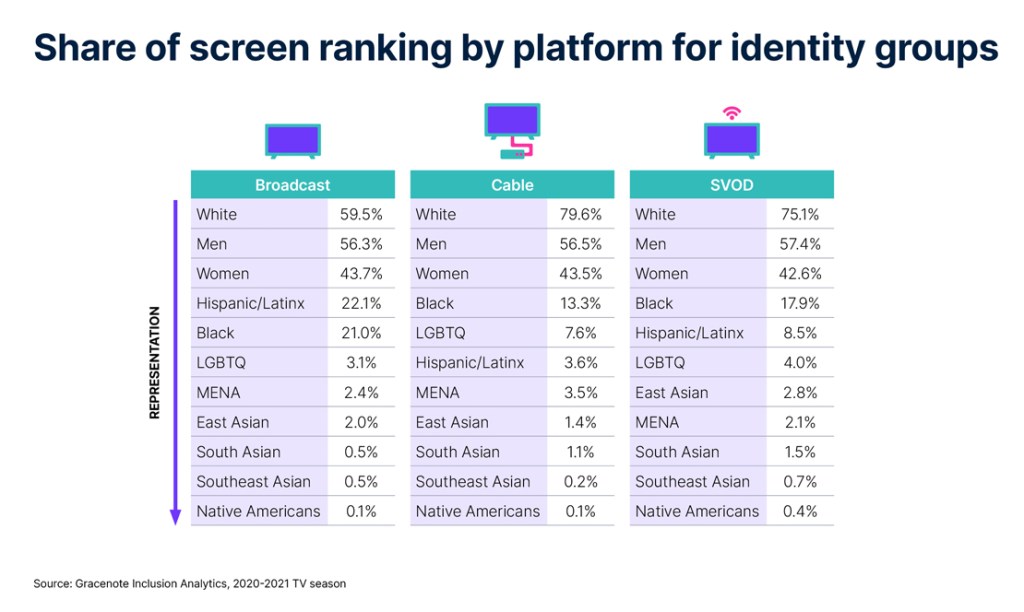 Representation by numbers is important—and so is the context when an identity group is seen on screen. Additionally, the themes in media content help shape perceptions and change beliefs.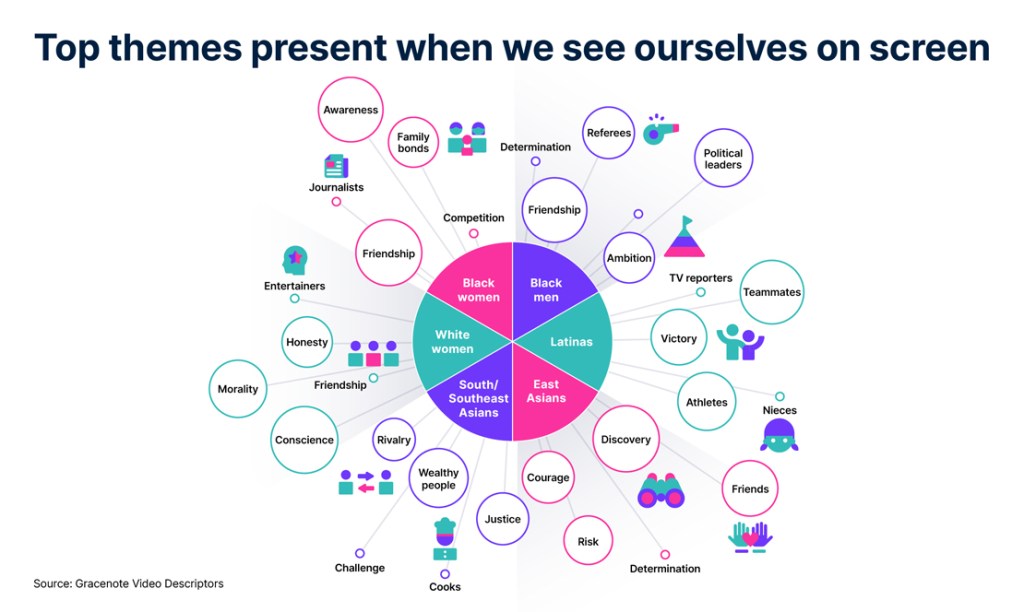 Dive into the data yourself
The data underpinning Nielsen's Inclusion on TV report is pulled from Nielsen's recently launched Gracenote Inclusion Analytics. And we've made the Gracenote Inclusion Analytics interactive tool available below to help those across the media landscape learn more about:
Inclusion by gender and ethnicity
Inclusion by program genre e.g. Comedy, Drama, Reality, News
Inclusion across broadcast, cable and streaming platform
How to get started
Click on the blue headers to select the information you want to explore
Click on the buttons on the left to choose the platform: Broadcast, Cable, SVOD (streaming video on demand) or Total (combined view of all platforms)
Select the identity group on the right drop down list
How to read the results
Hover over each of the bars for the specific value. If the value is under 100, that identity group is underrepresented.
For Inclusion Opportunity Index (IOI)* and Genre: the mid-point (100%) indicates where on screen representation of an identity group (e.g. women) is on par with their representation in population estimates.
For Share of Screen (SOS)**: The % indicates representation of each identity group in the top 10 recurring cast members in a program.
*Inclusion Opportunity Index (IOI): compares the SOS of an identity group (e.g. women) to their representation in population estimates
**Share of Screen (SOS): Identity group (e.g. women, LGBTQ, Hispanic) representation among the top 10 recurring cast members
Using this solution gives media ecosystem participants visibility into representation of on-screen talent across gender, race, ethnicity and sexual orientation compared with audience diversity. Gracenote Inclusion Analytics also empowers content owners, distributors and brands to make better informed decisions around inclusive content investments.
Interested in more insights? Read our latest Diverse Intelligence Series report to learn how the quality and context of representation matters.
Explore the full Being Seen on Screen 2021 report: The Importance of Quantity and Quality Representation on TV