Free ad-supported television (FAST) platforms are quickly gaining traction with audiences. Accessible to viewers without a subscription and loaded with content, FAST platforms tout familiar programming and a familiar experience. FAST platforms can do more, however, to ensure that audiences are finding what they're looking for. And much of that is because of how FAST platforms integrate their content.
FAST platforms can take different forms, but channel aggregators like the Roku Channel, Pluto TV and Tubi are the most common and have the greatest reach. Unlike traditional video on demand (VOD) services, FAST platforms stream their programming on a linear schedule, just like traditional cable services (many offer VOD as well).

To build their content libraries, channel aggregators source programs and movies through distribution deals with individual content owners ranging from massive media companies to independent owners and distributors. The Roku Channel, for example, includes channels from NBCUniversal, Warner Bros. Discovery, MotorTrend, FIFA, the BBC, Jellysmack and Nosey.
The importance of standardized metadata in FAST
While a boon for content-hungry viewers, the wealth of content sourced from different content owners can present challenges for platforms looking to enhance or personalize user experiences when channel counts rise. As of April, for example, Google's live TV service boasted more than 800 free channels. When there is no standard approach for producing the metadata that describes individual programs and movies, search and discovery isn't typically optimized at the platform level.
For channel aggregators with massive catalogs of content from an array of distributors, metadata quality, completeness and standardization can ease the process of arranging, sorting and showcasing content in ways that best engage audiences. That's where metadata normalization and enrichment can help.
Content owners, for example, can apply rich, normalized metadata to the programming they distribute to channel aggregators to ensure that audiences can find it easily.
Gracenote's Streaming Channels Data, for example, helps platform customers better enable audiences to find content when they're not familiar with specific programming titles. This is especially useful for theme- and topic-specific channels, such as true crime, mystery and war. Here, descriptive metadata, program imagery and connected IDs best position programming for viewers interested in focused topics—even when they're not familiar with specific program titles.
But the importance of metadata normalization and enrichment isn't limited to program descriptions, attributes, identifiers and context. Imagery is just as important, if not moreso. That's because imagery is the primary way to merchandise a program or movie to viewers. This puts an enormous burden on image metadata. And because each FAST aggregator has its own user experience, metadata imagery needs to be ample. One metadata image in a single resolution and ratio will not work universally.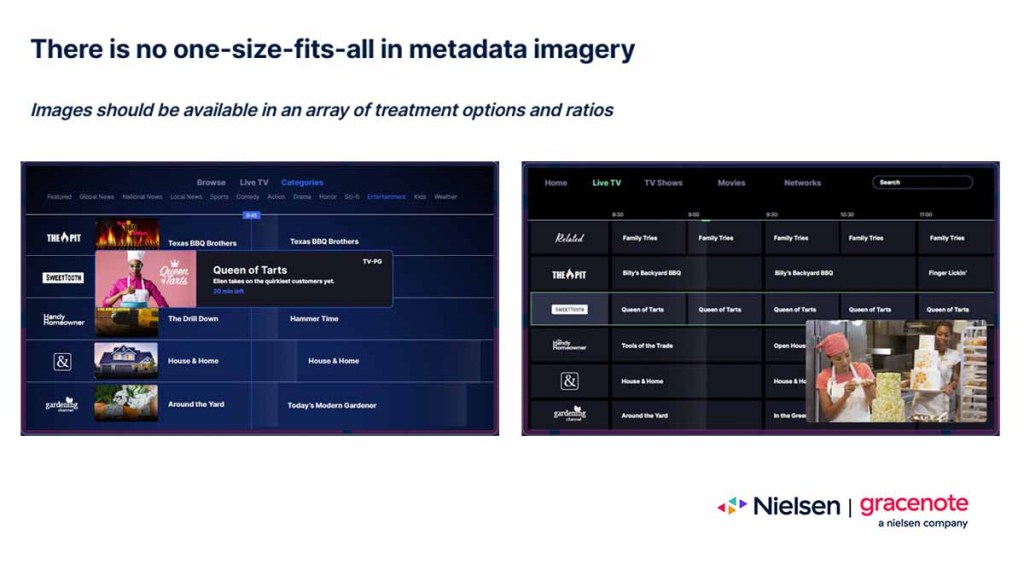 Normalizing and standardizing metadata is just a starting point for personalized FAST channels. When combined with individual viewer behavior, metadata can help FAST platforms prioritize what individual audiences see. Roku and the NFL, for example, recently launched the NFL Zone within the Roku Sports experience, which offers football fans a centralized location to find out where to watch live and upcoming games. As live sports continue transitioning to streaming services, audiences will rally around solutions and experiences that eliminate the growing fragmentation of live sports rights across various services and platforms.
In addition to appealing to audiences, FAST channels are increasingly gaining traction with advertisers. In fact, media research house Digital TV Research recently forecasted that global FAST revenue will grow from $6 billion in 2022 to $18 billion in 2028. And given the digital nature of CTV and FAST platforms, rich metadata can enable contextual advertising at scale within the programmatic CTV supply chain to bring immediate value to both publishers and advertisers.
For example, there are 29 individual Gracenote Video Descriptors across 10 different attributes for Top Secret UFO Projects Declassified, which is one of the featured programs on A+E's Mystery TV FAST channel. In a privacy-first environment void of third-party cookies, these descriptors can assist in contextual ad targeting. Publishers can enable contextual ads by passing unique program IDs in the bidstream when the supply and demand side platforms are enabled to reference these rich content tags.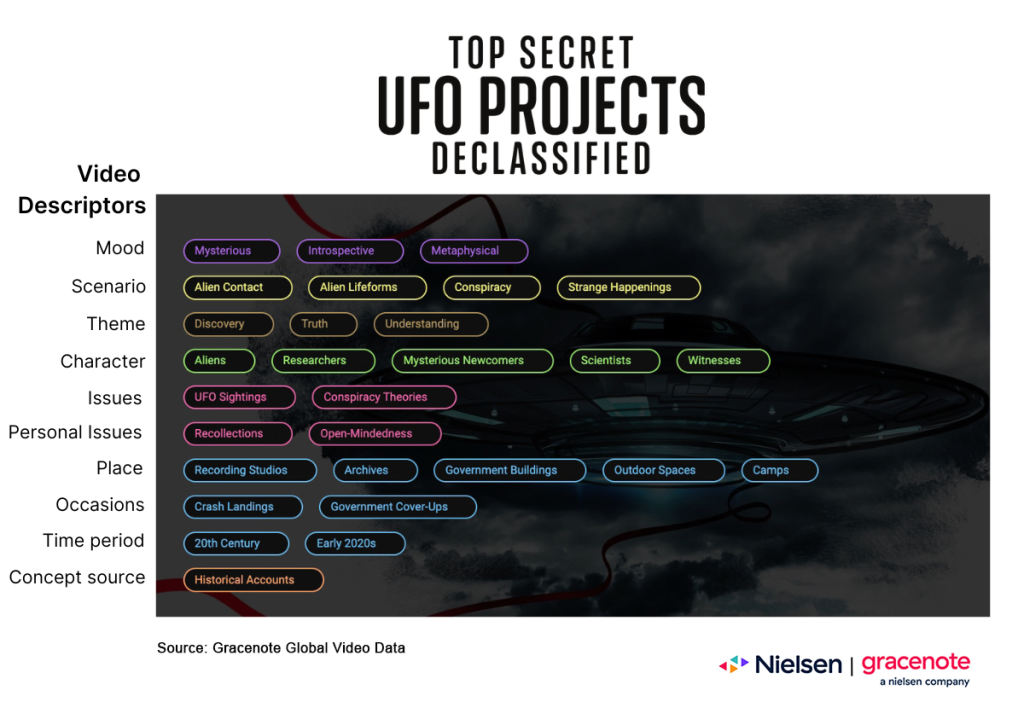 The streaming industry's wealth of choice now puts the fate of any platform, service or program in the hands of the audience. And as FAST channel aggregators increase their content libraries, success will hinge on their ability to quickly connect viewers with content they're looking for. And while advertisers will clearly monitor viewing behaviors across services, they too can improve audience experiences by leveraging data that can better inform their campaigns and deliver more personalized ad messages.
With an array of occasions to celebrate within the upcoming holiday season, content distributors, platforms and advertisers have an abundance of opportunities to up their engagement game with audiences. Halloween is up first, and content metadata can be the key to serving up the right programming, whether it be for party planners, pumpkin carvers, costume shoppers or horror enthusiasts.
For additional insights, download our latest State of Play report, which focuses on the importance of data-driven personalization and streaming content discovery.