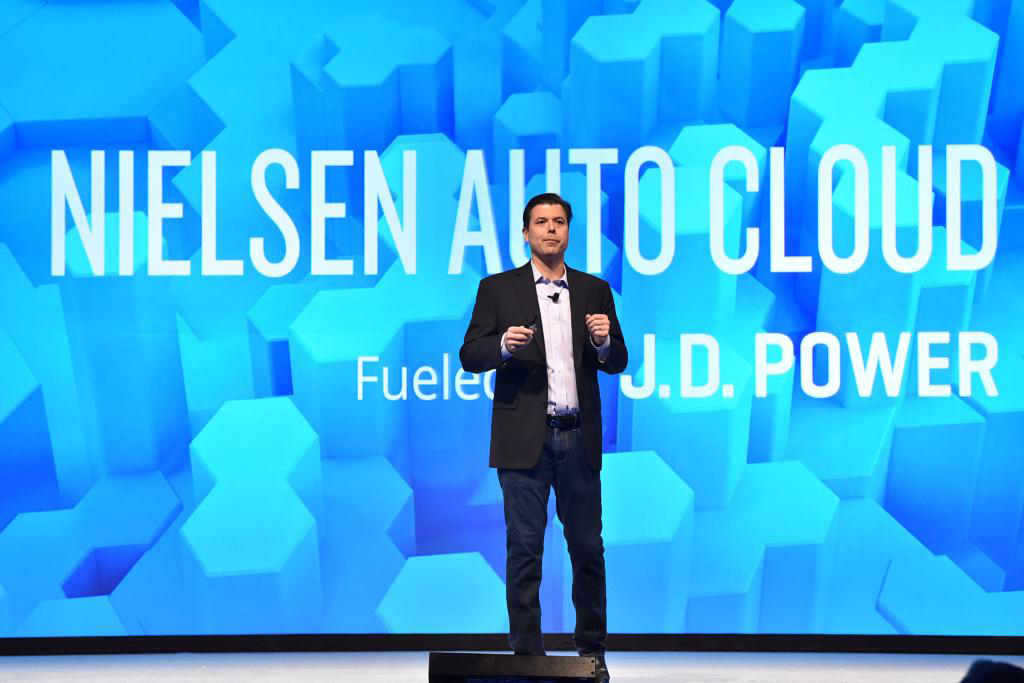 At this year's J.D. Power Automotive Roundtable (AMR), top speakers from both inside and outside the automotive industry came together to discuss the most crucial issues, including how today's consumers shop for cars, how they are influenced by advertising and what experiences they've come to expect post-purchase. The two-day symposium is now in its 13th year, and this year, Nielsen was front and center, establishing itself as a leader in automotive marketing technology and an authority in consumer path-to-purchase expertise.
On the first day of the conference, Damian Garbaccio, EVP, Advertiser Direct and Marketing Cloud at Nielsen, and Bernardo Rodriguez, Chief Digital Officer at J.D. Power, announced the companies' recently formed alliance and the launch of the Nielsen Auto Cloud fueled by J.D. Power as part of the Product Innovation Keynote.
Damian kicked off his presentation by reflecting on the Nielsen Auto Cloud's origins. The initial concept actually evolved from a question Damian asked himself one day on the treadmill (of all places): How can we bring together the best insights and analytics in the automotive industry with Nielsen's media consumption and transaction data and technological capabilities? J.D. Power was immediately thought of as the optimal partner in this journey ahead.
"The Nielsen Auto Cloud is not just another vendor experience that just checks the boxes on data, it's truly about outcomes with KPI measurement associated with it," said Damian. "This platform can offer incredible value for auto brands, agencies and media clients."
Damian then broke down the Nielsen Auto Cloud's guiding pillars with aligning capabilities baked into the platform:

Know Your Customers

–

In order to understand their customers, auto marketers need to know who their next buyers will be, which starts with actionable data and insights. With the Nielsen Auto Cloud, marketers can now target car shoppers (and personalize the message) based on a

diverse set of criteria such as car features and styles, buying stage, media engagement, and geo-location using data from Nielsen and J.D. Power.

Adapting to Buying Behavior

– It is imperative for marketers to understand the consumer's auto path to purchase. This takes advanced measurement and technology capabilities that allow for real-time optimization. Yet most auto marketers haven't had access to such capabilities until now. For instance, the Nielsen Auto Cloud's always-on frequency management features enable clients to proactively measure and control how often and what types of ads people see throughout the life of a campaign.



Engage Across Media – As referenced in our recently released Nielsen Auto Marketing Report 2018, marketers need to employ an omnichannel strategy to account for the nuances in brand building and to encourage purchase consideration. With the Nielsen Auto Cloud, marketers can engage car buyers across all screens, from linear to digital, with targeting capabilities that are channel agnostic. They can also employ very specific targeting techniques such as using geo-targeting as part of a mobile ad campaign to drive shoppers to nearby dealerships.

During the presentation, Damian also introduced the new Nielsen Auto Cloud commercial, which is currently featured as part of a larger ad campaign running across Automotive News, WSJ, NYT, and AdWeek until mid-December.
The event also provided an ideal opportunity for us to not only prove Nielsen as an innovator in automotive marketing technology but as an influential thought leader in the auto path-to-purchase. Ameneh Atai, SVP, Advertiser Direct and Marketing Cloud at Nielsen, led a breakout panel discussion the next day titled, "Where the Rubber Meets the Road: Auto Marketing's New Reality." Ameneh shared some key insights taken directly from our newly launched Nielsen Auto Marketing Report 2018 as a springboard for discussion.
"There are two big misconceptions with the path-to-purchase. The first one assumes that people don't have an intrinsic brand bias (they do), and the second assumes that it is a process of elimination, starting with a few brands, then narrowing it down (it's not)," said Amenah.
She then brought onstage Mark Ortiz, Head of Digital Marketing and Strategy for Acura, and Pierre Bouvard, Chief Insights Officer at Westwood One. The panel discussed the biggest challenges and opportunities brands face navigating today's media landscape, the role of TV and digital play in building awareness, and the top key trends influencing auto marketing.
On the future of auto advertising, the panel believed one of the key trends that would influence auto marketing would be the connected vehicle, particularly its capability to close the loop between campaign exposure and dealership visits. They also agreed that traditional media such as TV and radio will remain important players. Brands will still need to layer their media mix using data but also make sure they are consistently driving brand messaging across all channels. That being said, platforms such as connected TV will continue to evolve and disrupt this media mix.
The J.D. Power AMR has grown into the industry's leading event coalescing the most important players around the most salient trends affecting the auto industry—from car-buying behavior to product innovation to the way marketers approach advertising and customer experiences. In the Nielsen Auto Cloud powered by J.D. Power, we've developed a solution to help auto brands stay ahead of the curve, cut through the clutter and deliver improved ROI.
The launch of the Nielsen Auto Cloud at AMR not only raised the company's profile in the auto space, it also introduced the biggest OEM and agency players to one of our biggest breakthrough solutions in 2018.