Are you traveling this summer?
With the kids off school and the heat to surely intensify in the coming months, many Filipinos are packing their bags for summer getaways.
When Filipinos travel during summer, it means family time. It is during the hot summer days of April to May that Filipinos prefer to go on a family outing or visit relatives who live out of town. Taking a day trip to a beach, resort or swimming pool is another favored activity.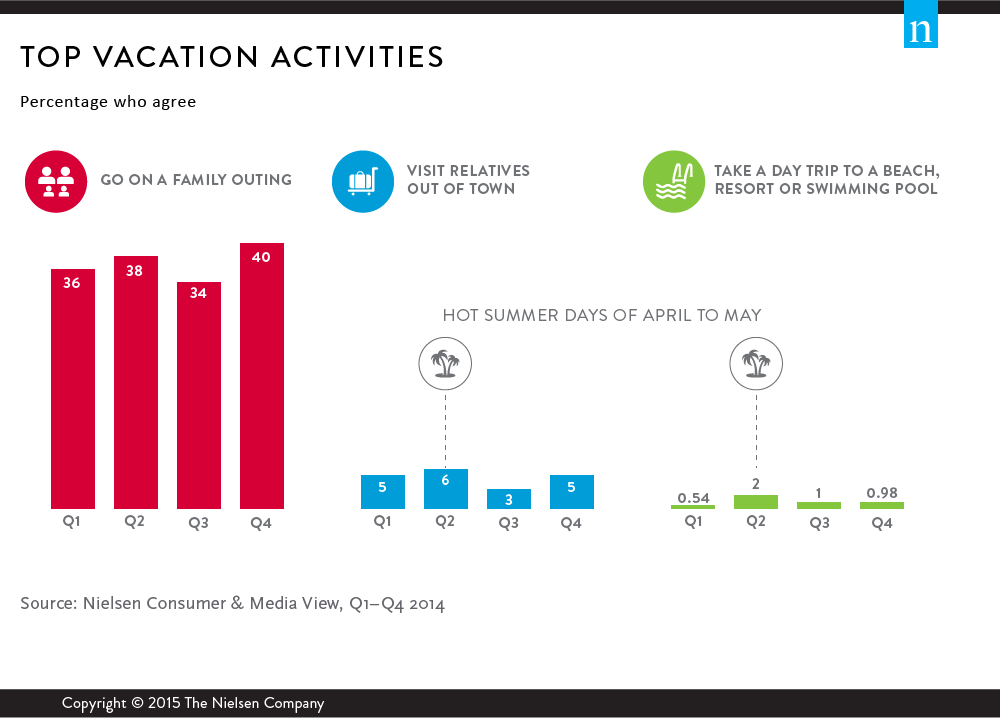 In planning their summer holidays, Filipinos give importance to choosing destinations that are away from the hustle and bustle of the masses. They are also more likely to go on a more adventurous route by going somewhere different or exploring local tourist destinations.
To capitalize on these interests, it's important to note that they peak in the summertime. So marketers have a limited amount of time to develop campaigns, promotions and sponsorship opportunities revolving around vacations.
Looking at the 2014 ad spend, companies showed awareness of these peaking interests and concentrated much of their advertising efforts on products that would be useful for travelling in second quarter. Toiletries, which people need to stock up on when traveling, such as soaps and toothbrushes, had the highest level of ad spend in the second quarter. Hard liquor (brandy, cognac, vodka and whisky) advertising also peaked in the second quarter, indicating a higher level of socializing, as it is common to bring hard drinks to big trips. Advertisers were also mindful that heat is a concern among consumers. During the second quarter, there was a spike in ads for regular ice cream, air conditioners and sunglasses. Another interesting product category that increased its ad spend in the second quarter is video cameras.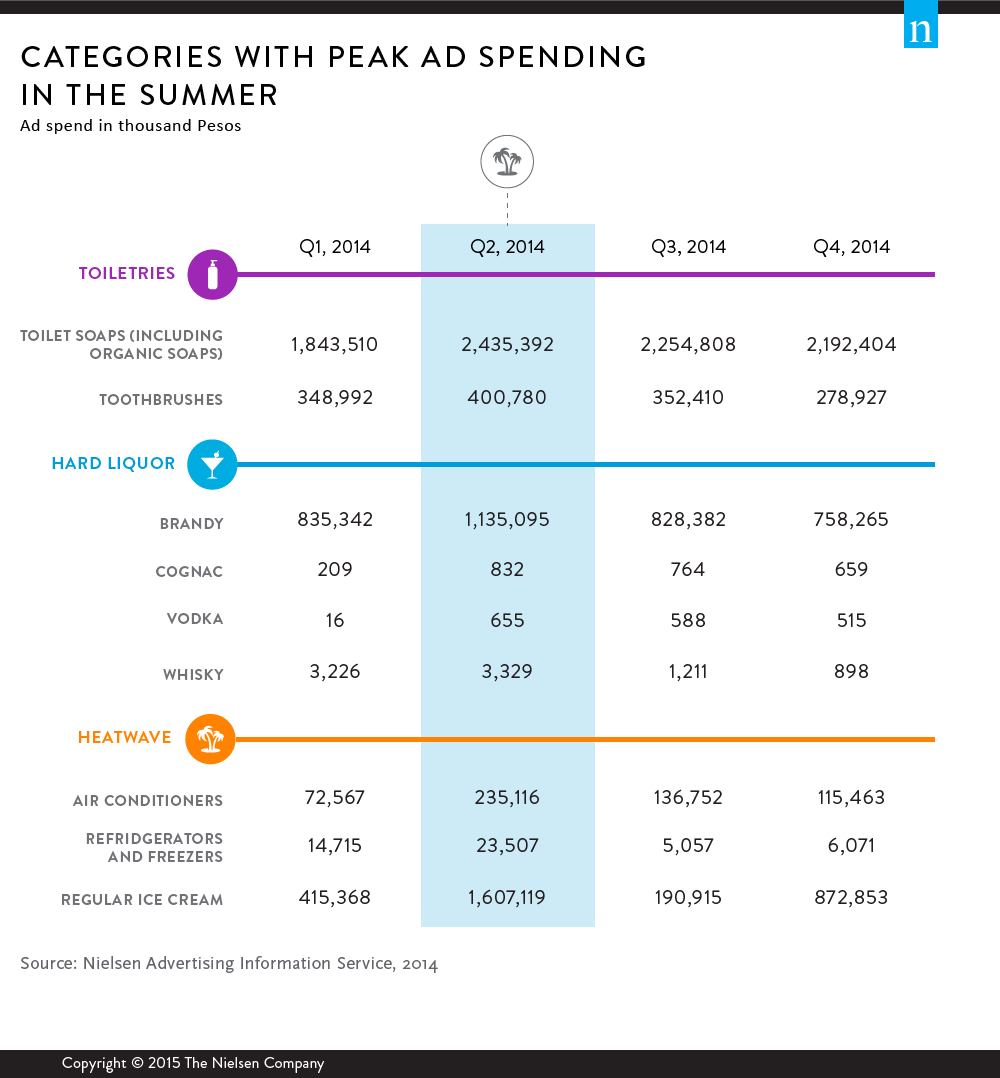 While family and friends are the main source of information for local travel throughout the year, Filipinos' reliance on TV as source of information increases during the summer.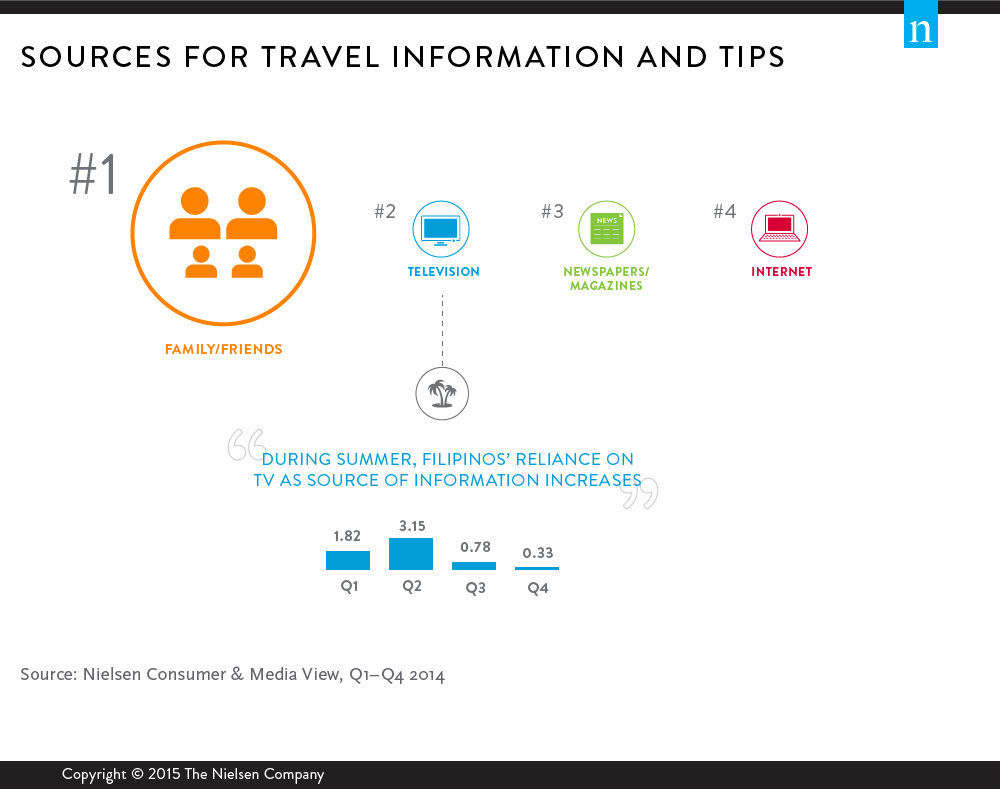 An interesting opportunity in the digital space remains untapped. According to Nielsen's Smartphone Insights, the incidences of accessing travel-related apps and websites via smartphones are still low — 8% and 16%, respectively, among smartphone users. However, the top three websites and apps only have 3% penetration at most, revealing that this is still an incredibly fragmented and unexploited space. Considering that traveling, by its very nature, is a mobile activity, a greater push for awareness and easier accessibility to travel-related apps will surely enhance travel experience.