{"order":3,"name":"subheader","attributes":{"backgroundcolor":"000000″,"imageAligment":"left","linkTarget":"_self","pagePath":"/content/corporate/au/en/insights","title":"Insights","titlecolor":"A8AABA","sling:resourceType":"nielsenglobal/components/content/subpageheader"},"children":null}
Since the emergence of the first social media networks some two decades ago, social media has continued to evolve and offer new and meaningful ways for us to engage with people, events and brands.
Social media is now an integral part of our daily lives; more than eight-in-ten online Australians participate in social media activities. We use it to keep tabs on our friends, post family photos, share amusing video content, engage with our favourite brands and discuss the latest TV shows and sports matches. 
Social media allows us to immediately share our experiences and opinions with friends and followers. Social media reach across all age groups is strong. In 2015, we saw the level of activity on social media platforms remain stable compared to the prior year; however, the range of social media brands we are engaging with has increased.
Facebook remains by far the most dominant player, with 70% of online Australians maintaining an active profile on the platform. Social brands with a focus on posting images (e.g., Instagram and Pinterest) or messaging (e.g., WhatsApp and Snapchat), experienced the most growth over the past 12 months.
Having been born directly into this new era of connectivity, it is not surprising that social media reach is particularly strong among younger online consumers, with more than nine-in-10 using social media. This generation's digital tendencies, however, means that marketers and brands need to step up their game in order to keep up and engage with them.
Snapchat and Tumblr are most popular with those aged 16-24, with active profile reach significantly higher than average. Although the younger age groups dominate some of the newer and small social media brands, the vast majority still maintain a presence on Facebook.
Video has emerged as an increasingly important part of social media content. In addition to video-focused platforms such as YouTube, the majority of social platforms now have a significant amount of video content that is uploaded and shared by both consumers and brands.
Almost half of online consumers (46%) engage with organisations on social media platforms and around seven-in-10 (69%) use social media to source information and reviews about products and services. While brand interaction on social platforms remained steady in 2015; it continues to provide an opportunity for brands to make direct connections with consumers. The content, however, must be valuable, honest and authentic and published at the right frequency to maximise reach and consumer connection. Retailers, in particular, should consider social platforms as a way to connect and converse with its customers – it's the most popular category for connecting on social.
When big moments happen on TV today, viewers are turning to phones, tablets and computers to share their reactions instantly through social media – and they are doing it a lot. Nearly half of online consumers engage in social TV; one-in-five do so weekly. Consumers are increasingly engaging with social TV on platforms they most commonly use (e.g., Facebook), rather than specific platforms or discussion boards run by the individual media (TV) organisations.
Not surprisingly, advertisers and agencies are taking note of social TV and are layering a social lens on TV ratings to sharpen media planning and buying decisions. They are also looking at social TV affinity to find the TV audiences that fit their brand or category. Finally, advertisers are using social TV measurement to understand campaign effectiveness—to find out in which programs, on which networks and with what creative campaigns perform the best socially.
Purchase the Let's Get Social Chapter of the 2016 Nielsen Australian Connected Consumers Report here!
Purchase the 2016 Nielsen Australian Connected Consumers report here.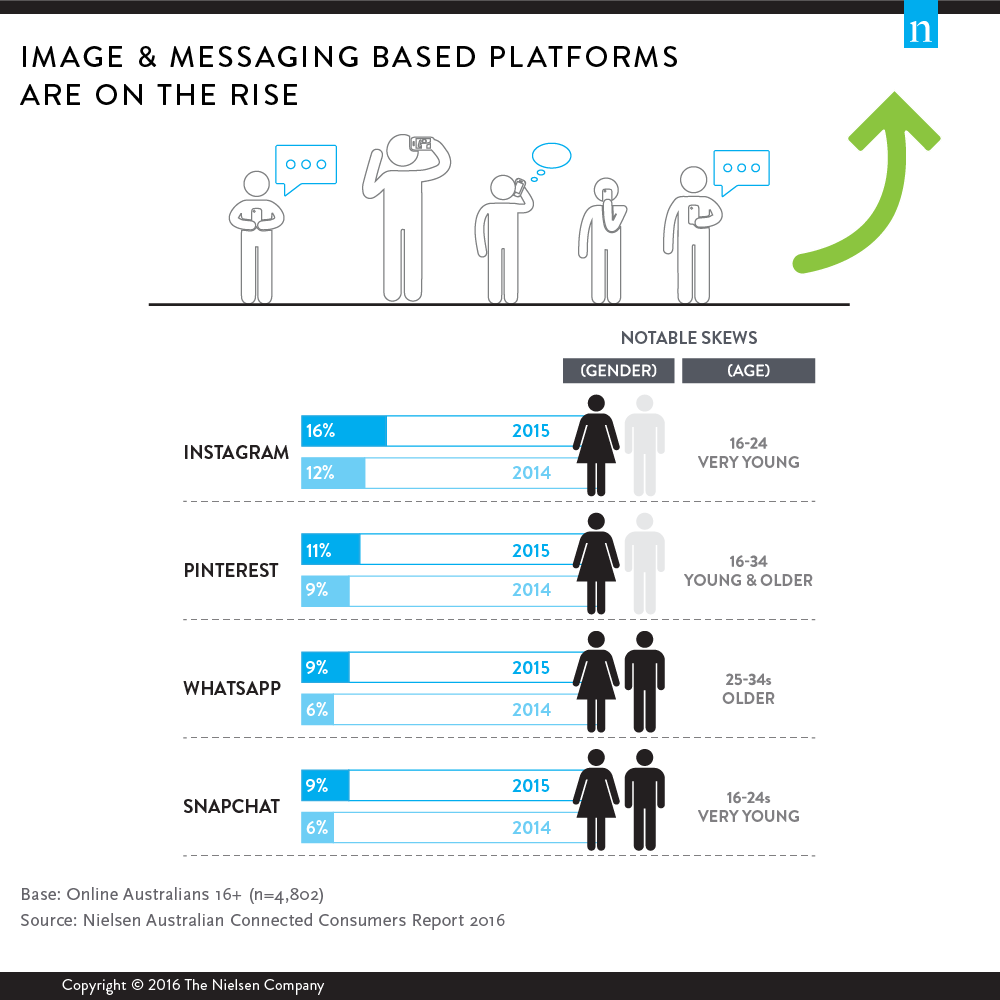 About the Australian Nielsen Connected Consumers Report, 2016The Australian Connected Consumers Report has been published since 1997 and is now in its 18th annual edition. The 2016 report analyses the responses of 4,802 online Australians aged 16 years and above through an online survey methodology. All responses were collected during December, 2015. The report was released on Thursday 31 March, 2016.