At a time when consumers have unprecedented choice in how they engage with content, marketers are championing music as a way to connect with them. Whether engaging them through sponsorships, artist endorsements or music in ads, brand marketers understand that music can be a powerful tool.
While music can deepen the relationship with consumers, opening new markets can increase their numbers. China, with its huge population and increasing affluence, is very desirable to brands. The Demand Institute, a non-profit think tank that focuses on understanding how consumer demand is evolving around the world, projects that consumers in China will spend $56 trillion over the next decade, with a largely young, affluent, connected consumer base with disposable incomes leading the charge. And while Chinese consumers certainly love music, music consumption behaviors across the region vary by income levels. For marketers looking to connect with consumers in China through music activations, understanding the differences between these tiers is critical.
According to Nielsen's new Music 360 China report, 72% of the general population in China listens to music, and they do so for an average of 16 hours per week. The population with the highest average household incomes, however, are the most engaged music listeners, spending more time and more money on music than the rest of the population. These "Tier 1" consumers, who live in cities like Beijing, Shanghai and Guangzhou and earn the highest average incomes, are 15% more likely to be music listeners than the general population. They spend more time listening to music – 19 hours a week on average – and more of their discretionary income on music. They were also the most likely to listen to English language music, particularly jazz, pop and rock.
Seventy-four percent of China's "Tier 2" consumers (as classified in the Music 360 China report) are music listeners and are on par with the national average for listening hours per week. And while "Tier 3" consumers listen the least amount of time and allocate the least amount of their total entertainment spending on music, they are nearly as likely to listen on a smartphone as more affluent consumers, demonstrating the high level of mobile penetration in that country.
To benchmark these stats, we compared the Tier 1 group to U.S. music consumption to see how they compared, and found that for the wealthier consumers, music listening and engagement is nearly as popular in China as it is in the U.S. In fact, for the wealthiest music listeners in China, live music attendance is even more popular than it is in the U.S. Fifty-seven percent of Tier 1 respondents attend live music events, compared with 51% of the U.S. general population. And streaming music online, which is changing the landscape of the music business in the U.S., is gaining traction in China. In fact 71% of Tier 1 listeners in China listen to an online streaming service in a typical week, in line with 75% of U.S. music listeners.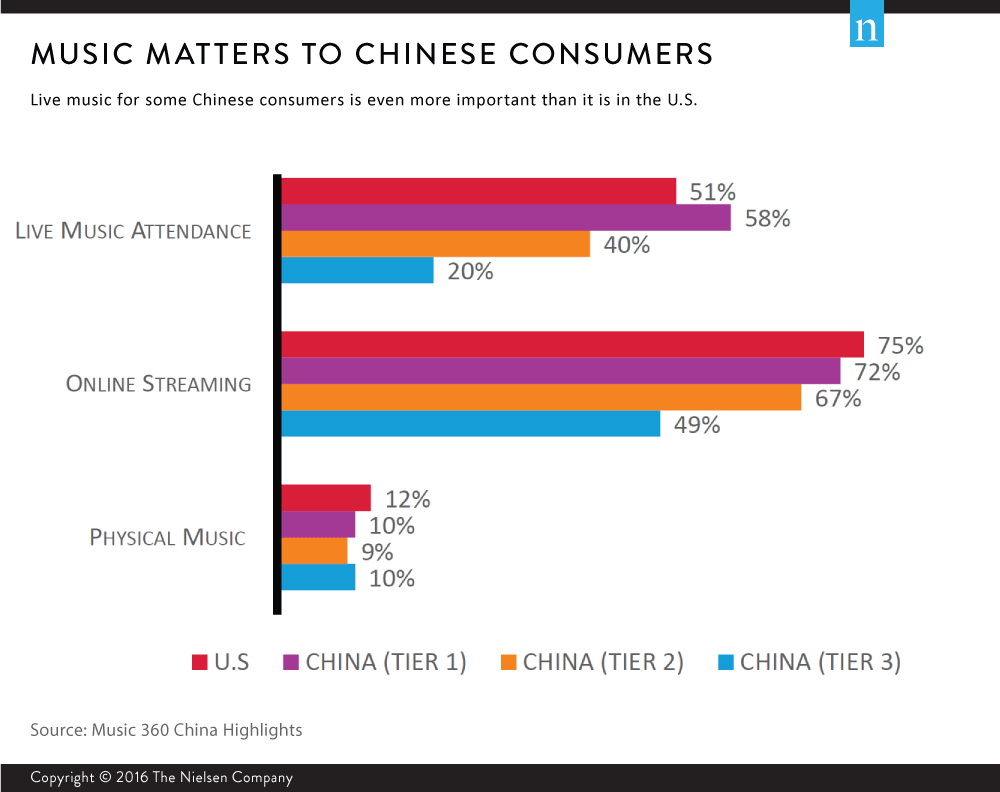 For brands, involvement in music-based sponsorships could be a solid way to reach Chinese consumers. Not only are they highly engaged with music, but they are generally favorable when a brand is involved, with the highest net favorability going to promotions that offer free music downloads or sweepstakes.
For additional insights, download Nielsen's Music 360 China report.