Walk into nearly any bar, gym, airport or office these days and you're likely not only to find a television, but also viewers of all sorts with their eyes glued to the glass—from sports fans urging their teams on during a big game to money men tracking the financial markets to travelers monitoring news and weather reports. These consumers, out of the confines of their homes, are no less important to networks and advertisers when they're out and about.
But it's not enough to simply see people watching content away from their homes. Marketers need to know what they're watching.
To dig into out-of-home (OOH) viewing, Nielsen analyzed data to see what content Americans are consuming beyond the comfort of their own couches. The analysis, which looked into total day out-of-home TV viewership from the beginning of 2017 to the end of May, uncovered a bevy of trends—some intuitive, and some surprising—that begin to scratch the surface of this new horizon in measured behavior. Of course, out-of-home viewing trends can differ based on the time of day or day of the week; however, these trends across the total day yield intriguing insights as well.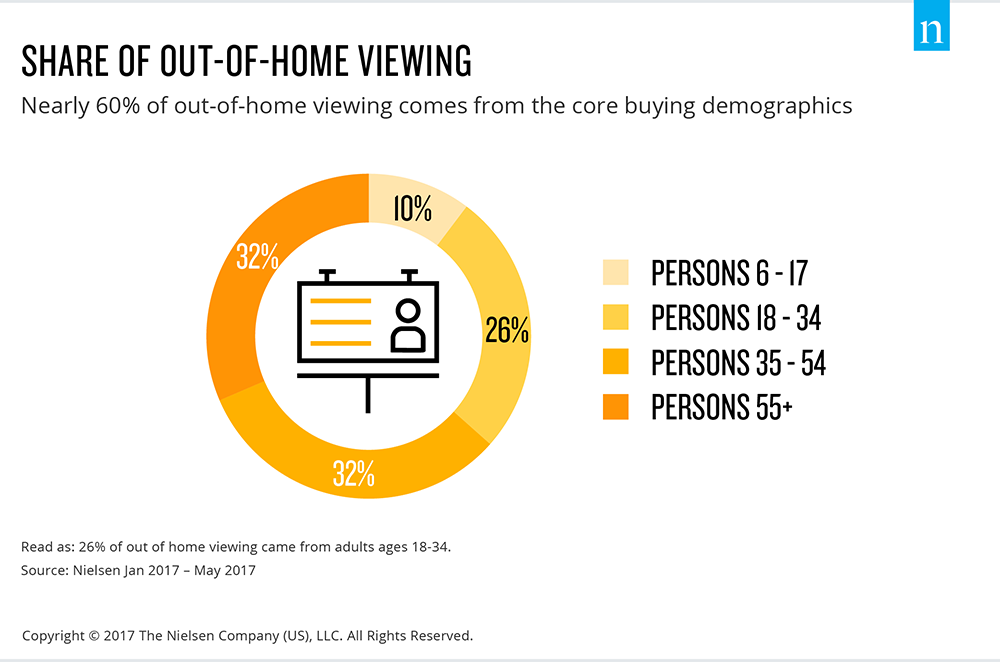 Overall, OOH viewing can contribute to significant ratings lifts, but the lift can vary by programming content and by viewer demographic, specifically age groups. For instance, the data showed that 26% of OOH impressions were attributed to viewers aged 18-34 while 32% stemmed from those aged 55 and up.
However, it's important to note that nearly 60% of OOH impressions came from the core buying demographics.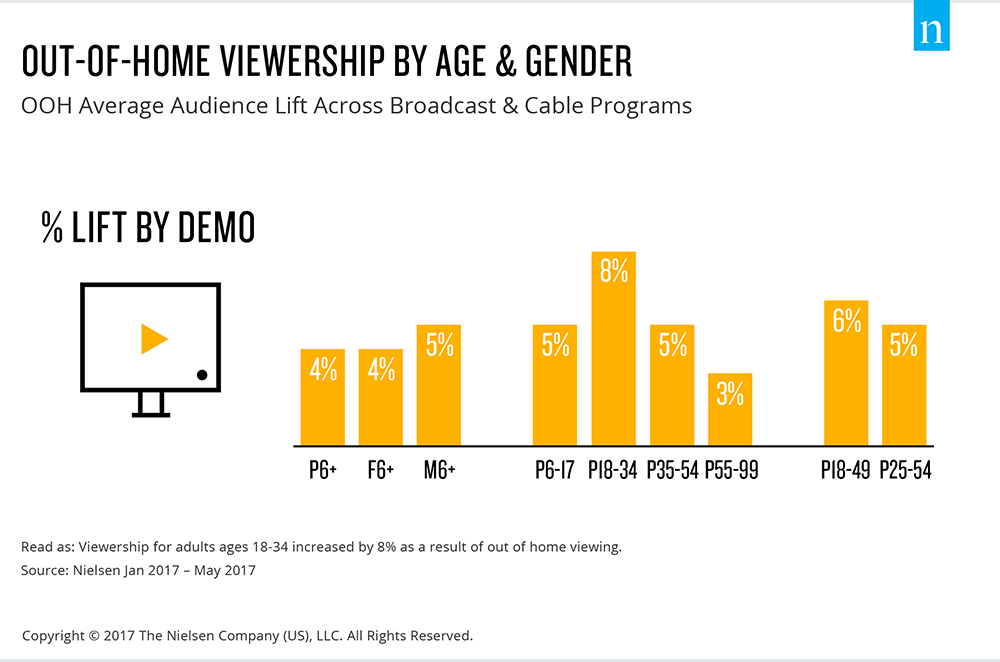 While the analysis found that a third of OOH viewing stems from older generations, it's actually the younger age groups that experienced the largest percentage of viewership lift in their respective demos as a result of OOH viewers. Among viewers 18-34, OOH viewing contributed an 8% increase from in-home viewership. When expanded to the 18-49 demographic, OOH viewing added a 6% increase among those viewers. By garnering a larger share of young outside viewers, marketers and advertisers are presented with a more dynamic environment in which to reach this batch of enigmatic consumers.
When looking at gender, females narrowly edge out males when it comes to the share of OOH viewing. Although women account for 51% of OOH share between the two genders, men saw a slightly larger lift from OOH in their own demographic at 5%.
It's clear that OOH viewing adds a significant contribution to the total TV consumption mosaic, but what types of programming are leading the OOH charge?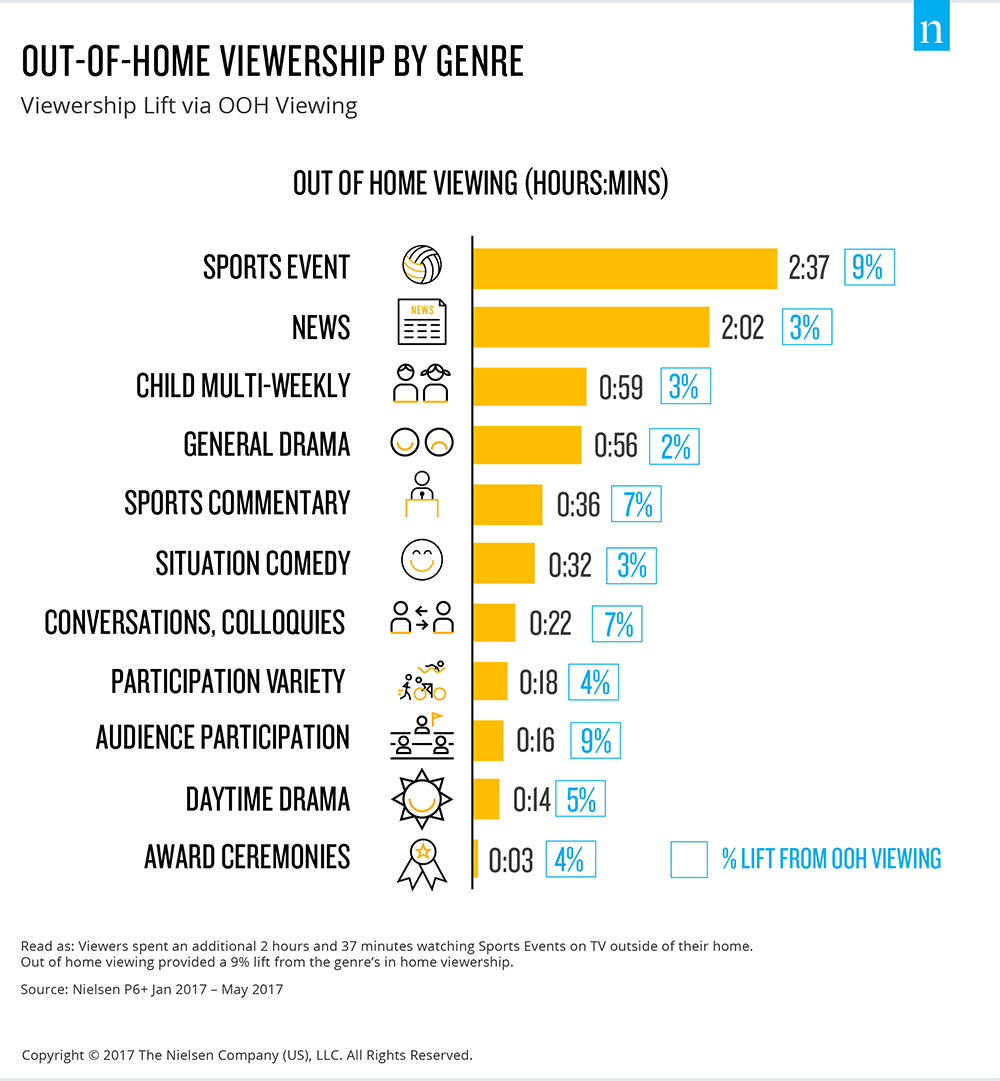 While typical popular genres benefitted from OOH viewing, the Sports and News genres experienced higher lifts in the recent data analysis.
For example, the Sports Events genre experienced a 9% increase in ratings when OOH was included—the highest increase among all qualifying genres viewed. The Sports genre also added the most OOH average time spent viewing throughout early 2017, with more than an additional two and a half hours being added to the nearly 30 hour average per person 6+ watching sports.
As one of the most increasingly popular genres over the past year, news is well positioned to benefit from viewing occurring in the gyms, waiting rooms and bars across the nation as well.
A more recent example was the James Comey testimony to Congress. While Comey's appearance drew about 19.5 million total average viewers, Nielsen found that ratings for adults 18-49 increased by 11% for broadcast and 17% for cable airings of the hearing when factoring in those that watched away from their homes.
In early 2017, Americans spent an average of an additional two hours viewing the news away from their homes, the second largest increase in this type of time spent viewing for the genres analyzed. Advertisers would be glad to know that their dollars are still being spent wisely—about 48% of OOH viewing came from persons aged 25-54, a key demographic for news programming.
Other seemingly less-intuitive beneficiaries of OOH viewing included the Audience Participation—typically daytime game shows—and Child Multi-Weekly programming genres.
Audience Participation, a genre that has long-lasting traditions and deep roots in historical TV culture, also has strong OOH roots—as programs in this genre experienced a 9% growth in viewership as a result of OOH viewing, tying Sports Events for the largest percent lift in viewership.
For Children's Multi-Weekly programs, viewing may not be limited to adolescent viewers in the home. At just below an additional hour, the genre saw the third largest lift in time spent viewing via OOH. However, children ages 6 to 17 account for only 10% of the share of overall OOH viewing, suggesting that older demographics–parents, siblings, babysitters–may also be watching with them. This pattern presents an interesting opportunity for marketers, as both the target audience (children) and the demographic with the actual buying power are reached.
While experiencing TV outside of the home—whether with friends, children, or a mob of your sports fan brethren—is nothing new, the ability to accurately quantify that viewership is a present day reality. Content ranging from the wide reaching genre of sports to the niche programming of children's cartoons stand to benefit greatly, albeit within their own unique ways. While only a portion of the Nielsen Total Audience, OOH viewing is an integral part to clearly viewing the whole media consumption picture.