Technology has redefined the ways we communicate, read, bank, listen and shop. In fact, U.S. adults now spend more than three hours a day using the internet and apps via computers and smartphones. That usage represents double-digit growth from last year.
Despite this digital revolution, fast-moving consumer goods (FMCG) retailers have long found that the printed circular—the flyer that promotes a local store's latest products and specials—has the farthest reach for marketing. According to a 2017 Nielsen Homescan study, about 80% of U.S. households still use circulars and other traditional, printed sources for product information. Looking at usage over the past three years, printed flyers have declined only slightly in popularity, down 3-4 percentage points since 2014.
Meanwhile, retailers' digital marketing touchpoints (e.g., websites, mobile apps, social media, emails, text messages and blogs) are starting to make their mark. Unsurprisingly, store websites and emails are the most-used digital channels, reaching 77% and 75% of households, respectively. Based on current trends, Nielsen predicts that more U.S. households will be using these touchpoints than traditional touchpoints by 2019.
But store websites and emails aren't the only important channels for digital engagement. At least 50% of U.S. households use store apps, social media and money-saving apps, and these touchpoints experienced double-digit growth between 2014 and 2017. Millennials have the highest usage rates across all digital touchpoints, and Generation X households have the highest new adoption rates.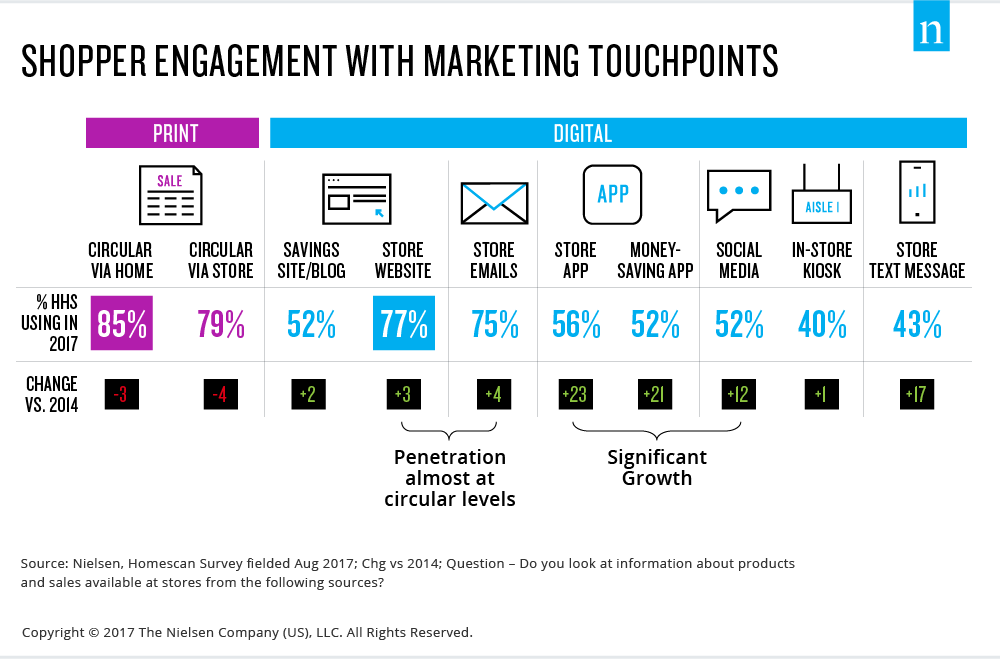 About 80% of U.S. households still use circulars and other traditional, printed sources for product information
Even as consumers embrace digital channels for retailer marketing, traditional touchpoints won't vanish any time soon. In a 2017 Nielsen Homescan study, almost half of U.S. households said they use at least eight different sources (across print and digital) to get information about products and sales. Printed circulars are still alive and well as an important source of information, while digital marketing serves to complement customer engagement.
Given these dynamics, retailers can best reach their shoppers by leveraging multiple touchpoints for marketing. They should maintain and optimize spending on traditional circulars, since these will continue to be shoppers' main source of information for the near term. And as consumers seek more information digitally, it's critical that retailers develop and enhance their digital marketing touchpoints. Across generations, they should appeal to Millennials using digital platforms, but also broaden digital penetration among Generation X and Baby Boomers, who are adopting these touchpoints quickly.