In April, during the initial peak of coronavirus infections in the U.S., concertgoers flocked to an event headlined by one of the biggest artists around. They heard hit songs, danced and even bought merch. Thankfully, they weren't throwing caution to the wind; it was a virtual concert in Fortnite, featuring rapper Travis Scott, and more than 12 million people attended.
Much of life has moved online in the wake of the COVID-19 pandemic, and few industries have been better suited to this new normal than video games. Not only have people been playing video games at home in lieu of other entertainment options, but they've also been using games to hang out virtually with friends and participate in communal experiences. This trend won't suddenly reverse once real-world events become safer, either. Therefore, brands that previously reached consumers in real-world settings through physical media like billboards will need to plan for more gatherings to happen inside video games.
Even before COVID-19, games were on the way to becoming the next big wave of social networks. 3D virtual spaces are increasingly being used to stay in touch alongside more traditional methods. A 2019 SuperData study on U.S. preteen gamers found that one of the main reasons gamers aged 7-12 played online games like Roblox, Minecraft and Fortnite was to spend time with friends after school. COVID-19 has only accelerated this trend.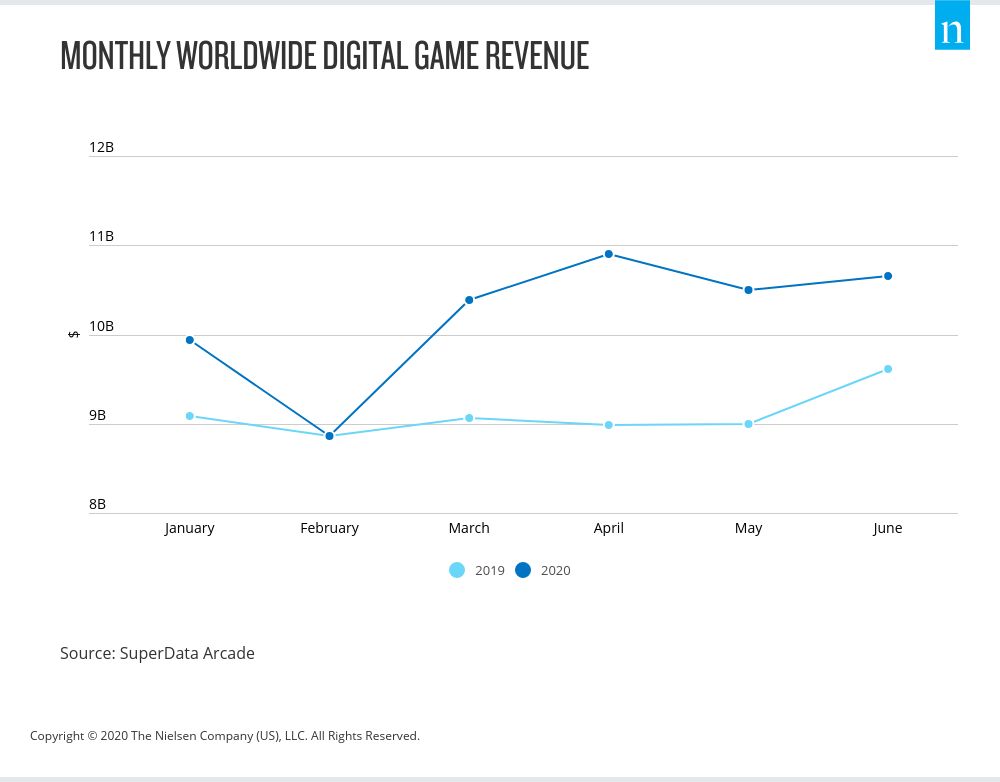 Consumer spending on digital games jumped as widespread lockdowns began to take effect in March 2020, and it has remained up year-over-year. Digital game spending in the first half of the year was up 12% year-over-year ($61.3 billion vs. $54.6 billion). Online multiplayer games are especially appealing because they let players stay in touch with friends and family as well as pass the time.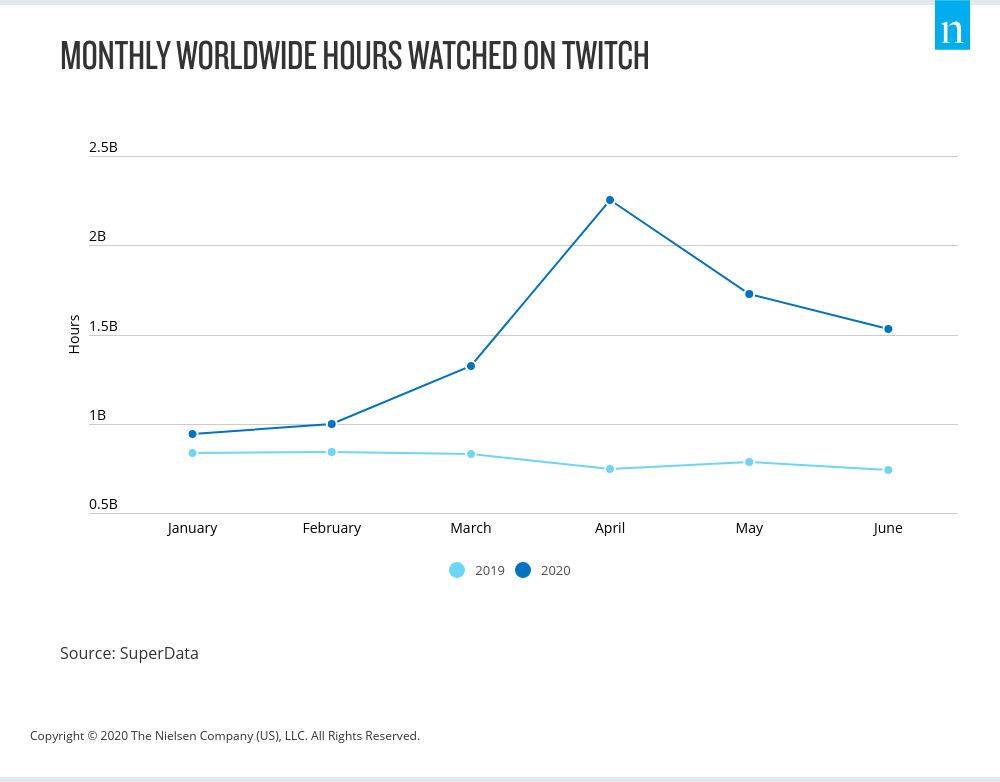 Consumers have been spending more time watching games, too. Overall hours watched on Twitch were up an average of 16% year-over-year in January and February 2020, but this leapt to an average of 123% year-over-year from March through June. Viewers weren't just coming to Twitch because of a lack of alternative entertainment options. Using the platform is also a communal experience. Livestream viewers can use text chat and emotes to interact with fellow watchers and the streamer.
Not only are consumers investing more money and time in gaming, but they have found unique ways to integrate gaming into socialization and life events. Animal Crossing: New Horizons, the breakout hit of the year so far, has played host to virtual weddings and graduation ceremonies, and A-list celebrities like Selena Gomez and Brie Larson have even been interviewed in Animal Talking, a late-night show filmed within the game. Even business meetings are being conducted in the Rockstar titles Grand Theft Auto V and Red Dead Redemption 2 because they offer more variety than a typical Zoom or Skype call.
Real-time virtual events have been a mainstay of Fortnite for years, and publisher Epic Games remains a leader in the space. In addition to the Travis Scott concert, Fortnite has served as the platform to debut a new trailer for the Christopher Nolan film Tenet and later featured screenings of several of the director's films.
With access to real-world destinations limited, consumers are also spending more time escaping into virtual reality. Among VR headset owners, roughly seven in 10 (71%) have spent more time using their device as a result of COVID-19, and VR is far from a solitary activity. VR Chat and Rec Room, which are virtual social spaces, are some of the most popular VR apps on PC.
Brands wouldn't need a long-term strategy around virtual gatherings if people stopped attending them once it was safe to resume in-person events, but all signs point to increased virtual socialization being here to stay. In its second-quarter 2020 earnings call, Activision Blizzard revealed that gamers continued to play hardcore, online games at higher levels even as lockdowns eased. Venture capitalists are also bullish on the outlook for virtual events. The Wave, a platform for live virtual concerts, raised a $30 million funding round in June 2020.
Thankfully for brands, there are plenty of ways to engage individuals who are spending more of their time in digital environments. Companies have long had options when reaching gamers, a young demographic with high earning potential. In addition to sponsoring esports competitions, virtual billboards that can be updated with new ad campaigns have been a mainstay of online games for over a decade. Interstitial ads have long helped mobile games earn revenue as well.
As online worlds have gotten more robust, however, the ways brands can reach gamers have expanded dramatically. Traditional product placement might have been intrusive in some past games, but in online virtual worlds, players actually want to express themselves by wearing or displaying branded items. For example, Roblox (which one in three U.S. gamers ages 7-12 play) is a platform for making games and virtual worlds, and Warner Bros. has released in-game items like an Aquaman outfit and a virtual Scooby-Doo pet to promote their films. The developers of Fortnite have offered outfits in the game based on entertainment franchises like Stranger Things and Star Wars, and items based on Nike's Jordan brand have even been featured in the title.
Many modern games feature sharable user-generated content, so advertisers can get their brands displayed in online worlds without working directly with developers. For example, Valentino and Marc Jacobs designed outfits that Animal Crossing players could wear by entering a code, all without involving the game's publisher Nintendo. The Biden-Harris presidential campaign similarly released yard signs for supporters to display in front of their Animal Crossing homes.
No matter how brands choose to reach players spending time in virtual worlds, authenticity is key. Gamers can smell a phony from a mile away, and brands that try to appeal to players without understanding the gaming community risk getting roasted on social media. Playing games and socializing in virtual settings are second nature activities to billions of consumers. Brands that give online virtual worlds the attention they deserve are best poised to succeed in this new normal.