As brands seek ways to establish deeper, more personalized connections with consumers, they're engaging social media influencers more heavily than in previous years. This increased focus speaks to both fragmenting media consumption and the significant engagement that many influencers boast across channels like YouTube, Instagram and TikTok.
While influencer marketing was not born out of the pandemic, social circumstances over the past 18-plus months have fostered a stronger need for interpersonal connection among consumers, and social media has delivered. On Instagram, for example, data from Nielsen InfluenceScope, a solution suite that measures social media influencers, shows that the top 10 influencers by engagement rate have a combined 110 million global followers. The top 10 total interactions with those influencers commanded an engagement rate of 28%.
The massive follower bases and engagement rates across social media platforms have not gone unnoticed by brands. The 2021 Nielsen Annual Marketing Report, for example, noted that marketers planned to increase their social media spend more than any other channel, including growing options like online video and podcasts.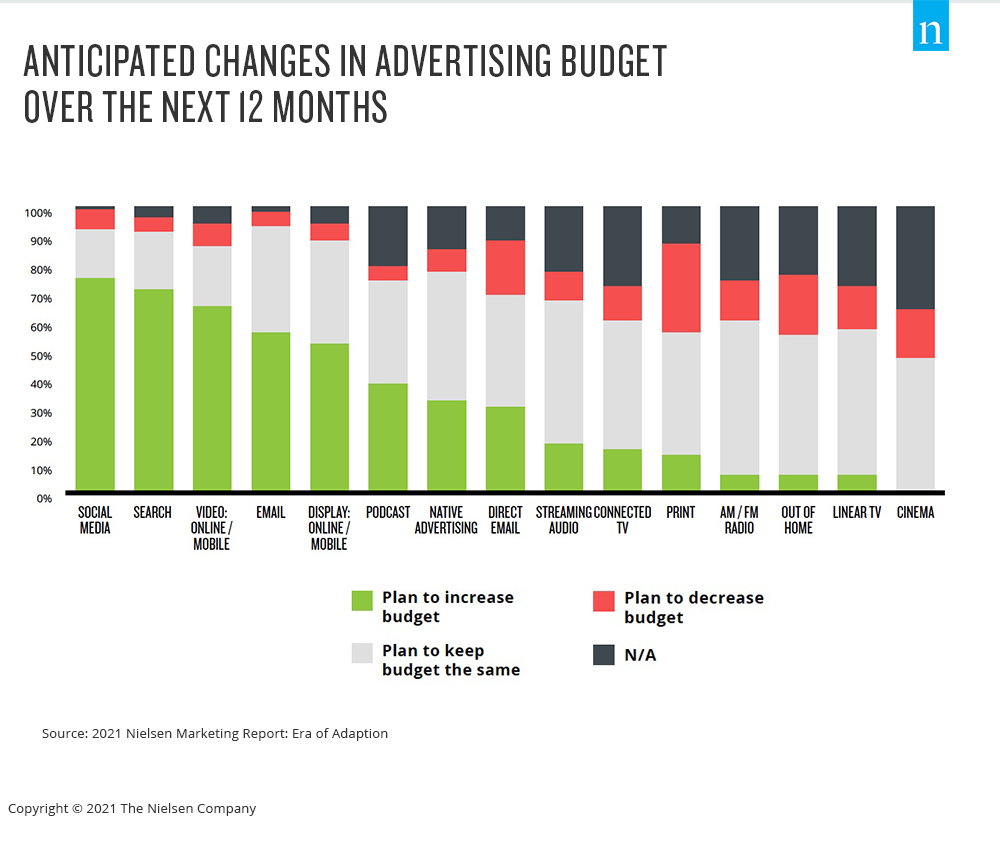 While influencer marketing represents a sub-category within the broader social media landscape, it's one that brands should approach with a focus on long-term collaboration. But step 1 for any collaboration involves identifying an influencer that fits the brand's personality and purpose—something that 86% of Nielsen's InfluenceScope clients represent as a challenge. As with most marketing hurdles, data is critical in identifying consumer behavior, trends and possible partnerships in the influencer marketing space.
California-based e.l.f Cosmetics recently began amplifying its own organic efforts with campaigns on TiKTok as a means to engage Gen Z consumers. Understanding the influence of music of Gen Z, the brand developed its own song, "Eye, Lips, Face," which it used as the foundation for a TikTok campaign that garnered 1 billion views in just six days, according to Nielsen InfluenceScope. The song was the first piece of branded content to hit No. 1 on TikTok's organic trends list and continues to engage, with more than 6 billion views to date and more than 5 million user-generated videos created as part of the campaign's associated challenge.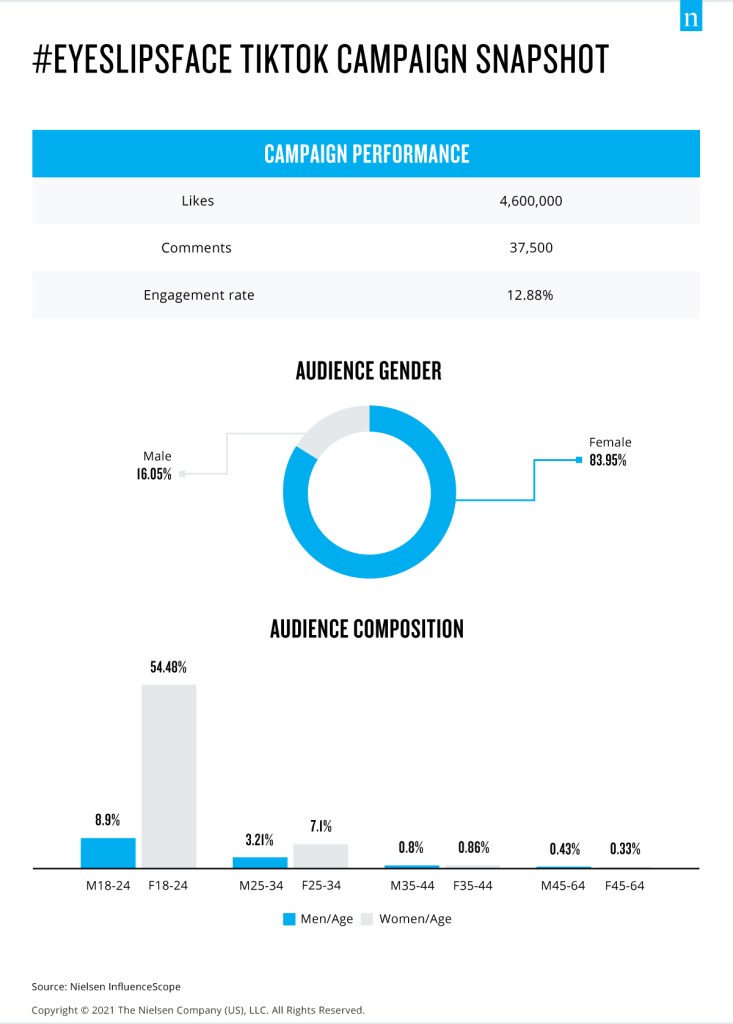 Influencer James Charles (30+ million followers) was among the top influencers to promote the brand, and his posts drove a 12.88% engagement rate, which is almost 6x higher than the average engagement rate of influencers with a similar fan base. Engagement rates (i.e., the total interactions divided by followers and multiplied by 100) are used to determine the level of follower interaction with content posted to a specific social media platform. As an influencer, Charles' promotion alone generated 167 million views.
Importantly, not all campaigns start with a brand. In fact, the actions of influencers are often the inspiration for campaigns. That's because social media influencers are avid promoters of the products and services they love, and their organic efforts can lead to big opportunities for brands. For example, American clothing company Gap learned about the rising power of TikTok influencers well before it even had an account of its own. A range of influencers did all the work when they started uploading videos of themselves wearing logoed Gap hoodie sweatshirts of varying colors toward the end of 2020 and into 2021. Then, TikTok star Barbara Kristoffersen posted a video wearing a shade of brown the company hadn't made since the early 2000s.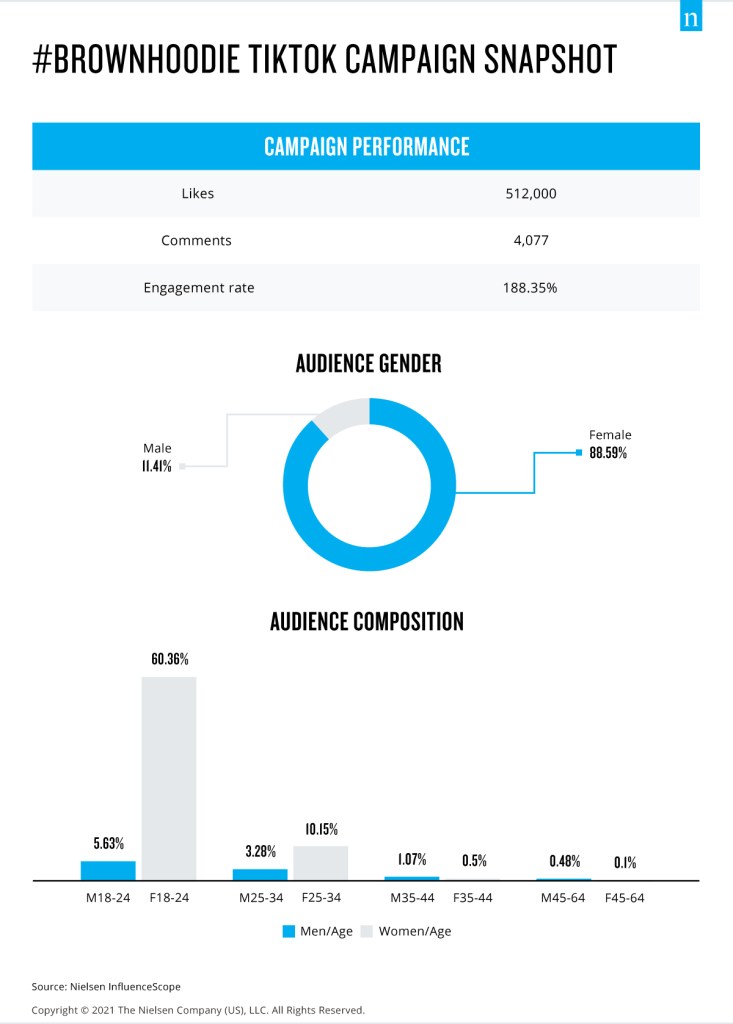 The #brownhoodie influencer effort boasted an engagement rate of 188.35%, it sparked an influx of the no-longer-made hoodies on resale sites for up to $300, and the #gaphoodie hashtag had over 6.5 million views. All of this helped inspire Gap to bring back the brown hoodie in July 2021 and its popularity has kept it out of stock on the company's e-commerce site. Importantly, Kristoffersen has just over 273,000 followers, which is notably lower than many influencers. This highlights that retail opportunity is not limited to accounts boasting millions of followers.
Influencer marketing is not unique to TikTok. Across social media, however, TikTok does boast the highest engagement rate, which is driven by a younger, female-weighted average demographic (18-24). The analyzed campaigns have also been able to better reach this targeted audience on TikTok than on other platforms (always above 50%).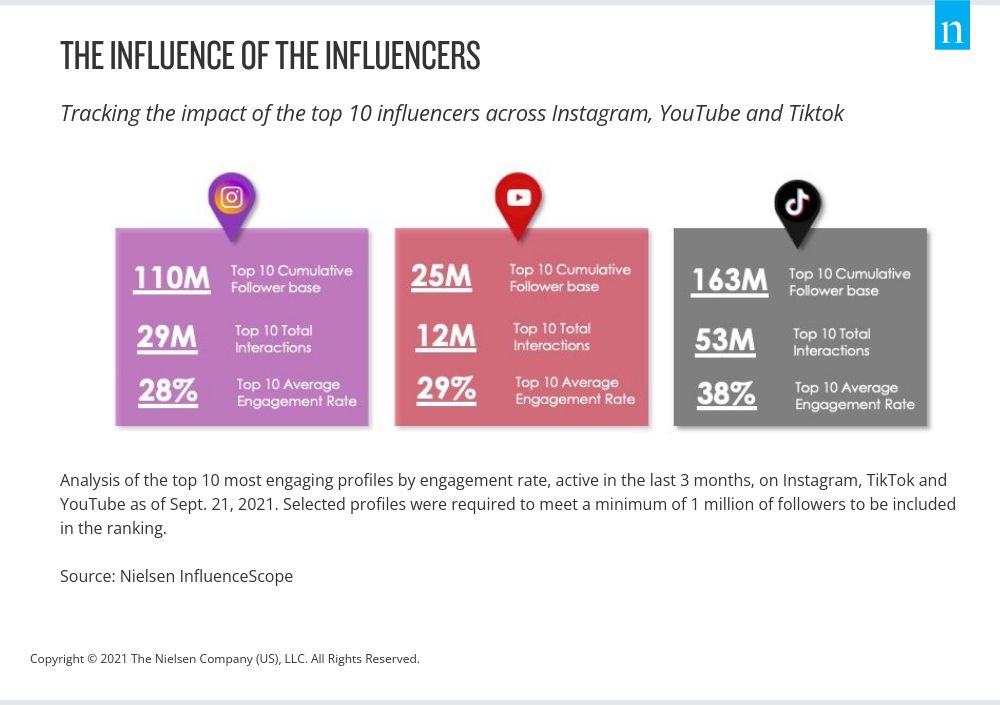 The growing appeal of influencer marketing among brands is clear with respect to the appeal of channels like YouTube and TikTok to younger generations, but influence isn't limited to specific age groups, and the impact of influence is growing.
For example, according to Nielsen Scarborough, nearly one-in-five Americans (19.3%) agree or somewhat agree that a celebrity endorsement may influence a product purchase. But influence doesn't have to come from celebrities. In fact, more than two-in-five Americans (41.6%) seek the advice of others for purchase decisions, and 70% read online reviews before making a purchase.
The opportunity for brands is to establish themselves as trusted sources for consumers—so they, too, can gain the ability to influence purchases. Nielsen Scarborough data shows that 83% of Americans say that they stick with brands they like, but just 22.6% like to connect with brands on social media networking sites. Influencer marketing can help brands begin to bridge that 60% gap—and start to measure the results.
Methodology
The insights in this article were derived from:
2021 Nielsen Annual Marketing Report
Nielsen Scarborough: 2020 Release 1; 2021 Release 1
Nielsen Influence Scope