Gen Z are many things, but they may not be what you expect.
For marketers, understanding their defining traits, engaging with them on their platforms and delighting them with useful products will put brands in the best position to capitalise on the opportunities they present.
In reality, one discovers quite rapidly that the newest adult generation has already established many of its own, unique characteristics and has quite a different identity to those of its predecessor.
As is common with any generation, Gen Z is no stranger to being associated with a range of stereotypes. For example, it's not uncommon for these post-Millennials to be categorized as tech-addicted and having short attention spans. But how true are these Gen Z stereotypes and traits? The infographic below highlights five of the most common myths associated with this generation and dispels them through insightful data and reasoning, while exploring what makes them unique.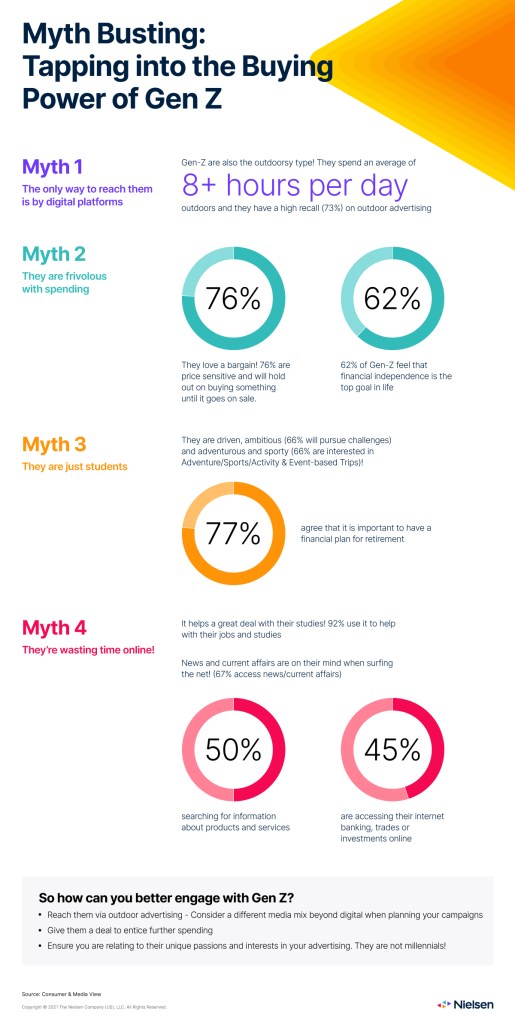 Methodology
ABOUT NIELSEN SINGAPORE CONSUMER & MEDIA VIEW STUDY
The Nielsen Singapore Consumer & Media View Study was conducted between July 2019 to June 2020. The database consists of three components: Media Index & Consumer Insights (surveyed among 4,833 adult respondents), and Digital Consumer (surveyed among 1,608 adult respondents who use the internet at least once a month). Results are weighted mainly by age, sex and race to be representative of the 4,310 ('000) people living in Singapore aged 15 and above. CMV covers a multitude of brands and categories, if you would like to find out more about how CMV can help you more effectively plan your marketing, please contact your Nielsen representative.