In this edition of the Nielsen Total Audience Report: Advertising Across Today's Media, we cast a new eye on advertising. We asked consumers: Where are you spending your time and how are you spending your money? We found that consumers are feeling more optimistic about finding their way toward normalcy. In fact, 55% of people 18 and older said they are very optimistic or optimistic that they could get back to their normal routine in 2021.
With consumer confidence on the rise and people still spending more time at home, marketers have an opportunity to reach consumers who are eager to spend. TV consumption remains healthy and ads on TV are still more trusted than other platforms. Plus, with the streaming revolution underway, there are new digital channels for reaching consumers at scale and in many cases, a new audience.
Download the report to learn more about the following key themes:
Consumers Have Hope for Getting Back to "Normal": Once COVID restrictions are lifted, Americans are looking forward to taking a vacation (73%), dining out at restaurants (73%), going to in-person religious services (75%), and visiting a hair salon (74%).
Trust and Sales Conversions Across Platforms: TV and radio, still command the highest share of collective trust in advertising. In fact, 60% of people 35-49 consider radio spots very or somewhat trustworthy, with TV not far behind with this demographic at 59%.
Streaming and Branded Integrations are Growing: In the first four weeks of being available on Netflix, seasons 1/2 of Cobra Kai integrated Enterprise, the car rental company, into their storyline delivering more than 8 million impressions to viewers 21+, a key age demo for car renters.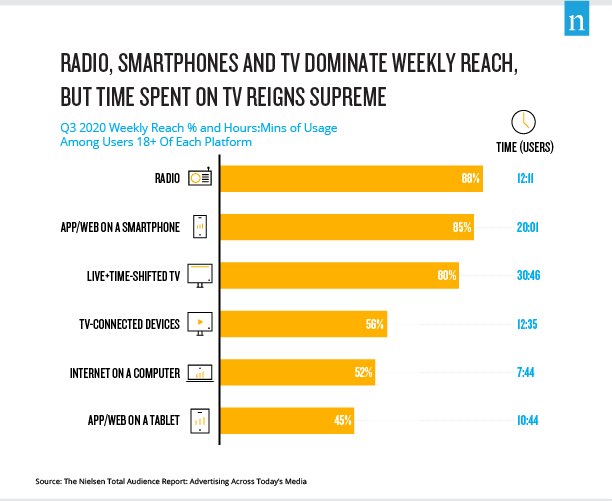 Explore the latest related insights, media usage trends and past reports